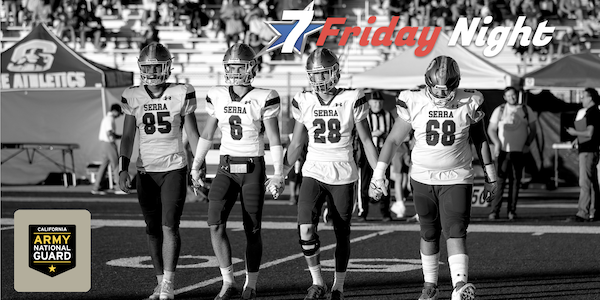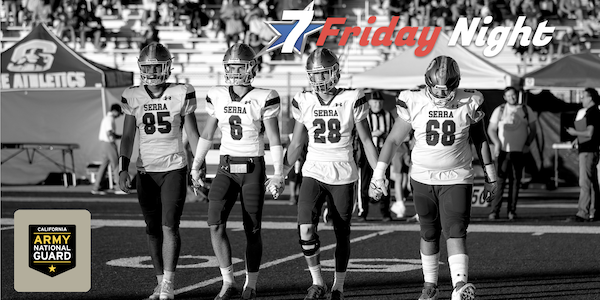 Serra 3-Star Lineman Ryan Silver Joins 7 Friday Night As The Padres Look To Beat NorCal's No. 2 And No. 1 Teams — On...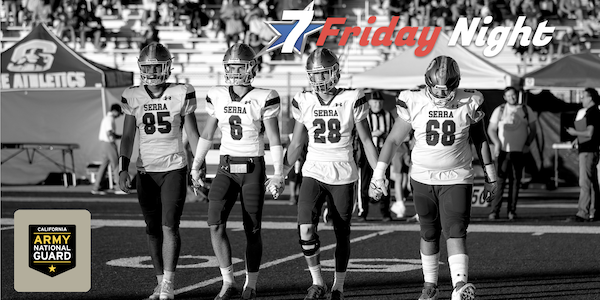 Serra 3-Star Lineman Ryan Silver Joins 7 Friday Night As The Padres Look To Beat NorCal's No. 2 And No. 1 Teams — On The Road — Back-To-Back •
Hosts Chace Bryson and Ben Enos have a ton of talk about after a thrilling first week of football across all of NorCal. A primary focus is placed on Serra-San Mateo which traveled to No. 2 Folsom and gutted out a 17-12 win. Now, the Padres are the No. 2 ranked team and take to the road again Friday — to No. 1 De La Salle for a nationally-televised game on ESPNU. No big deal.
Actually, yes big deal! The show welcomes its fist player guest of the season, Serra senior Ryan Silver. The San Diego State-bound two-way lineman talked about what it took to earn the win at Folsom, and how the team is approaching its new challenge this week. (By the way, after this week, Serra faces current No. 6 Central Catholic-Modesto and then No. 5 St. Francis-Mountain View).
LISTEN TO YOUR PODS ON A SPECIFIC PLATFORM? Scroll Down To See Where Else You Can Listen, Rate & Subscribe!
Coach Terry Eidson also makes his weekly stop to share his thoughts on last week, as well as his memories of coaching against Serra coach Patrick Walsh (his former player at De La Salle) and what he liked about playing in TV games.
7 Friday Night will be publishing new episodes every Tuesday and Thursday during the regular season. Tuesday episodes will include discussion on the week ahead as well as interviews with Coach Eidson and whoever else we have lined up as guests. Thursday episodes will include Chace, Ben and Coach Eidson's picks and predictions for a selection of games that week. Make sure you're following or subscribed wherever you listen to your favorite podcasts.
Listening platforms include Spotify, Apple Podcasts, Google Podcasts, Breaker, Pocket Casts and Radio Public. Also, feel free to use the same platforms to look up SportStars' other podcasts: The 2021 oral history-style show SportStories, and the ask-an-expert health and fitness show, Know & Go, that's currently in its first season..
All previous episodes of 7 Friday Night, Know & GO and SportStories can also be found here.
Finally be sure to follow our podcasts' Twitter account @SportStarsPods to see guest announcements, participate in listener polls and more.
EPISODE EXTRAS
Stories From Week 2 Games Mentioned In The Show
• Padre Perseverance | No. 3 Serra Is All Grit In First Big Win — By Jim McCue
• Salinas Football Power Naps, Then Powers Way To Victory — By Chace Bryson
• Fashionably Late | Rancho Cotate Football Gets Off To Slow, Strong Start — By Ben Enos