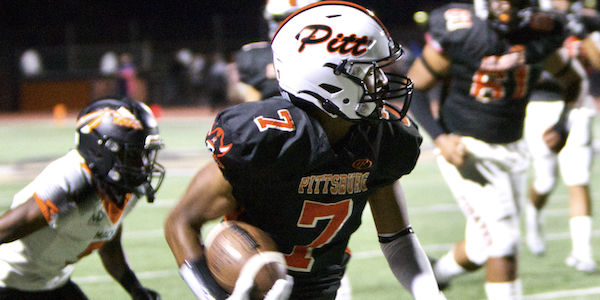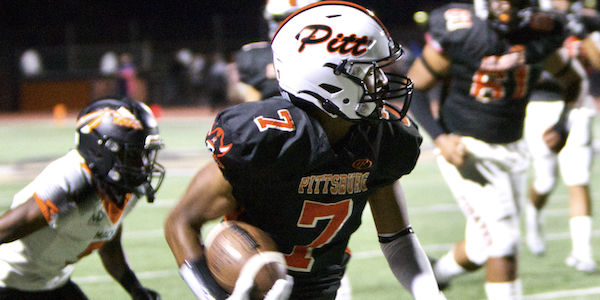 Two Weeks After Self-Destructive Loss, The No. 4-Ranked Pittsburg Football Team Outlasted A Feisty Effort From No. 7 McClymonds • PICTURED ABOVE: Pittsburg's Khai...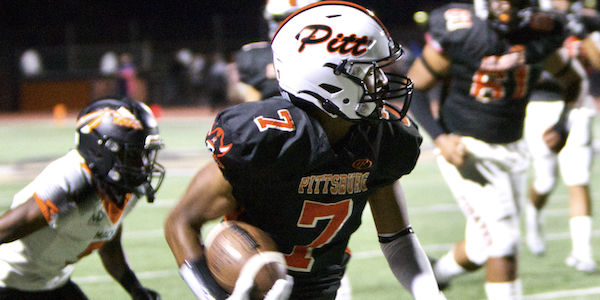 Two Weeks After Self-Destructive Loss, The No. 4-Ranked Pittsburg Football Team Outlasted A Feisty Effort From No. 7 McClymonds •
PICTURED ABOVE: Pittsburg's Khai Taylor Sprints Along The Sideline During One Of His Two TD Catches. (Ben Enos photos)
Victor Galli knew his Pittsburg High football team would be in for a test with McClymonds-Oakland coming to town, but his trepidation wasn't confined to what he saw on film. 
He remembered the last time the Warriors paid a visit.
This time, the No. 4-ranked Pirates weathered a stern challenge and made the plays they needed to emerge with a 39-21 victory. Jaden Rashada passed for three touchdowns, two to Khai Taylor, and Pittsburg turned two late turnovers by the No. 7 Warriors into a larger margin of victory than perhaps the game reflected.
The meeting was the first between the two schools since 2010. On that night, a touchdown pass from Eddie Heard to current NFL cornerback Marcus Peters with 15 seconds left made the difference in a 26-21 Warriors win at Pirate Stadium.
After the game, then-McClymonds coach Curtis McCauley was quoted by the Bay Area News Group as saying "We were the cupcake on the schedule. Well, we just turned into the real cake."
That sentiment stuck around in the Pittsburg camp, and nobody on the Pirates' side thought of McClymonds as a pushover this time around.
_______________________________
CONNECT WITH US:
Follow SportStars on Twitter & Instagram | Like us on Facebook | Subscribe!
_______________________________
After Pittsburg (4-1) took a 22-14 lead into halftime, the Warriors cut the deficit to 1 thanks to a 3-yard touchdown run by Jaivian Thomas. 
A Pittsburg interception gave McClymonds the ball back on the Pirates' 39-yard line, but Pittsburg's defense forced a three-and-out, and six plays later Rashada connected with Budha Boyd Jr. for a 44-yard touchdown pass that re-established momentum for the hosts.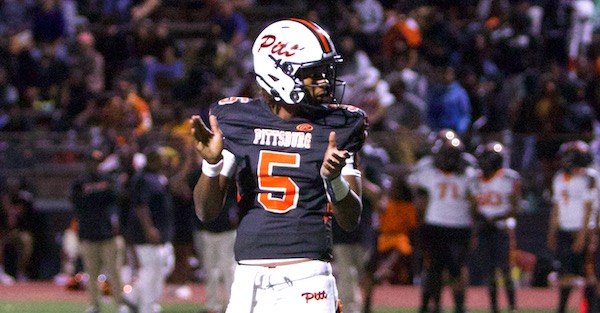 From a big picture perspective, the game had a few of the troubling signs that doomed the Pirates in a narrow loss to Folsom two weeks earlier. Penalties were an issue, McClymonds was able to make big plays on special teams, and turnovers helped the Warriors launch a comeback bid in earnest.
But on this occasion, Pittsburg persevered, and made just enough big plays to pull out the win.
"We had our bye week and we went through two weeks of practice a little flat. That kind of showed tonight," receiver Rashid Williams said. "(Now) we go in, we go back to the drawing board. We're now in league, so we can put these five games behind us and we're 0-0 right now."
For as counterintuitive as it sounds coming from a unit regarded as one of Northern California's best, the Pirates also see opportunity for growth on defense.
Despite a big night from Thomas, who ran for 170 yards and two touchdowns, late takeaways by the Pittsburg defense helped stop McClymonds' momentum and gave the Pirates a chance to pull away.
"Since the Folsom game, (we've focused) on being more aggressive. Coming up and hitting more," Taylor said. "We've still got to build on that, just coming up and filling in the gaps and fixing our defense, but we're picking it up week by week."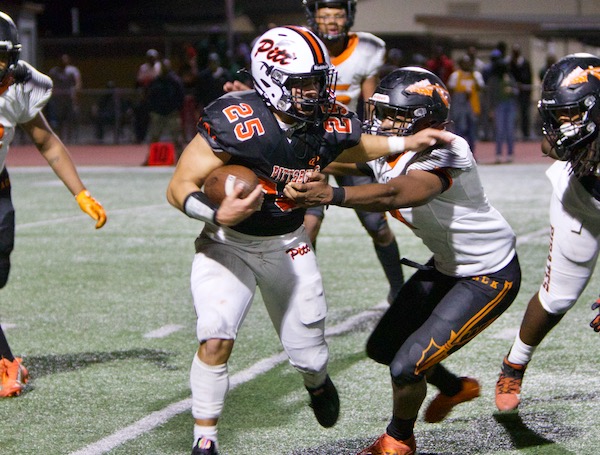 Galli was quick to acknowledge there is room for improvement while at the same time taking comfort in the fact that the lessons came in a win. 
He was similarly speedy in praising his counterparts across the field.
"I don't foresee them losing. Those guys fought really hard," Galli said. "They're a good football team and well coached. They do it right over there. My hat is off to them because they're a hell of a staff and a really good football team. They are the real cake. They ain't no cupcake.
"We just had a little more frosting."