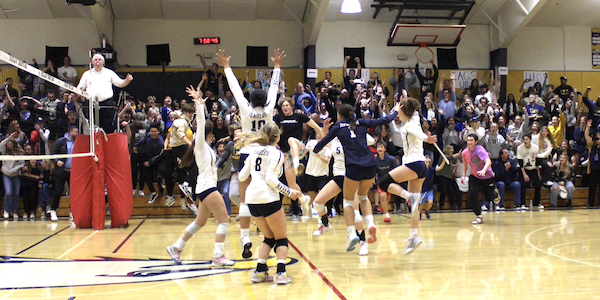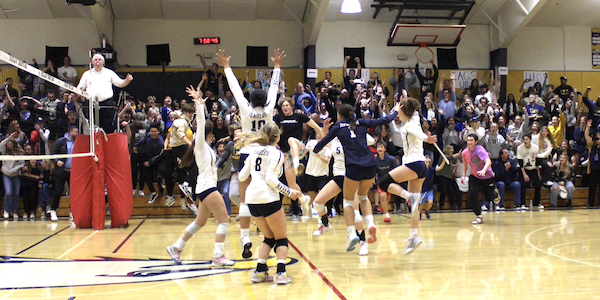 With Four Straight Five-Set Wins, Berean Christian Girls Volleyball Closed Out An Incredible State Championship Run — The School's First Ever  • EDITOR'S NOTE:...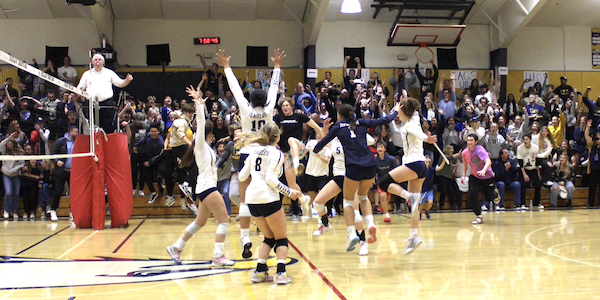 With Four Straight Five-Set Wins, Berean Christian Girls Volleyball Closed Out An Incredible State Championship Run — The School's First Ever  •
EDITOR'S NOTE: This Feature Has Been Updated With Quotes Following Berean Christian's State Championship Win.
More than a half hour had passed since freshman Marley Seelye delivered a match-winning kill that would send the Berean Christian volleyball team to its first ever state championship appearance.
Several players, parents and fans still milled about the gymnasium soaking in the vibes.
Meanwhile, setter Aunyka Uresti — one of just two seniors and the Eagles' only four-year varsity player — was still holding the CIF Northern Regional Division V championship plaque.
"Can I take it home?," she asked Berean Christian volleyball coach Lucas Abbott
The NorCal trophy earned from beating Hanford remained on campus — and four days later it had company. That's because the Eagles promptly traveled to Southern California and became the school's first ever state champion in any team sport.
And naturally they couldn't do it without following the most dramatic script possible. It took five sets to win each of their last three regional matches, including the NorCal championship win over Hanford. The state championship was, of course, going to five sets.
Berean Christian fell behind two sets to one to Victory Christian-Chula Vista before storming back with a 25-21 win in Set 4. Then the Eagles were back in their element. A fifth set where other teams show their nerves — and Abbott's squad just doesn't.
"The fight in the kids is amazing," Abbott said when reached by phone during his Saturday drive back from Orange County. "They never give up. Going through the fire they did with all those five-set matches gave them that edge to not get nervous."
Berean Christian actually faced a match point, trailing 14-13 late before the freshman Seelye delivered a pair of service points including an ace to flip the lead. After trading sideouts, Berean won the final set 17-15 when Victory Christian's kill attempt sailed too long.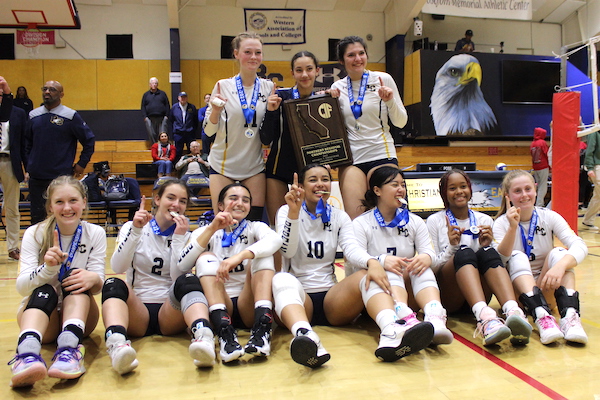 "I can't even believe it," said Rebeca Freitas, the Eagles' other senior and star libero said after the team won the NorCal final. "I've never done anything like this before. I'm just so excited. Never in club. Never in high school. This is big."
_______________________________
CONNECT WITH US:
Follow SportStars on Twitter & Instagram | Like us on Facebook | Subscribe!
_______________________________
Big is a word not often used to describe anything related to the Walnut Creek school of approximately 400 students. And while the school has had its share of athletic successes, the volleyball team was its first CIF state championship finalist in any team sport.
Big isn't even an adjective likely to be associated with the school's current volleyball roster. Berean Christian's tallest players, Seelye and sophomore Winter Jones, both stand 5-foot-10.
But there's plenty of other adjectives that do fit this team. Resilient, athletic, pesky, confident and cohesive.
All have been prominently featured during the team's state championship run.
"I believed in these girls since Day 1," Abbott said following the regional championship win over Hanford. "They just fight through adversity and they fight through being tired. They fight through injuries and all that stuff. They're just fighters. Their heart is amazing. They never give up. They're just very consistent.
"That's what I preached the whole season: Be confident and consistent. Let's just do that and be who we are. Whoever is on the other side of the net, don't worry about that. Just handle our side."
The NorCal final featured a rocky start, though.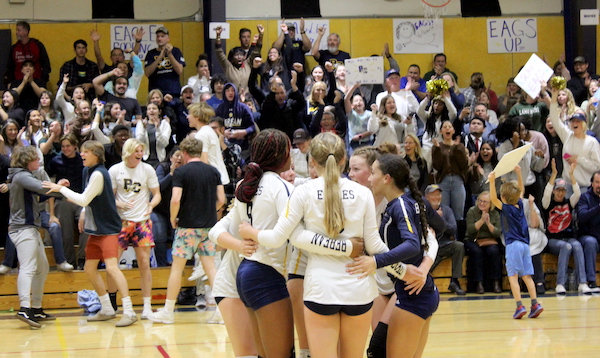 A number of unforced errors allowed Hanford to open up an 18-10 lead in the opening set and roll to a 25-14 win. Much like Berean Christian, the No. 11-seeded Bullpups entered the match riding the emotion of multiple five-set victories.
Berean Christian came out for the second set much more assured of itself. The Eagles and Bullpups matched each other blow for blow and were knotted at 16-16. Then a pair of Seelye kills and Freitas aces sparked a 9-1 run that closed out the set and ignited a raucous home crowd.
The crowd. That was another big development in the team's historic run.
"The crowd. We've never had that (atmosphere) in Berean history," Uresti said after the win over Hanford.
"They were such a big part of our attitude and energy out there," junior outside hitter Sophie Hall added. "We said to each other early in the match, 'Let's give them something to be loud about,'"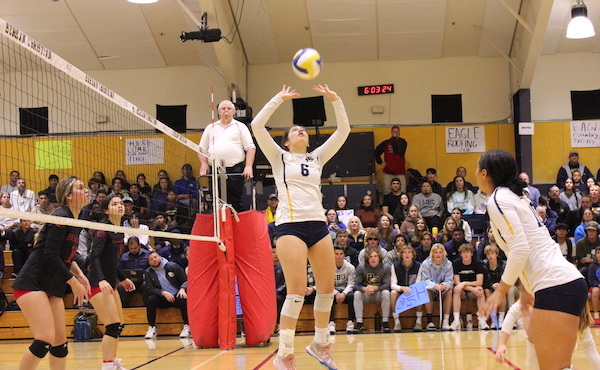 Abbott credited Berean's fervent fan base throughout the postseason to his assistant coach Jennifer Uresti, also Aunyka's mom. Jennifer Uresti started flooding the program's Instragram account with updates, highlights and match times. And support grew tenfold.
While watching the live stream of the state championship match, support for Berean sounded more or equal to its Southern California counterpart. There's also video on Facebook of faculty and fans watching the state final on a projector screen in the Eagles' home gym.
In their home gym during the NorCal final, Berean rode the wave of its crowd to a 10-1 lead in the third set — due in large part to five aces from sophomore Annasophia Vranjes — but Hanford quickly evened it back up at 14-14. The Eagles took the lead for good when a violation on the Bullpups made it 20-19. Berean fought off a handful of long rallies and closed out the set 25-23.
But with the state final just one set from its grasp, the predominantly young Eagles roster got tight. Hanford never trailed in the fourth set and fought off a late Berean push to win 25-23.
But the fifth set was different. The Eagles couldn't have looked calmer taking the floor.
"I don't even know where that (calm) came from, actually," Aunyka Uresti said. "Coming out calm is just something we do better. Knowing that in the fifth set we've always pulled through, honestly it gave us like a peace of mind."
Hall broke a 4-4 tie with one of her four kills in the set — she finished the night with a team-high 16 — and Berean never trailed again. The Eagles scored five of the match's last six points, punctuated with a Seelye kill and a human flood onto the floor.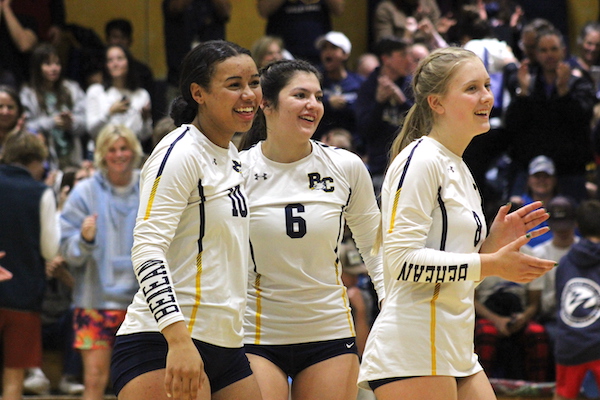 "After that fourth set, we just said to each other, 'Give it your all,'" said Freitas, who had 53 kills in the NorCal final and went into the state championship with a school single-season record of 783. "We knew this might be the last time playing together. There was a lot to lose, but if we put everything on the line, we believed we could make it."
Seelye bringing it home with some deft reaction at the net led to a proud coaching moment for Abbott.
"She didn't want to be a middle when I first met her this summer," the coach said. "But that's what we needed. Being confident in a new position takes a while, and I think she's more comfortable. Now with our bigger crowds, she already has a fan base. She's famous. Whenever the rosters are announced, she always gets one of the biggest roars."
Now in his eighth season as the Berean Christian volleyball coach, Abbott has 122 wins and is 14-8 in postseason matches. Winning a state title wasn't a realistic goal when he took over the program. Seeing it unfold was something not entirely easy to describe.
"It's a lot to take in," Abbott said during that Saturday conversation on his way home. "They were 10-23 the year before I took over. I was 10-20 my first year. It's a really good community that works hard. We don't have the 6-foot-4 girl who can hit it anywhere. I've never seen that kid walk through the gym. But maybe this establishes us. Maybe that could happen now."
Until that happens, he's happy to take a group of hard-working, good kids and watch them fight.
"I know the community and The Berean Way. It's just different," he said. "I think it's special. It's why I'm still here. We have pretty good athletes, but we have amazing people. They're just there for each other."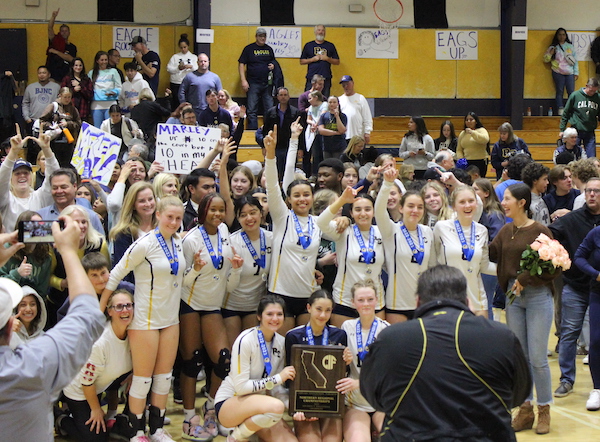 Not bad for a program that still doesn't have a North Coast Section championship banner. The Eagles earned an at-large berth after reaching the NCS Div. V semifinals this season. 
As the home crowd slowly dispersed following the NorCal championship win, Abbott admitted that one of his first thoughts after the win was now having just two days to plan a trip to Southern California. And close to an hour later, he wasn't concerned with who they'd play or how his Eagles would fare.
"We somehow hang. We belong. We belong in any gym."
He was right.