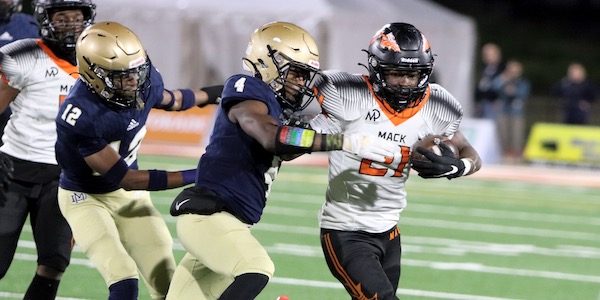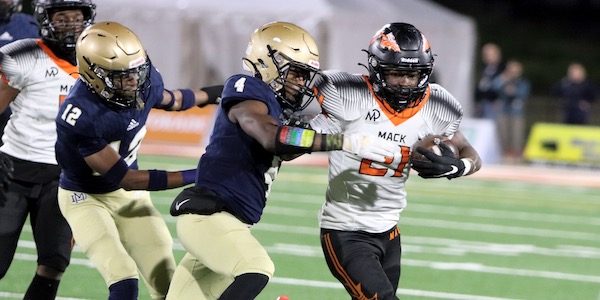 McClymonds Forces Three Turnovers, Stages Valiant Comeback Effort Before Falling 26-18 To Mater Dei Catholic-Chula Vista • McClymonds-Oakland coach Michael Peters couldn't help but...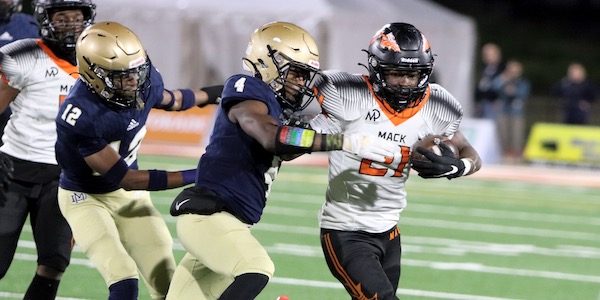 McClymonds Forces Three Turnovers, Stages Valiant Comeback Effort Before Falling 26-18 To Mater Dei Catholic-Chula Vista •
McClymonds-Oakland coach Michael Peters couldn't help but be proud of his team.
Minutes earlier, the California Interscholastic Federation Division 2-AA state bowl championship ended with his Warriors on the short end of a 26-18 loss to Mater Dei Catholic-Chula Vista.
But, with his squad making its sixth-straight appearance in a state bowl game, Peters paused and reflected on yet another successful campaign by the Oakland powerhouse.
"Just to make it here. We lost a lot last year," said Peters. "For them to make it back, to make it here six times in a row is a great job for our program, our school, our district. What other program can say they've come six times in a row?"
McClymonds showcased its usual determination right to the end. Trailing 20-12 entering the fourth quarter, a 19-yard touchdown pass from Deontae Faison to Redmani Albert brought the Warriors closer. The 2-point pass attempt failed though, leaving Mack down 20-18.
Mater Dei Catholic had a response ready in the form of a trick play.  A double pass resulted in a 51-yard touchdown pass from Rollin George to Surahz Buncom, but a missed PAT kept it a 1-score game at 26-18 with 7:36 to play.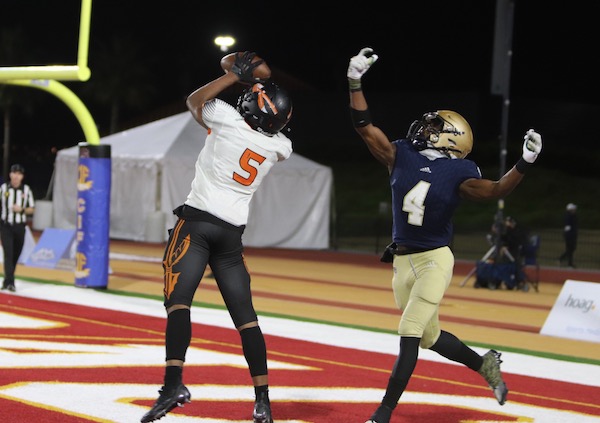 The Warriors made one last push but a tipped pass landed in the hands of Mater Dei Catholic's Chris Snyder, giving the Crusaders the ball back with 2:16 left to play. McClymonds got the ball back with 16 seconds left, but the Warriors couldn't get past the Mater Dei Catholic 40, and the SoCal champs held on to claim the state bowl title.
What ended as a close defeat actually started in the Warriors' corner.
A 39-yard interception return for a touchdown by Ferrari Miller Jr. seemed to set a tone for the Warriors right away. On Mater Dei Catholic's first offensive play of the game, Miller cut right in front of a Crusaders receiver, grabbed the interception, and took off for the game's first score.
The defensive fireworks were all McClymonds (12-2) could muster in the first half. Mater Dei Catholic (11-4) responded right away, scoring on a 13-yard play-action pass from Dominic Nankil to Buncom that put the Crusaders up 7-6.
A pair of Mater Dei Catholic field goals made it 13-6 at halftime, and with a comeback in mind, McClymonds came out ready to roll. The Warriors drove into Crusader territory, but with a fourth down conversion needed to continue the drive, a pass by Faison to a seemingly open Miller instead hit the umpire and fell incomplete.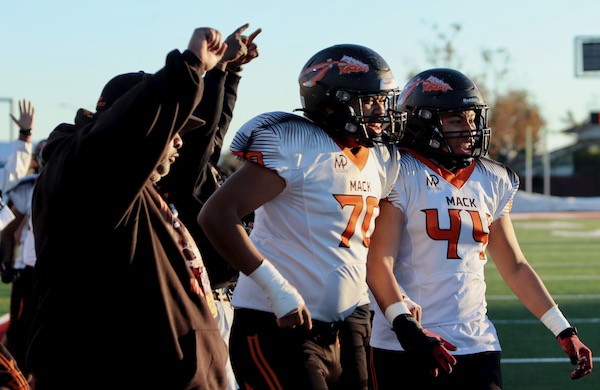 Just a few plays later, Mater Dei Catholic kept the good feelings going. A 3-yard touchdown run by Anthony McMillian Jr. increased the margin to 20-6, and a spectacular one-handed interception by Paulo Aranalde pushed the momentum further towards the Southern California champs.
"A team that scored 900 points and you hold them to two first downs in the first half, you hope to be up by more than seven points," said Mater Dei Catholic coach John Joyner. "We've won a lot of close games; we play well in close games, we don't flinch, and we made one more play. Sometimes that's all you have to do."
But again, McClymonds responded. An interception by Albert gave the Warriors the ball inside the Mater Dei Catholic 20, and a 4-yard touchdown run by Jaivian Thomas cut the deficit to 20-12 late in the third quarter.
Thomas battled illness throughout the game, as did a large portion of the team, according to Peters. The star running back finished with 72 yards on 17 carries while Miller grabbed a pair of interceptions to lead the Warriors defensively.
Despite the loss, McClymonds wraps yet another dominant season as the Oakland Athletic League champion and a bona fide NorCal power. Thomas spent all season in the NorCal Player of the Year discussion, and the Warriors earned wins over state bowl participants Bellarmine-San Jose and San Ramon Valley Danville.
"It's the dedication," Peters said. "I'm proud of my guys just by standing and taking it. We got our share and we gave our share. It's just the discipline. Small school, 280 kids. Every year is a battle uphill. It's a great job."