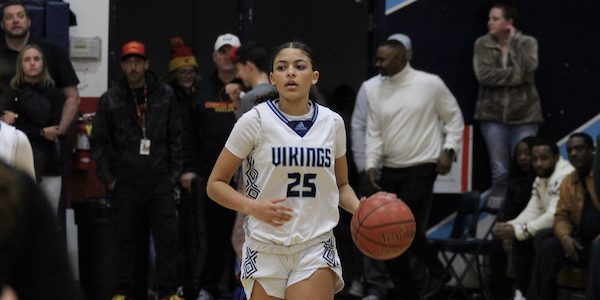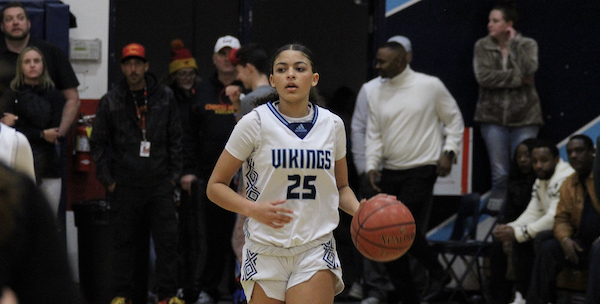 Who Needs A Fab 5, When You've Got A Super 7? A Tight-Knit Core Of Seven Sophomores Has Chico's Pleasant Valley Ready For Primetime...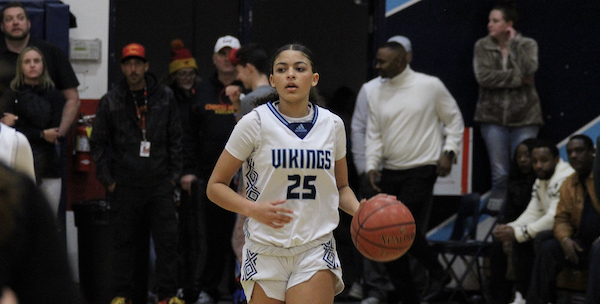 Who Needs A Fab 5, When You've Got A Super 7? A Tight-Knit Core Of Seven Sophomores Has Chico's Pleasant Valley Ready For Primetime •
PICTURED ABOVE: Pleasant Valley Sophomore Guard AJ Gambol. (Stephen Tranberg/Chico Enterprise-Record photo)
Playoff basketball is different. Especially in one's home gym, as a high seed in the state playoffs. The Pleasant Valley girls basketball team wasn't ready for that spotlight when it arrived on its Chico campus last March.
The Northern Section Division III champions were a No. 2 seed in the CIF Div. III field and lost by 11 to 15-seeded Evergreen Valley-San Jose.
But there's a caveat: That Vikings team featured seven freshmen and one sophomore. They weren't supposed to be ready.
They are now.
Powered by a core of talented sophomores, Pleasant Valley begins the fourth week of January with a 19-3 overall record and ranked No.17 in SportStars NorCal Top 20 girls basketball rankings. All three of the team's losses are to other Top 20 teams from outside of the Northern Section.
"We weren't quite yet ready for that big crowd last year," Pleasant Valley girls basketball coach Bob Paddock said by phone on the morning of Jan. 20. "They're more experienced now. They're a much different team than they were last season."
_______________________________

CONNECT WITH US:
Follow SportStars on Twitter & Instagram | Like us on Facebook | Subscribe!
_______________________________
Later that night, Pleasant Valley had a chance to prove that theory by hosting bitter rival Chico High in front of a packed gymnasium. The Vikings trailed by eight at halftime, but won by nine, 60-51.
It was the team's sixth win in a row and the 11th in the past 12 games for what will be one of the most fascinating teams to keep an eye on from mid-February to potentially mid-March.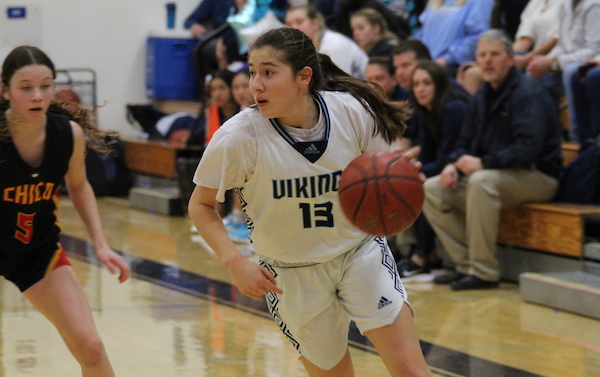 There are no seniors on the Vikings roster, and no players taller than 5-foot-10. But they can put the ball in the hoop — at an average close to 62 points per game — and have a chemistry that's difficult to rival.
All seven sophomores have played together at the AAU level from as early as third grade. A group of that size and talent sticking together seems incredibly rare, especially in a city with multiple public high schools. They also arrived on Paddock's coaches office doorstop at the perfect time. Perhaps the only time he'd have roster openings for that many freshmen.
"I've never moved that many kids up," said the coach who's now in his 12th season as coach of the Vikings, though that tenure included a seven-year interruption when he coached at Durham High from 2009-2016. "COVID was probably a part of it, with some dropping out and losing interest after the abbreviated (2020-21) season."
The talent and chemistry was evident from the start. But it didn't translate to immediate success. Pleasant Valley was just 10-7 when the calendar changed to 2022.
"They'd all had success in AAU, but playing AAU and playing high school ball is totally different," Paddock said. "There's the shot clock, and playing in front of your friends. AAU is all in front of your parents. High schools hold practice five to six days a week, which can also be different from AAU. They had to go through all that."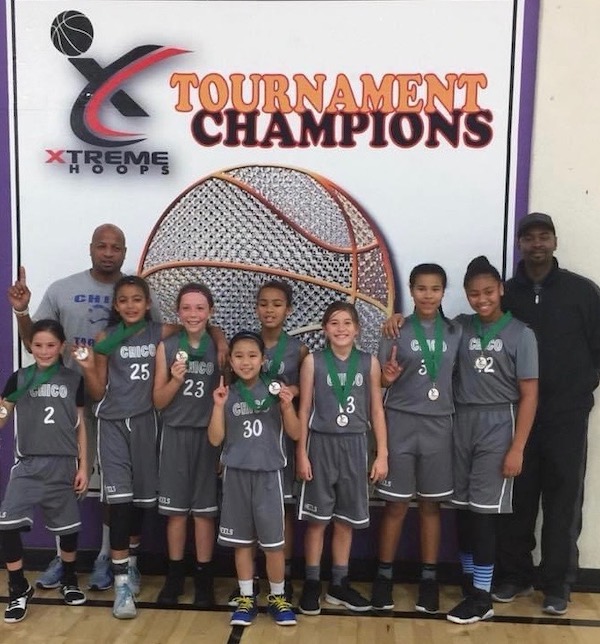 They were also adapting to Paddock.
"For a long period of our lives we only really ever played for one coach," sophomore center and co-captain Ava Dunn said. "Freshman year was a chance to begin playing for someone different. We had to adapt some, but Coach Paddock really cares about how all of us play. He really cares about us as a team and wants us to be the best versions of ourselves."
One year later and they're all getting closer to that version.
A point of emphasis on that front is defense.
"Last year, a big issue on our team was defense and rebounding," sophomore guard AJ Gambol said. The team's other co-captain, Gambol led the team in scoring through the team's first 19 games with an average of 15.3 a contest. "Our offense was pretty good. We were always getting our buckets. We know our offense will come to us. This year we're working on our defense and communication. Working hard on both ends of the floor."
Before giving up 51 points to Chico, Pleasant Valley was holding opponents to just under 42 points per game. Paddock says the goal each night is 40.
However, if the Vikings get stuck in a shootout they've got more than enough firepower to hang.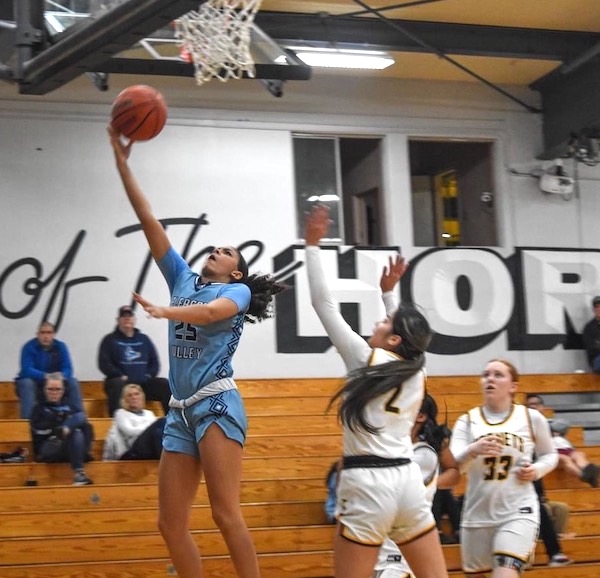 In addition to Gambol's 15 points a night, sophomore Maddux Wilson was averaging 14.7 through 19 games. That included a 30-point effort in a win over Crescent Valley-Corvallis (Ore.) in a third-place game at the West Coast Jamboree. She was 7-for-12 on 3-pointers in that game.
"She has a quick release and is just a pure shooter," Paddock said of Wilson. "She hustles and is just non-stop energy."
Sophomore guard Nya Fortune is also a deep threat and is third on the team in scoring with an average of eight points per game. Caitlyn Vickery, the one junior in the starting lineup, averages close to six points and six rebounds. Dunn is the team's leading rebounder, pulling down close to seven a night.
We mentioned seven sophomores, though. In addition to Gambol, Wilson, Dunn and Fortune, there's also Shannon Fong, a feisty guard that's typically one of the first players off the bench for Paddock. Jada Nelms is also a reserve wing and Kabrey Cooper has been a key backup in the post.
Two of Pleasant Valley's three losses were by single digits, including a 53-46 defeat to NorCal No. 3 Folsom (17-2) on Dec. 9. It was that loss, and not a win, that seemed to signal to the Vikings players that they were nearing the team they believed they could be.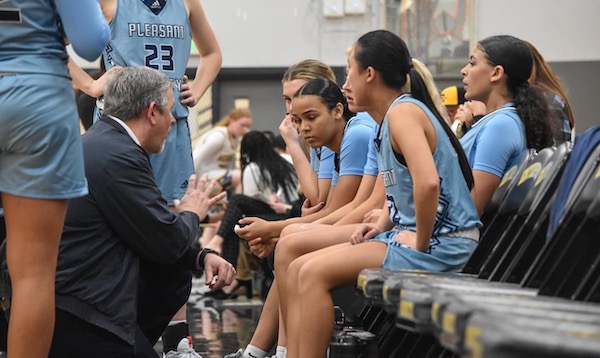 "I think the Folsom game was our best game," Gambol said. "They're a Top 10 team in the state and I think a lot of people thought we were going to get whooped, and we only lost by 7. We were really proud of how we played as a team. We were up in the fourth quarter, that's how close we were to winning that game. And that gave us that much more confidence."
Since then, the team's only hiccup was a 46-44 loss to NorCal-ranked Heritage-Brentwood — a team that features 6-foot-4 UCLA-bound center Amanda Muse. Recall, Pleasant Valley's tallest player is 5-10.
"Our defense and trust in each other has really been the key," Fortune said. "We all grew as individuals. I've been a lot more confident and I can see that in my teammates as well."
That trust is six to seven years in the making. It's just impossible to fabricate the type of cohesion playing that long with each other can create.
Each of the girls know they can lean on each other when needed — and believe in one another to make them better.
"I like that AJ pushes me," Fortune said. "She likes to pester me at practice. She'll try to get into my head so I can learn how to keep opponents out of it. … She can really tell when I'm stressing or nervous with the ball. She'll say, 'Nya, take the ball. You know you can make it.'"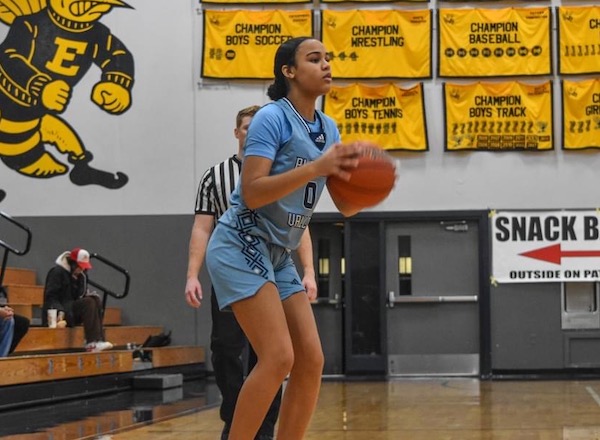 Wilson had similar sentiments about Dunn.
"Ava always tries to encourage me when I'm playing down," the sharpshooting guard said. "She's a very good all-around player, too. Especially with how she's learned now that she can drive to the basket."
The Pleasant Valley girls basketball schedule has three weeks of regular season action left before the Vikings will look to win their fourth consecutive Div. III section title. But that definitely won't be the end goal this time around.
"Our goal for each of our high school years is to win state," Dunn said.
Bring on the spotlight and the crowds.