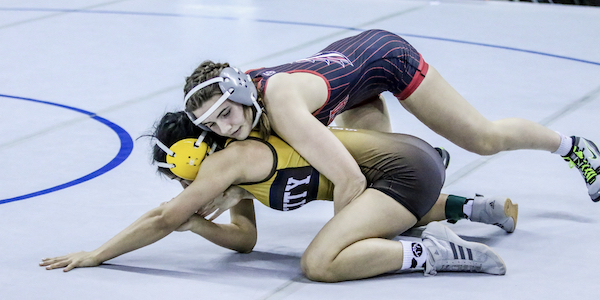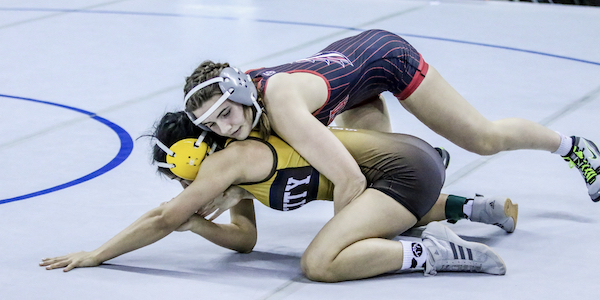 As The Postseason Begins, Expect Big Things From These 137 Wrestlers — The Best Of NorCal Girls Wrestling This Season • PICTURED ABOVE: Bella...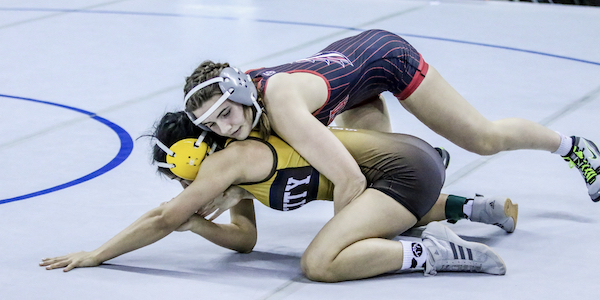 As The Postseason Begins, Expect Big Things From These 137 Wrestlers — The Best Of NorCal Girls Wrestling This Season •
PICTURED ABOVE: Bella Vista-Fair Oaks Junior Gianna Dibenedetto (137 Pounds) At The 2022 SJS Masters. (Ike Dodson photos)
Before she was the No. 1 ranked female wrestler on the planet at 72 kilograms and a five-time world champion, Amit Elor was a freshman NorCal girls wrestling darling at the CIF State Championships.
Her first and only prep season, before she departed for international stardom, culminated with five quick pins and a 150-pound state title for College Park-Pleasant Hill.
Elor is sensational, but she isn't alone. Many of the greatest collegiate and international wrestling stars are from Northern California.
With that in mind, we took an analytical look at the state's prep wrestling scene to target the elite competitors at the top of NorCal girls wrestling scene and pose the question: Who is the next Amit Elor?
Granted, it's a nearly impossible comparison, considering Elor's achievements. But as the sport continues to grow and thrive, we aim to present a deep list of NorCal's best, because the competition is only getting better. It also doesn't hurt to dream big.
With regular season wrestling complete, we scanned brackets from dozens of tournaments throughout the year to identify NorCal's best. Since not all tourneys are created equal, special attention was given to action at the 129-team Napa Valley Classic at Vintage.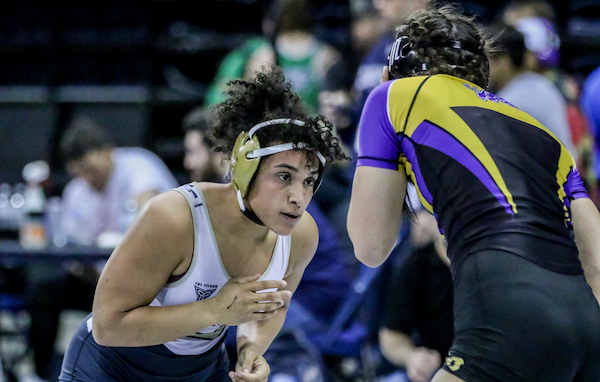 It's also where the top NorCal girls wrestling state title favorite, Evergreen Valley-San Jose, emerged. Despite finishing just 58th in last year's CIF tourney with zero place winners, the Cougars were the top California team in Napa and have eight wrestlers listed below. The next closest is probably Pitman-Turlock, which doesn't boast the same depth, but may have multiple top-podium spots at state.
We also couldn't ignore action from the recent Judy Rider Memorial Tournament at Hollister or Del Oro's Lady Eagle Invite. Results from those brackets helped us move a few wrestlers in, and shuffle some others into new weights.
The list, by the way, is not numbered, as the numbers for each weight are uneven. The names are also not alphabetical. Starting with the first wrestler listed, the arrangement is designed to list those closest to Elor status first, based on their collective prep resume and this year's tournament results.
Notably missing from this NorCal girls wrestling list is national stalwart and Del Oro-Loomis senior Elena Ivaldi. Last year's state title winner will skip the high school season to train for international competition. It's a path not unlike that of Elor's one-and-done campaign at College Park.
_______________________________

CONNECT WITH US:
Follow SportStars on Twitter & Instagram | Like us on Facebook | Subscribe!
_______________________________
There are 22 other returning state place winners listed below, including 2022 CIF champion Kalila Shrive (West-Tracy) and runner-ups Lillian Avalos (Pitman-Turlock) and Kaiulani Garcia (Gilroy).
With our list defined, all that's left is to shake hands and wrestle!
101 POUNDS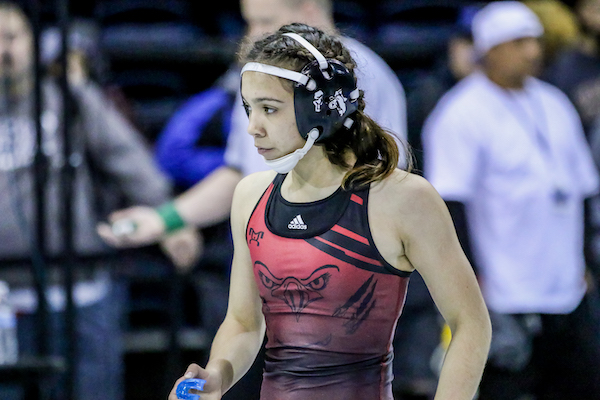 Kaiya Maggini, Fr., Del Oro-Loomis (SJS)
Jaelle Cortez, Fr., Gilroy (CCS)
Lauren Nguyen, Jr., Granada-Livermore (NCS)
Abbeygael Cabuag, Sr., Presentation-San Jose (CCS)
Madison Heinzer, Jr., Evergreen Valley-San Jose (CCS)
Kaydence Vang, Jr., Sheldon-Sacramento (SJS)
Natalie Fuentes, Jr., Delhi (SJS)
Gisele Solano, Fr., Franklin-Elk Grove (SJS)
Jazmine Turner, So., Grace Davis-Modesto (SJS)
Celeste Meza, Sr., Alisal-Salinas (CCS)
Danisha Nunez, Sr., Watsonville (CCS)
Ashley Dumas, Jr., Gregori-Modesto (SJS)
Sophia Villoria, So., Wood-Vacaville (SJS)
106 POUNDS
Savannah Talmadge, So., Northgate-Walnut Creek (NCS)
Rehmat Gill, Sr., James Logan-Union City (NCS)
Sabrina Tran, Sr., Evergreen Valley (CCS)
Aleena Nguyen, Fr., Central Catholic-Modesto (SJS)
Bianca Nelson, Jr., Rancho Cotate-Rohnert Park (NCS)
Aaliyah Montantes, Sr., Lincoln-Stockton (SJS)
Taylor Wells, Jr. Granite Bay (SJS)
Elise Toste, Jr., Corning (NS)
Alexander Loretto, So., Pacheco-Los Banos (SJS)
111 POUNDS
Mikayla Garcia, Jr., James Logan (NCS)
Cynthia Meza, So., Calaveras-San Andreas (SJS)
Abbi Cooper, So., Clayton Valley-Concord (NCS)
Leanna Luchico, Fr., Laguna Creek-Elk Grove (SJS)
Crystal Fraire, Sr., Bethel-Vallejo (NCS)
Alondra Ocampo, Sr., Edison-Stockton (SJS)
Malia Niimi, Jr., Granite Bay (SJS)
Andrea Gonzalez, Jr., Davis (SJS)
116 POUNDS
Kiely Tabaldo, Sr., Menlo-Atherton (CCS)
Briseis Serrano, Sr., Lincoln (SJS)
Breanna Packheiser, So., Placer-Auburn (SJS)
Maile Ngụy, Fr., Granada (NCS)
McKaylah Youngblood, Sr., Vintage-Napa (NCS)
Mikayla Putsch, Fr., Evergreen Valley (CCS)
Taryn Oak, So., Castro Valley (NCS)
Isabel Garcia, Fr., Alisal (CCS)
121 POUNDS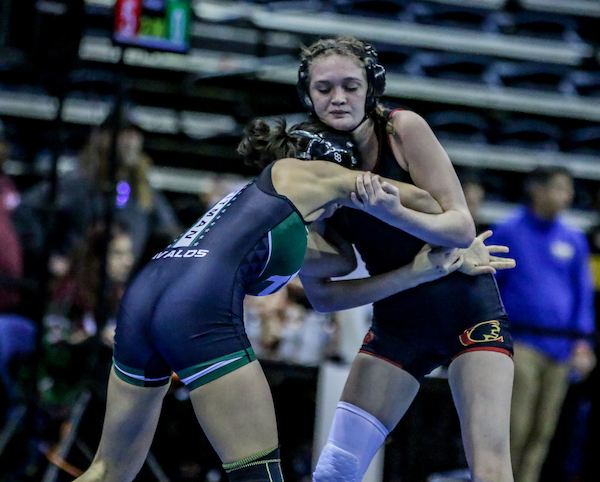 Lillian Avalos, Sr. Pitman-Turlock (SJS)
Chloe Salla, Jr., Benicia (NCS)
Isabelle Camarillo, Sr., Laguna Creek (SJS)
Hailey Kagle, Sr., Orland (NS)
Makenzie Shaw, Sr., Chico (NS)
Jazmin Roschmann, Jr., Roseville (SJS)
Cassidy Lopez, Jr., Vintage (NCS)
Bella Rodriguez, Jr. Evergreen Valley (CCS)
126 POUNDS
Baya Austin, Fr., Pitman (SJS)
Tamara Grace, Fr., Gilroy (CCS)
Loretta Lopez, Sr., Elk Grove (SJS)
Carmella Foley, Sr., James Logan (NCS)
Alondra Juarez, Jr., Alisal (CCS)
Danica Kelly, Jr., Scotts Valley (CCS)
Ally Cortez, Sr., Del Oro (SJS)
Mikayla Marquez, Jr., Castro Valley (NCS)
Azaria Biegler, Jr., Lodi (SJS)
Tatum Salas, Sr., Upper Lake (SJS)
131 POUNDS
Kaydence Boyd, Fr., Elk Grove (SJS)
Gabby Austin, So., Pitman (SJS)
Sophia Hejnal, Jr., Enochs-Modesto (SJS)
Mary Jane Porter, Jr., Gilroy (CCS)
Hannah Ripper, Sr., Miramonte-Orinda (NCS)
Oriyana Castex, Sr., Laguna Creek (SJS)
Maddy Young, Sr., Upper Lake (NCS)
Kaysa Martinovsky, Jr., Scotts Valley (CCS)
137 POUNDS
Taydem Khamjoi, Sr., Chavez-Stockton (SJS)
Gianna Dibenedetto, Jr., Bella Vista-Fair Oaks (SJS)
Valerie Glenn, Sr., Gilroy (CCS)
Alex Maday, So., Whitney-Rocklin (SJS)
Hana Duus, Sr., Fremont-Sunnyvale (CCS)
Jasmine Vo, Sr., Santa Rosa (NCS)
Ariana McPike, Sr., Mills-Millbrae (NCS)
Amy Gray, Sr., Harbor-Santa Cruz (CCS)
Ariana Mercado, Sr., Soledad (CCS)
Kayla Zeidler, So., Casa Grande-Petaluma (NCS)
Eliza Goodwin, Sr., Rodriguez-Fairfield (SJS)
Janie Houser, Jr., Aptos (CCS)
Athena Calderon, Sr., San Leandro (NCS)
143 POUNDS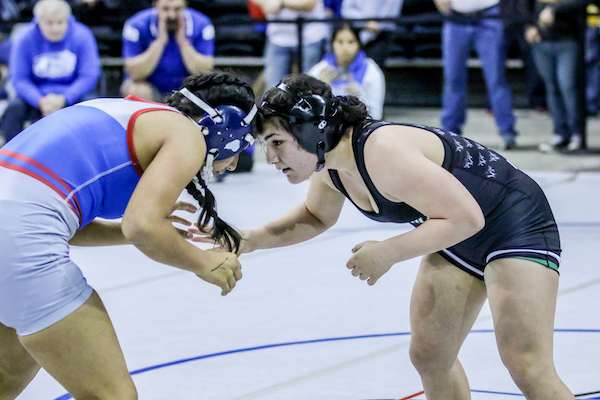 Alana Ontiveros, Sr., Pitman (SJS)
Dafne Guadarrama, Sr., Franklin-Elk Grove (SJS)
Cora Cost, Sr., Lowell-S.F. (SFS)
Kayleen Tuavao, So., Tokay-Lodi (SJS)
Megan Stottsberry, Sr., Orland (NS)
Joselin Hernandez, Jr., Alisal (CCS)
Madeline Lazo, Sr., Evergreen Valley (CCS)
Noa Arnold, Sr., River City-Sacramento (SJS)
Luna Stathopoulos, Jr., Novato (NCS)
150 POUNDS
Kaiulani Garcia, Jr., Gilroy (CCS)
Mikayla Lancaster, Jr., Gregori (SJS)
Angeline Turner, Jr., Davis (SJS)
Sophia Yurkovich, Sr., Liberty-Brentwood (NCS)
Alex Peregrina, Fr., Upper Lake (NCS)
Kaylee Ceja, Sr., Liberty Ranch-Galt (SJS)
Marissa Magana, Sr., Enochs (SJS)
An Nguyen, Sr., Evergreen Valley (CCS)
Mahlyah Sao, Fr., Newark Memorial (NCS)
Laila Grijalva, Fr., Monterey (CCS)
160 POUNDS
Kalila Shrive, Sr., West-Tracy (SJS)
Jamie Micallef, Jr., Half Moon Bay (CCS)
Sophia Jetton, Sr., Amador Valley-Pleasanton (NCS)
Kiara Daniels, Sr., Los Banos (SJS)
Christina Ballejos, So., Sheldon (SJS)
Brianna Hernandez, Jr., McClatchy-Sacramento (SJS)
Mariah Fales, Jr., East Nicolaus (SJS)
Aaliyah Zaballos, Jr., Castro Valley (NCS)
Midasia Wathen, Sr., Chico (NS)
Mia Zaragoza, Jr., Windsor (NCS)
Trinity Pineda, Jr., Modesto (SJS)
Julia Boboc, Sr., Whitney (SJS)
Alexis Ruiz, Jr., Monterey (CCS)
Andrea Garcia, Jr., Evergreen Valley (CCS)
172 POUNDS
Bianca Pesole, Sr., Elk Grove (SJS)
Jolette Torres, Sr., Windsor (NCS)
Elora Parises, Sr., Lodi (SJS)
Mariela Rodriguez, Jr., Salinas (CCS)
Katrina Dunklin, Jr. Monterey (CCS)
Kathryn Hingano, Jr., Rio Linda (SJS)
Camila Granada, So., Santa Rosa (NCS)
Siomara Hernandez, Jr., Cupertino (CCS)
Angela Gutierrez, Sr., Gridley (NS)
Maliah Gomez, Jr., Tokay (SJS)
Chloe Goddard, So., Rio Vista (SJS)
Leenah Abushi, Jr., Arroyo-San Lorenzo (NCS)
189 POUNDS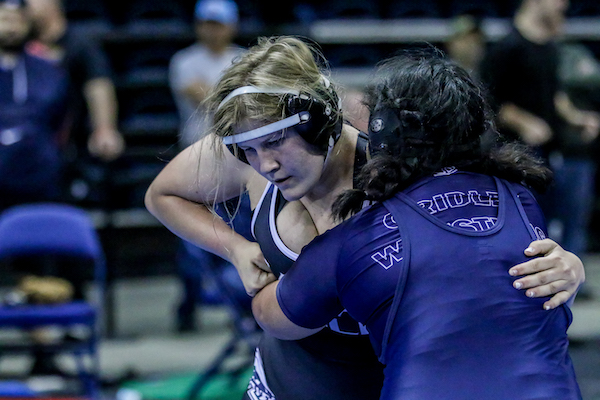 Grace Mercado, Jr., Armijo-Fairfield (SJS)
Casey Rankin, Sr., Casa Roble-Orangevale (SJS)
Emma Ford, So., Bella Vista (SJS)
Katianna Martinez, So., Evergreen Valley (CCS)
Rawni Self, So., Windsor (NCS)
Destiny Gil, Jr., Salinas (CCS)
Anaya Whiteside, Jr., Lincoln (SJS)
Vanessa Mendoza-Balbuena, Fr., Central Valley-Ceres (SJS)
235 POUNDS
Gemma Templeton, Jr., Rocklin (SJS)
Jaime Shapton, Sr., Pleasant Grove-Elk Grove (SJS)
Brendalyn Cunningham, So., Bethel (NCS)
Brianna Espinoza, So., Central Valley (SJS)
Skyler Bruno, Sr., Golden Valley-Merced (SJS)
Julia Gomez, Jr., East Nicolaus (SJS)
Mayari Salgado, Sr., San Leandro (NCS)