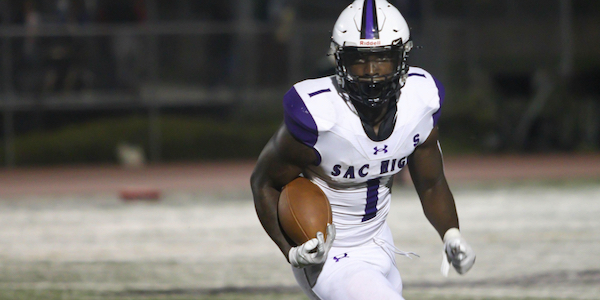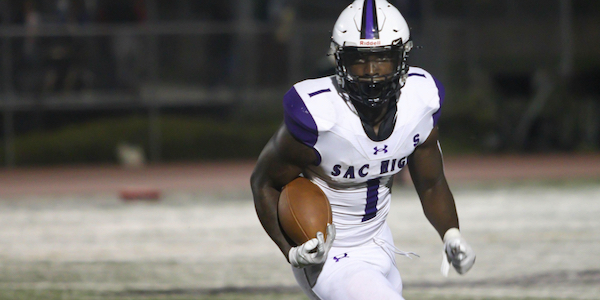 After Nearly A Year Of Rehab, Sac High's Celebrated Two-Way Talent Lamar Radcliffe Returned To Action For Sac High Football — Where Family Awaited...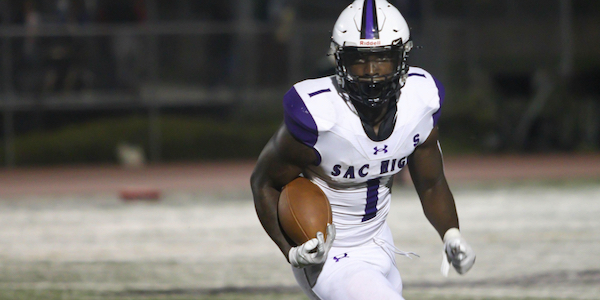 After Nearly A Year Of Rehab, Sac High's Celebrated Two-Way Talent Lamar Radcliffe Returned To Action For Sac High Football — Where Family Awaited
Lamar Radcliffe's first carry went into the middle of the Sacramento High line, and when there wasn't a lane available, he bounced right looking for more space.
The run didn't yield anything in terms of yardage.
But it was still unquestionably a success.
After a year spent rehabbing a knee injury that ended his 2022 season after just one game, Radcliffe returned to the field as the Dragons opened their season at Rodriguez-Fairfield.
No, the story didn't have the happy ending he might have dreamed up during the grueling comeback process. Although Sacramento jumped out to a 20-0 lead after one quarter, the host Mustangs closed the gap with a big second quarter and ultimately pulled away for a 43-33 victory.
Radcliffe and the Dragons hope it's just another bit of short-term pain that will lead to long-term gain.
_______________________________

CONNECT WITH US:
Follow SportStars on Twitter & Instagram | Like us on Facebook | Subscribe!
_______________________________
Once Sacramento stepped on the field, it was easy to spot Radcliffe as a man thankful for another chance. He led his team onto the field toting a school flag and later made his way to midfield to take the coin toss alongside teammates that included his cousin and fellow senior standout, Corie.
And, on that first play back, he even got a chance to do something he'd never done in a Dragons uniform. He lined up in the same backfield as his younger brother. Only a freshman, Laron James-Radcliffe took his first high school snaps at quarterback while Lamar lined up for his first action in a year.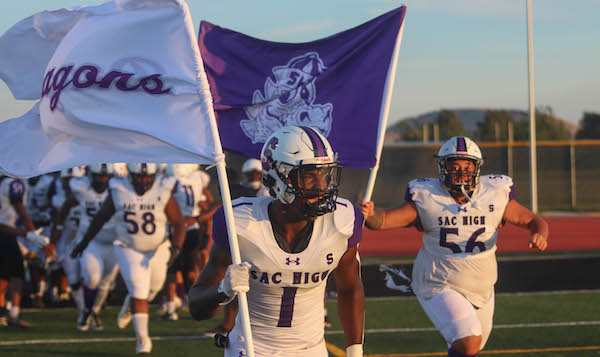 "It felt amazing to be back," Lamar Radcliffe said. "It was a little tough. Wasn't what I expected but we did good as a team. We just need to come back stronger and get better."
At times, Radcliffe's familiar physical running style resurfaced as the 6-foot-2, 225-pound bruiser bowled over defenders for extra yardage. At others, the Rodriguez defense accomplished its goal, bottling the Utah commit up and limiting his big play ability.
Radcliffe didn't play on a snap count, rotating in and out at both running back and linebacker. He won't have to carry the entire load on the ground this year, with talented junior Darrius Moore ready to offer a bit of lightning to Radcliffe's thunder.
Of course, this isn't a one-week process. While the physical hurdle of returning to the field went well, save for a few moments of cramping late in the game, the mental recovery continues. That manifested in what both Radcliffe and head coach Kimbbie Drayton termed a "rusty" outing.
"I think I'm there (physically), I was just feeling a little nervous," Radcliffe said. "I've got to get back, get my swagger back and get my confidence."
It's an understandable learning curve given what the last year has been like. The injury happened in Sacramento's 2022 opener at Stagg-Stockton, one of what would ultimately be just two wins for the Dragons.
Radcliffe suffered tears in multiple ligaments, injuries that led to a long recovery and unavoidable moments of doubt.
"It was the worst," Radcliffe said. " Worst thing I ever did. A little depressed, a little sad. I did a lot to get back."
What helped him get back? The support of family and his team, including some helpful counsel from his coaches.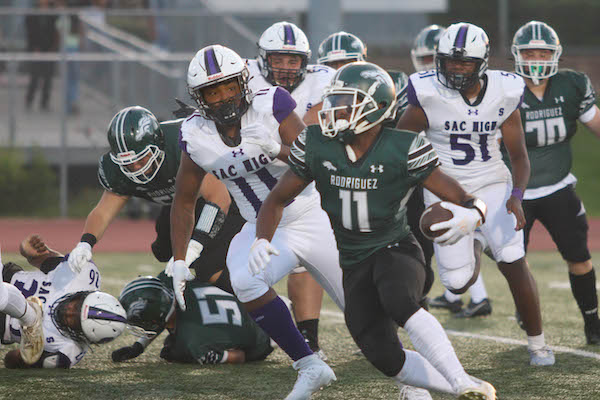 When he finally did hit the field again, the family part of the equation had grown. His cousin, Corie, is himself a highly touted linebacker who earned All-Metro honors from the Sacramento Bee in 2022. Those two have teamed up before.
Ask Lamar about his younger brother, and the pride comes right to the forefront.
In his first varsity game, Laron James-Radcliffe threw two touchdown passes and rushed for another. There were the inevitable up and down moments, but the talent was on full display, particularly on a 50-yard touchdown pass to Labradian Keyward in the second quarter.
"He did pretty good for a freshman in his first game," Lamar Radcliffe said. "He was a little nervous and I saw him out there a little shaky so I just told him 'calm down, play at your pace and you'll do good.'
"I'm proud of him. I think he might do a little better than me. I see it. He has a lot of potential."
Laron also had reason to be proud. Having watched his brother work his way back from injury, he knew the road Lamar had to travel to return.
He was also excited to have the chance to line up alongside both Lamar and Corie.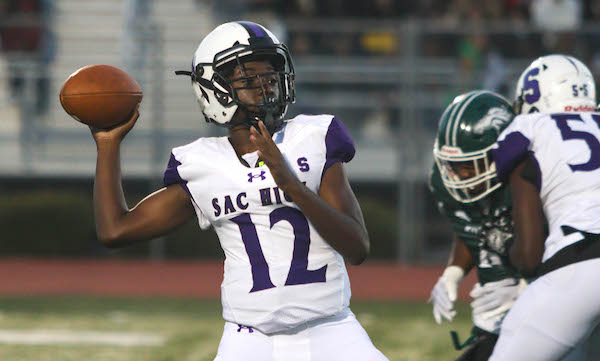 "It's really special. I've actually been wishing for this," James-Radcliffe said. "After my eighth grade year, I didn't want to play JV. I wanted to play with my cousin and my brother."
How the Dragons continue to grow has less to do with health-related concerns and more to do with cleaning up the little things. Drayton said that heat in the Sacramento area forced his team indoors for practice in the week leading up to its opener, which played a part in Rodriguez's ability to impose its will in the trenches.
What will happen when they combine those adjustments with a full complement of players and one of the region's top runners getting back to health? It's a future that still looks bright for a Dragons team intent on making its mark in 2023.