Gilroy Wrestling: Daniel Cormier's Dream Team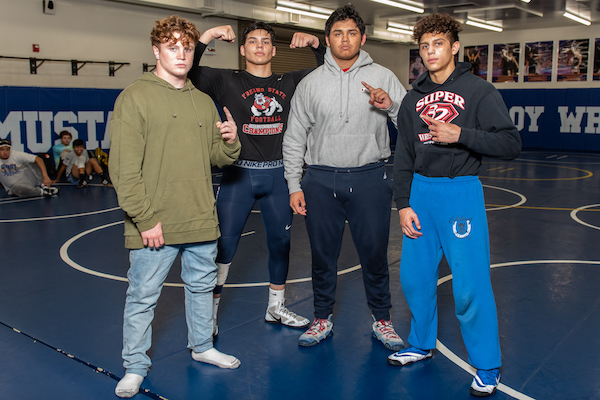 UFC Double-Champ And Gilroy's First-Year Coach, Daniel Cormier, Expects The Mustangs To Contend For A State Wrestling Title •
When UFC officials approached Daniel Cormier to schedule his next main event pay-per-view, the first UFC two-division champion to successfully defend both titles made his priorities clear.
"I told them I was unavailable until March, because I have a state title to train and compete for," Cormier said.
Considered the best pound-for-pound mixed martial artist on the planet, Cormier was also named head coach of Gilroy High wrestling last spring. 
Before he steps into the Octagon for a potential heavyweight mega-fight with UFC legend Brock Lesnar, or drops weight to avenge his only defeat to Jon Jones, Cormier will be shouting instructions to Mustang wrestlers from a folding chair inside Rabobank Arena in Bakersfield.
Gilroy, runners-up at the 2018 California Interscholastic Federation State Wrestling Championships, is poised to seriously challenge three-time consecutive state champion Buchanan-Clovis.
It helps that Cormier wasn't the only addition.
Clovis West-Fresno transfer Ryan Reyes, ranked No. 1 in California (The California Wrestling Newsletter) and No. 3 in the nation (InterMat) is a tournament monster, poised to score massive team points from the 195-pound weight class. With state No. 1 Nicholas Villarreal also expected to cash in at 285 and at least six more Mustangs poised to earn CIF hardware, Gilroy is aglow in 2018-19 hype.
"The next step for this team is to challenge and win a state title,"Cormier said. "I'm taking every kid in that room against anybody in this country."
A coaching roster of former and current national-caliber wrestlers certainly aids the cause. Plus, ultra-competitive battles for spots in the varsity lineup only bolster competition.
"The kids are wrestling with each other to get better and wrestling with us to get better," Cormier said. "If we do not win a state title, it won't be for lack of hard work."
Cormier said the staff changes at Gilroy, including the additions of former All-American wrestlers Kyle Crutchmer, Shawn Bunch and Deron Winn, doesn't mean the program routine will see sweeping changes. He attributes the program success to his predecessor, Greg Varela, now coaching at Los Gatos.
"Coach Varela did such a great job with this group of boys," Cormier said. "We want to add to what has been built here."
Challenge matches loom, but Cormier's tournament lineup is loaded. Fourteen of his wrestlers are featured across the 14 weights of the SportStars NorCal wrestling preseason rankings. Six Mustangs are listed at No. 1.
Returning fifth-place CIF medalist Jayden Gomez dropped two matches by a combined three points at state. The sophomore overloaded his offseason regimen to aid his path up the podium at 113 pounds. Cormier said he's already a leader in the wrestling room.
Michigan State-bound Chase Saldate, coincidentally Cormier's neighbor, will also look to build upon his fourth-place finish last season.
"Chase is as good as any kid in the country," Cormier said. "He is a coach's dream. He does everything I ask for.
"His potential is through the roof."
Cormier said John Fox, down at 145 after a disappointing 2-2 stanza at 152 last season, has re-dedicated himself to the sport. Fox has won eight CIF matches across three years, but hasn't medaled.
"Wrestling is one of the most unforgiving sports. And when you don't love wrestling like it wants to be loved, it becomes an ugly girlfriend at the worst possible time," Cormier said. "These inconsistencies that John had are a thing of the past.
"He works harder than anyone. He is committed to making sure he makes the most of his chance to get on the medal stand."
Daniel Vizcarra landed in three weight classes last season. He went 3-2 at state in the 138-pound bracket. He is poised to cause major disturbances in the 152 bracket this season after placing eighth in the National High School Coaches Association Junior Nationals seven months ago.
Reyes, a 195-pound Christmas present, is the addition that makes Gilroy a real challenger to Buchanan's CIF throne.
"When they told me he transferred to Gilroy I about lost my mind," Cormier said. "That kid can wrestle, man. He is the best kid in the entire country."
Reyes lost only five matches last year. Four of them were against 2017-18 SportStars NorCal Wrestler of the Year and state champion, Antonio Andrade, and Oakdale's Colby Harlan — a pound-for-pound top CIF wrestler until Andrade upset him in the state gold-medal match. With Harlan and Andrade gone, Reyes is now in that pound-for-pound conversation.
Villarreal, the other state No. 1 in Gilroy's lineup, has the luxury of following the path of four-time state champion Seth Nevills, who made the heavyweight division a forgone conclusion. With Nevills now at Penn State, Villarreal can use his quickness and strength to become the new CIF heavyweight king.
"Nicholas is a tough, mean Gilroy boy, and he's being heavily recruited," Cormier said. "He completes the lineup of what I believe is a very special team."
CIF accolades are also within reach of the 10 other wrestlers who will battle for a postseason roster spot. It's a lineup that could win Cormier another big title, and he won't have to get punched in the face for this one.