"We Move People": Elk Grove Football Puts It All On The Line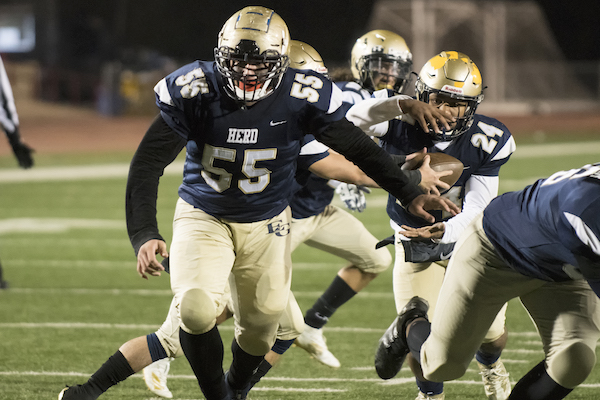 Following The Lead Of Its Experienced And Relentless Linemen, Elk Grove Football Has A Chance At Its First CIF State Bowl Appearance •
For the Elk Grove football linemen, some of the toughest assignments come before Friday. On the practice field, the trenches can be pretty tough among the Thundering Herd.
"It's intense, man," Elk Grove football coach John Heffernan said of the linemen battling in practice. "We get our contact limits, but we go.
"We work up front because that's where the game is won and lost. I don't care what system you run, you have to win up front."
That's exactly what sixth-seeded Elk Grove did in the Sac-Joaquin Section Division II final against a streaking underdog in No. 9 seed Whitney-Rocklin. The Herd's offensive line paved the way for the triple option offense to run away with a 35-0 victory and a NorCal championship berth. 
Senior quarterback Carter Harris masterfully orchestrated the rushing attack. With just 19 carries, he led all runners with 218 yards and four touchdowns. As a team, Elk Grove averaged more than 10 yards per carry, accumulating 465 yards on the ground. The Herd passed the ball on just three of their 49 offensive snaps.
_______________________________
CONNECT WITH US:
Follow SportStars on Twitter & Instagram | Like us on Facebook | Subscribe!
_______________________________
Offensive line coach Moe Loller — the architect and leader of the road-grading Hammerheads — smiled from ear to ear when asked about such a run-to-pass ratio.
"We move people. And we understand what we are supposed to do," Loller said. "We get a lot of chances to block one-on-one, and if you win those one-on-one's, then you win."
Loller has led the Thundering Herd O-line for years and under different head coaches, but he knows his guys are key to the success of the Elk Grove offense. Senior linemen Jack Spithorst, Elijah Valliere and Jacob Hudson each started as sophomores in Heffernan's first season at the helm. The trio labored through a pair of six-loss seasons, both of which ended with first-round playoff losses. It all clicked in the third year as they helped guide their younger linemates and the team to its first section title since 2001.
"This group of seniors really came aboard this year and led," Loller said. "They all started as sophomores and played on those 5-6 and 6-6 teams, so they really deserved this."
Loller was on the sidelines for Elk Grove runner-up finishes in 2012, 2013 and 2015. 
"I've been in this game four times, and this feels real good."
The line coach was not alone in basking in the glow of a first section championship. Heffernan, who built the Burbank-Sacramento program into a perennial contender never claimed a blue banner. Defensive line coach James Pale followed Heffernan to Elk Grove in 2017. Both savored the moment. Heffernan did so even after his lineman soaked him in ice water.
"Play hard, know your assignments, and get off the ball," Herd said of his weekly directives. "We try to knock people back on both sides of the ball."
Whitney quarterback Eli Brickhandler can attest to the strength of Elk Grove's defensive front. The junior signal-caller spent most of the game running from Thundering Herd pass rushers, or picking himself up off the cold turf. 
Led by two-way star Spithorst, the Herd defense recorded eight sacks. Spithorst had three of them. Entering the game, Whitney was averaging 33 points per game during a four-game winning streak that included three postseason victories.
"We're just relentless," Elk Grove defensive coach Jeff Carlson said. "We're a pretty fast defense. When we get going and use the proper technique, then we can get a pretty good pass rush on."
While Elk Grove contained Brickhandler, there was no stopping his counterpart. Harris, the 5-foot-6 firecracker of a quarterback, darted around the edge before defenders knew he was past them. Harris eclipsed 100 yards rushing in 10 of 13 games before the section final, but his 218-yard effort was a season best. 
"If they underestimate me, then I just have to make them pay," Harris said. "I think that my height is an advantage running this triple option. They can't really see me, the diversion is too fast, and we have weapons everywhere. That is hard to stop."
The task of stopping Harris and the Herd's triple option now belongs to Clayton Valley Charter-Concord (8-5). Elk Grove travels to the East Bay for a 7:30 p.m. kickoff against the Ugly Eagles on Friday. 
Clayton Valley has yet to allow a playoff opponent to score in double digits, and the North Coast Section Division II champs have seen their fair share of high-powered rushing offenses this season. The program is hoping to return to a state bowl for the first time since finishing runner-up in both 2014 (Div. II, old format) and 2015 (Div. 1-A)
"The kids are really executing at a high level and seem to be getting better each week," Heffernan said. "But we will need to turn it up even more."
That starts on the practice field. Where the people-moving is perfected.
"The energy out there is crazy," Spithorst said. "We will get after it and feed off of each other."