Folsom Football: New Dogs, Old Tricks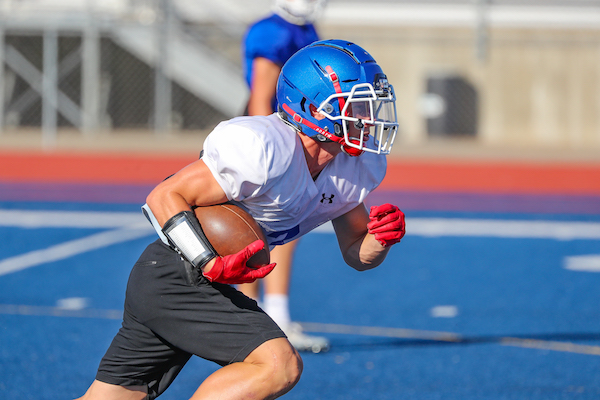 Paul Doherty Ushers In A New Era Folsom Football That Should Look A Lot Like The Bulldogs Of Recent Years — Perhaps An Even Faster Version •
When longtime head coach Kris Richardson left the Folsom football program to join his former co-coach Troy Taylor at Sacramento State in December, his absence left a void for one of the most prestigious high school programs in California.
The Bulldog were coming off back-to-back CIF Div. I-AA State Bowl titles. College talent remained present throughout the roster.
The search began for someone qualified to step in and continue the program's dominance. Enter Paul Doherty — a coach with winning roots.
Folsom fans may recognize the name and face after Doherty served the Bulldogs as an offensive assistant coach and the team's strength coach last year. They may have heard of his days at Whitney-Rocklin or even at Sacramento High. But only a few close to the family know that he's one of four highly successful Doherty brothers — a family coaching tree prominently spanning throughout Northern California.
_______________________________
GET CONNECTED:
Follow SportStars on Twitter & Instagram | Like us on Facebook | Subscribe!
_______________________________
The foursome includes twins, Philippe Doherty — the man who brought elite high school boys basketball to the Napa Valley as Prolific Prep's program director — and Kevin Doherty, who was part of his own CIF State Bowl championship on the gridiron just one day after his brother Paul helped coach Lincoln-San Francisco to a 24-13 6-A championship win over Orange Glen-Escondido.
The second-youngest brother, Mark, coached JV soccer and taught at Jesuit-Carmichael from 2006-08. He lost only once in his three years.
All four brothers grew up in the San Francisco area and played sports at Sacred Heart Cathedral.
Kevin went on to play football at UC Davis before coaching weightlifting at the 2016 Olympic Games in Rio de Janeiro. Phil played basketball at Santa Clara and UC Davis. Paul began his football career at Menlo College at quarterback. But little did he know that would be his first step towars his new spot at Folsom.
"I played for coach (Doug) Cosbie at Menlo College," Doherty explained. "So that's how I got connected here. Coach Cosbie was the offensive coordinator at Cal-Berkeley while Troy Taylor was the quarterbacks coach back in 1999."
Cosbie, a former Dallas Cowboys tight end, eventually left Menlo and followed his wife to the Sacramento area to retire. In 2006, Doherty rejoined his former coach at Sacramento High, and the two men spent four seasons together before Doherty fully assumed the lead role and amassed a 42-18 record in five years.
During that time, Doherty familiarized himself with the system at Folsom. He was just 24 when he got to Sacramento, but a quick learner. He participated in multiple passing academies with Taylor, who was earning a reputation as an offensive guru at Folsom.
In 2015, Doherty got married and decided he needed a change. He went all-in on the Whitney coaching job.
Under Doherty, the Wildcats exploded, scoring 295 points in league play — the second-most behind Antelope — and over 450 for the season. But they lost three games by three points or less in a highly competitive division and fell to Del Oro-Loomis in a 34-28 shootout in the Sac-Joaquin Section Division II playoffs.
"I'm proud of everything we did there; we were crushing it," Doherty said.
The Wildcats put up another strong season in 2016, winning six of their first seven games before ultimately falling to 6-5 with another first-round playoff exit.
With Doherty's new gig, comes new, higher expectations.
"It's a totally different job than I've ever had," he said. "I've gone into situations before where there was a lot of work needed to build the program, install systems and install a certain type of culture. So here, it's not about changing that, but familiarizing our new guys to our program."
The coaching staff will count on four-star recruits Elijhah Badger and Daniyel Ngata to teach the new players. The offense will continue to feature the electric tandem. But maybe not as much as some expect.
"I don't need to wait on guys if they just ran a go route," Doherty said. "Put the next guy in, and that will allow us to play faster, play with more tempo — which is along the lines of where the program was in Troy (Taylor's) last year. It was an up-tempo offense."
Doherty admitted the offense has slowed down in the last few years, but he cited a unique reason.
"It's been so good, so surgical — three plays, touchdown. Two plays, touchdown," he explained. "We're taking our time and getting the exact right look to get guys like Daniyel Ngata touchdowns."
Ngata will see his share of touches out of the backfield, on fly sweeps and in the passing game. But when he needs a breather, the team will insert senior CJ Hutton, who caught the game-winning touchdown pass in the CIF Div. 1-AA Championship game last fall.
"CJ Hutton is incredible — he may be our best guy," Doherty said. "He can play receiver, running back, anywhere. He's just as diverse as Daniyel is, does a lot of things well. He's just incredible."
Speed kills, and with Doherty, Hutton said the offense will be one of the fastest in the SJS. But that means players have to know how to play in multiple positions.
"It's definitely different," the senior wideout said. "Coach Doherty is super focused on being up-tempo, moving the ball, going as fast as you can and scoring a ton of points."
Hutton and Badger highlight a talented receiver core. Cosumnes Oaks-Elk Grove transfer Cameron Broussard, Lucas Wolf, Grant Furrey and Davion Blackwell are all potential targets.
"We're really deep at the skill positions. I think we have more depth than last year to be honest," Ngata pointed out. "And I think we have the opportunity to win a lot of games and a state championship – back-to-back-to-back, which would be the first time ever for Folsom High School and would be great for our program and community."
Another newcomer who could be a star is junior defensive back Kaleb Higgins, who just joined the team in July. The speedy DB holds offers from Texas A&M, Baylor and Boston College, and his brother Elijah plays at Stanford.
Senior Jake Reithmeier will have the challenge of taking over at quarterback. He saw time in 11 games last year and threw for 333 yards and six touchdowns in reserve time. His backup, Ari Patu, is another newcomer — a dual-threat signal caller who transferred in from the Seattle area. He needs time to learn the playbook and master the offense, but already has colleges interested. He recently received an offer from San Jose State. 
This offseason, Reithmeier perfected his throwing motion and sped up his release. He worked with the receivers to get used to their speed and develop chemistry. He's also been studying his playbook so he can work through his progressions faster on game day.
"Across the board, this is a very fast group of receivers," Reithmeier said.
The 6-foot-4, 280-pound DeShawn Lynch will line up at tight end too.
"He's a big dude," Reithmeier joked. "He's a big target, so it's pretty easy to hit him." 
Lynch will also be an integral component on defense, a unit that features a handful of stout players including Broussard, Blackwell, Lynch and Higgins. They're ready to step up and face Folsom's challenging schedule.
The Bulldogs open the season Aug. 30 with a home game against Jesuit. In September, they travel to Antelope on Sept. 6, host De La Salle-Concord on Sept. 13, visit Oak Ridge-El Dorado Hills on Sept. 20 and host Menlo-Atherton-Atherton on Sept. 27.