Girls Basketball Fan Vote | SportStars' NorCal Player Of The Year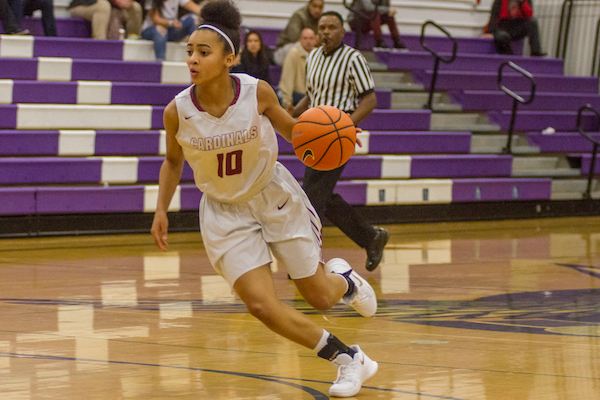 While We Prepare Our NorCal Postseason Honors Release, We're Asking Readers To Take Part In Our Girls Basketball Fan Vote For The Region's Top Player •
SportStars will be releasing its NorCal Player of the Year and All-NorCal teams in our upcoming April 10 issue. While we'll be producing our own NorCal Player of the Year, we want to find out the People's Player of the Year. So welcome to the 2019-20 girls basketball fan vote. We've got ten deserving candidates.
Readers can vote for one player every six hours up till 11:59 p.m. on April 8. While the winner may not be OUR final choice, we'll be sure to uniquely highlight the player with the most votes. You can also vote for Boys Player of the Year.
Here's the ten nominees. Listed alphabetically.
Anya Choice, Cardinal Newman-Santa Rosa, Sr. — Perhaps no player was more integral to her team's success than the UC Santa Barbara-bound Choice. She averaged 24.3 points, 6.2 rebounds, 4.1 assists and 2.3 steals in leading the Cardinals to a 29-win season.
Jzaniya Harriel, Antelope, Jr. — Her 830 points were the most by any NorCal player among stats reported to MaxPreps.com. She averaged 25.9 per game, along with 10.4 rebounds, 2.1 assists and 3.3 steals a night. The Titans (29-4) won the Sac-Joaquin Section Div. II title.
_______________________________
LET'S STAY CONNECTED:
Follow SportStars on Twitter & Instagram | Like us on Facebook | Subscribe!
_______________________________
Ashley Hiraki, Archbishop Mitty-San Jose, Sr. – Hiraki was the linchpin to a Monarchs team that was NorCal's undisputed No. 1 throughout the season. The CSU Northridge commit averaged 12.4 points, 4.3 rebounds, 2.7 assists and 3.4 steals for the NorCal Open champs.
NEW! Kylie Horstmeyer, Redwood-Larkspur, Jr. — Like we've done in the boys poll, once a player reaches more than 75 write-in votes, we add them to the click-voting. Horstmeyer closed Monday with 152 votes, so she's in. The Marin County Athletic League MVP had 17 double-doubles on her way to averaging 19 points and 11 rebounds for the Giants.
Makena Mastora, St. Joseph Notre Dame-Alameda, Jr. — The 5-9 junior guard ran the show with steadfast consistency for a Pilots team which won the NCS Open Div. championship and reached the NorCal Open final. She was the Bay Counties League-East Division's Most Valuable Player.
Mia Mastrov, Miramonte-Orinda, Jr. — Mastrov looks to be on a course that would make her the East Bay's most complete player next season. After averaging 15.1 points, 5.6 rebounds, 4.1 assists and 3.1 steals for the 23-6 Matadors, she might already be that player.
Abby Muse, Heritage-Brentwood, Sr. — The Boise State-bound Muse was among the region's most dominant post players. She averaged 14.2 points, 10.3 rebounds, 2.9 blocks and 2.1 steals. She posted a 20-20 effort of 24 points, 20 rebounds in a win over California-San Ramon.
Amaya Oliver, St. Mary's-Stockton, Sr. — After missing her junior year to injury, Oliver delivered a dynamic senior campaign in leading a young Rams roster to the program's 13th consecutive SJS championship. She led the team with 18 points in the section final.
Gabby Rones, West Campus-Sacramento, Sr. — Rones averaged 17.2 points, 3.8 rebounds and 2.4 assists for the 21-6 Warriors. She completed a stellar four-year varsity career with 1,775 points, 96 wins and two state titles.
Maile Williams, Capital Christian-Sacramento, Sr. — It was a mediocre season for the Cougars, but not for Williams. She dazzled opponents to the tune of 21.8 points, 4.8 rebounds, 4.3 assists and 3.5 steals per contest.
WRITE-IN VOTES: Grace Bliss (Colfax — 48), Madison Parry (Del Oro-Loomis — 4), Alli McDonald (Union Mine — 46), Ahrray Young (Laguna Creek-Elk Grove — 68), Anaya Mejia (Monterey Trail-Elk Grove — 8), Bria Shine (Christian Brothers-Sacramento — 4), Kylie Horstmeyer (Redwood-Larkspur — 152, prior to being added), Zenevieve Coronado-Casebolt (Pioneer-Woodland — 20))
SO, WHO YOU GOT?