Granite Bay Triathlon Turning 21 In August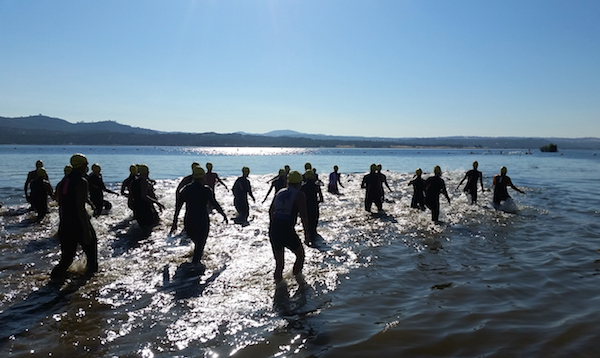 Tri, Tri Again!
If you know about triathlon, that headline will resonate! It takes a lot of training, skill and mental toughness to race in a Tri, none the least this one. The Granite Bay Triathlon!
On Saturday, Aug. 25, Total Body Fitness Racing will host one of their biggest events of the year – the Granite Bay Triathlon.
This year marks the 21st anniversary of this exciting and athletically challenging event that takes place at Granite Beach, Folsom Lake State Recreation Area in Granite Bay.
Bill Driskill, who is the founder of TBF and also race director and multi-sport coach for the organization, explained that this event is the very first race they offered in the Sacramento region.
It really helped pave the way for TBF to put on more than a thousand races since its inception.
Granite Bay Triathlon, a model of success, challenge and fun
"Of the 80 races we are putting on this year, the Granite Bay Triathlon is my favorite," elaborated Driskill.
"It is always a very fun and challenging event — we make the course tough each year.
It feels like an annual reunion of friends. Since the first race in 1998 I have made many close friends through the sport of Triathlon — and for that I am extremely grateful."
The beautiful course that has been referred to as California's toughest sprint triathlon starts with a .75-mile swim from Granite Beach.
Then the athletes embark on a 13-mile bike ride that consists of a two-lap course located within the park.
Finally the course finishes with a 5-mile run on a single-track trail along Folsom Lake.
There is also a Duathlon option for those athletes who want to stick to running and biking. These participants start with a 2-mile run rather than the .75-mile swim.
All athletes will receive a post-race lunch, a tech t-shirt, athlete goody bag and more!
There will also be a post-race expo with vendors such as TBF, Spare Time Athletic Clubs, Rocklin Endurance Sports, Fleet Feet Sports, and Kinetic Cycles.
If you register before Aug. 1, the cost is only $80. Go to www.totalbodyfitness.com for more information and to get signed-up today.
Meanwhile Olympic Curling Fanatics, a Recent Craze Has Landed 40 Teams In an Annual Bonspiel
Wine Country Curling Club's (WCCC) signature bonspiel is back this Labor Day Weekend and bigger than ever with 40 teams.
Placer Valley Tourism is thrilled to be teaming up with them again for this fantastic three-day event that showcases local, international, and Olympic curlers and even a youth team at Skatetown Ice Arena in Roseville.
WCCC President Katie Feldman conveyed her enthusiasm and excitement for this bonspiel, "We're sold out with a waiting list and it's all because of that Gold Medal won by Team Shuster in the 2018 Winter Olympics!"
"Of the 40 teams that are registered, at least six of them have brand new curlers on them," elaborated Feldman. "That's exciting for our sport and shows just how great the sport of curling is at all levels!"
Feldman was excited to share that five teams from Canada will be competing. And both Debbie McCormick and Edith Loudon Hazard are also returning.
McCormick, the four-time Olympian and World Champion curler competed at the Crush in previous years.
Loudon, a native of Scotland, was a member of Great Britain's Olympic curling team and competed in the 1998 Winter Games in Japan.
Mark your calendars and come watch this fascinating sport live at Skatetown on Aug. 31- Sept 2.
Not only will you beat the Placer Valley summer heat, you might just catch the curling bug yourself!
Skatetown is located at 1009 Orlando Ave. in Roseville. We hope to see you there.
— All copy and photos provided by Placer Valley Tourism