Jay Butterfield: Liberty's Leading Lion (NCS Large Schools 2019)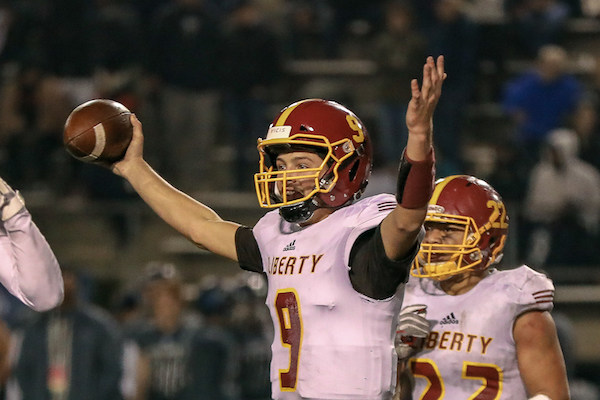 After Quarterbacking Liberty-Brentwood To Its First Section And CIF Bowl Titles In Consecutive Seasons, Jay Butterfield Isn't Afraid To Ask 'What's Next?' •
Jay Butterfield has done it all in two short seasons. 
He is a 2018 CIF 1-A State Bowl champion, a college committed athlete and has gone 17-1 as a Liberty Lion while throwing 3,294 yards and 43 touchdowns. So, there's nothing more he could possibly prove, right? 
If you ask him, that notion couldn't be more false.
As a team, Butterfield and crew have gladly embraced the burden of what follows after winning a state bowl championship — the expectations to do it again and maintain the winning culture that now resides in Lions territory. 
Carrying that stress on your shoulders seemingly gets lighter when you have your 6-foot-6 four-star Oregon commit leading the charge.
Liberty coach Ryan Partridge echoed the notion that his senior QB is the best man for the job of keeping the wins rolling in because of the bonds he has built with not only the coaching staff but with his teammates. 
"He's a natural anticipator, he finishes sentences for me and is a great extension for the offensive coordinator while on the field," Partridge said. 
Becoming Liberty's clear cut leader didn't happen overnight. It was something he earned late into his sophomore season.
Getting thrust into the spotlight in Week 10 of the 2017 season — in a always-heated rivalry matchup with Freedom-Oakley — was the first gut-check moment of his high school career.
"It was a controversial move at the time because I sat the senior for Jay, only a sophomore," explained Partridge.
Those rumblings quickly faded away as Butterfield proved his coach right and played amazing. He completed 11 of 15 while throwing for 200 plus yards and 3 scores. From that day forward the position was his.
Ever since that night, he has seamlessly evolved into the team's clear-cut leader.
"I like to lead by actions on the field and at practice," Butterfield said, explaining his leadership mentality. "I can get aggressive at times, but I understand we all make mistakes and want to help everyone get it right the next time."
Along with sending his 2020 class out on the right note, another huge bullet point on the team captain's to-do list this season is to avenge the one blemish on his resume. A North Coast Section championship loss to national powerhouse De La Salle-Concord. 
"I just hope no one else beats them before we get the chance to," proclaimed Butterfield. "This squad understands we have plenty of games ahead of us before we can prepare for them, but we are hopeful to have the opportunity."
Ask anyone close to Jay to explain his personality and the results are likely to include shy, goofy, quiet and someone who doesn't enjoy the spotlight. The latter is a notion you'd never know when you listen to him talk football. 
"This kid is a competitor; there is no one who hates losing more than him," Partridge said. "Well, maybe except for his father." 
Definitely not the biggest rah-rah guy off the field, his natural ability to lead comes out as soon as he steps on the field. That desire to win once he buckles the chin-strap didn't come by choice. He was born into it. 
Butterfield's father, Mark was also a great high school quarterback. He put up big numbers at Antioch High before attending Stanford. His senior season for the Cardinal he posted 2,533 yards and threw for 19 touchdowns. In 1986 he was signed by the Chicago Bears as an undrafted free agent. 
Jay admits to not falling head-over heels in love with the game until he reached double digits in age. His dad never pushed Jay to embrace the sport, but once he did, made sure he played it right.
Playing it right he is. And his dad isn't the only former NFL athlete who has helped guide him. 
Fellow Antioch grad, current Brentwood resident and former 49ers All-Pro Center Jeremy Newberry has also lent support. After ten seasons in the league playing for three different California teams Newberry started a foundation called "Newberry's Block". 
Looking to perfect his craft and put on some weight and muscle, he quickly accepted the invitation to train at the former Pro Bowler's house. 
For the past two-seasons Butterfield and approximately 15 other Lions have joined the early morning training session — starting at 6:15 a.m. every Monday, Wednesday and Friday. 
The extra practice ranges from weight lifting and station drill work. Putting in the extra work with hopes of becoming a dual-threat quarterback is secondary to the team camaraderie the sessions create. Reaching triple digit rushing yards for the first time would be a welcomed trickle-down effect for Butterfield. 
That awareness of the moment in front of him is what truly gives him the edge above the rest. Actively seeking improvement is what fuels him to discredit the naysayers and those who think it's all on his shoulders to get this squad back to the promised land.
Three returners on the offensive line will help keep continuity on a team which is filling holes at other positions. Even a top-ranked quarterback knows he's nothing without a great line in front of him. And if you ask Butterfield, he's got the best one in California. 
 "This is the ultimate team game, my team doesn't expect me to do it all," Butterfield said. "Only the outside world tried to put the burden of a repeat on my shoulders." 
While he feels no pressure to keep his team going in the right direction, there's no hiding that this is a different team. Especially at the wide receiver position. Replacing 2,800 receiving yards and 40 touchdown receptions is a daunting task for even the most prepared offenses.
Butterfield remains unfazed by the new challenges, looking at the positive of getting the chance to build a new offensive powerhouse with a new crop of receivers. He's not afraid to pull guys aside if they aren't living up to the new standard.
"He's a nice guy, but he will chirp at you if you're not doing your job to what is expected," running back Brenden Bell said.
The ability to be able to "chirp" at fellow teammates is a luxury that doesn't come without respect. He's earned that respect. 
Most of this trust was built many years ago as several of his current fellow seniors were playing ball with him as members of the East County Youth Football League's Little Lions. 
He'd love to have the same chance with that group, that he had with his 2018 team — standing in the huddle and calling a championship-winning play. 
Butterfield vividly remembers standing in the huddle before Tyerell Sturges-Cofer ran for a game-clinching first down on 4th-and-6 with less than one minute to go in the CIF State Bowl game.
"I wasn't screaming (in the huddle), but I was amped up. … I wanted to pass it, obviously, but Tyerell was running the ball like crazy. … Once he got that first down, I don't even remember what I did. 
"Calling that last play, trying to motivate my teammates to execute one last play before we go celebrate after. 'Six more yards will create the moment we'll remember forever.'"
 So maybe he's right. He hasn't done it all. He's got a few more plays to call.
BEST OF THE SECTION—LARGE SCHOOLS
Names to know and teams to watch from North Coast Section schools which have been placed in the Division I-II groups.
TOP OFFENSIVE THREAT: Jay Butterfield, Liberty-Brentwood, Sr.
TOP DEFENSIVE TALENT: Nate Rutchena, Monte Vista-Danville, Sr.
BEST ARM (QB): Jay Butterfield, Liberty-Brentwood, Sr.
BEST BACK (RB): Shamar Garrett, De La Salle-Concord, Sr.
TOP DEEP THREAT (WR): Grant Daley, De La Salle-Concord, Sr.
TOP ROAD GRADERS (OL): Payton Zdroik, Liberty-Brentwood, Sr.; Colin Moroney, San Ramon Valley-Danville, Sr.
BIGGEST RETURN THREAT: Jacob Oliphant, Monte Vista-Danville, Sr.
BIGGEST LEG (P or PK): Lorenzo Anaya, Pittsburg, Sr.
TOP PASS RUSHER: Mason Mastrov, Campolindo-Moraga, Sr.
TOP BALLHAWK (DB): Dejuan Butler, Antioch, Sr.
OFFENSIVE BREAKOUT CANDIDATE: Zeke Berry, WR/DB, De La Salle-Concord, So.
DEFENSIVE BREAKOUT CANDIDATE: Akil Calhoun, DE, Liberty-Brentwood, Jr.
BIGGEST TITLE FAVORITE: De La Salle
TOUGHEST SCHEDULE: De La Salle
BEST CHANCE TO SURPRISE: California-San Ramon