Las Lomas Football: Newell Beginnings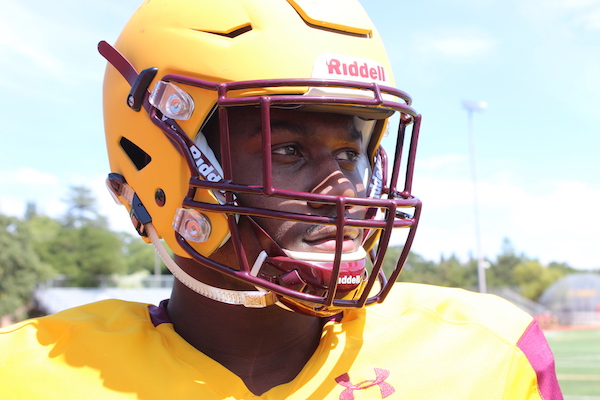 Doug Longero Had No Intention Of Returning To The Las Lomas Football Sidelines — Until He Met A Young Isaiah Newell •

Isaiah Newell walks into the Las Lomas football office like he'd walk into his own living room.
He wears a big smile as he strides to an empty coach's desk and sits down to change into his uniform for a photo shoot. He's just come from studying for a final he'll have at Diablo Valley College later that night — a sign language class he's taking to assure he'll be NCAA-eligible when he graduates in nine months. 
Knights head coach Doug Longero asks how it went. The response is far from the typical "Good, Coach," kiss-off. Newell begins unloading about his morning with plenty of detail. He finishes by making sure Longero received the essay he sent him to proofread. Longero confirmed and said he'd read it soon.  
The more one sees, the more it becomes obvious that Newell's comfort in the coaches' office has nothing to do with the fact that he's a three-star running back with multiple Pac-12 offers.
This is a second home to him. 
Truth be told, it's the relationship shared between Longero and Newell that could be considered the genesis for the Walnut Creek school's turnaround from an 0-10 season in 2016 to 12-1 in 2018. The Knights begin 2019 ranked #24 in SportStars Preseason NorCal Top 30.
Longero was four years removed from stepping down after an impressive 14-year run coaching the Knights when Newell became one of his freshmen P.E. students.
"I don't think I ever actually thought I was coming back," said Longero, who won 113 games and three North Coast Section championships with the Knights from 1999-2012. "Isaiah was in my P.E. class and I knew his story and all that. I thought I could help this young man. I decided at that time to come back."
Newell's father had passed away when he was in eighth grade and Longero slowly evolved into a key male role model for him. And as that role model, Longero knew Newell needed football.
Las Lomas football also needed Newell.
After going 16-8 in the first two seasons following Longero's exit, things bottomed out for the Knights. The varsity program went just 1-19 over the next two years. The junior varsity was winless over that same period.
"It was hard," Longero said of watching the program he'd built sputter. "To sit here every day and just see these guys and the pain they were having was tough. It was tough seeing that pain and seeing them not having the same success and the same things we had provided for these young men for all those years."
Newell distinctly remembers when Longero told him things were going to change. 
"My freshman year, nobody cared about the (football) team, I'll be honest," Newell said. "But I remember Longero coming up to me as a freshman and telling me he was coming back to coach for my sophomore year, and that he was going to change the culture."
The Knights won three games on the field in 2017, and picked up a fourth through a retroactive forfeit. Newell gained over 1,500 yards rushing and the team reached the Division. III playoffs, ending their season with a first-round exit to Rancho Cotate-Rohnert Park. All of which set the stage for a confident bunch to return in the spring. 
The culture had changed. And Newell could see it. 
"It's not easy obviously," the running back said. "You've got to show up at 6 o'clock in the morning in February every day. You've got to show hard work and dedication. You got to work at your craft every day. Get better every day. That's what changes a culture. 
"You need guys you can trust who are willing to play. It's not just one guy on a team. It's not just two guys. It takes a whole team to change a culture."
Jalen Apalit-Williams wasn't part of that first year. The junior receiver and defensive back transferred in from Alhambra-Martinez for 2018. He and Newell knew each other and Newell assured him that good things were happening. But he only needed his first day with the team to know it was a program he wanted to be part of.
"The first thing Coach Longero did was take me to the weight room where everybody was and say, 'This is our new player,'" Apalit-Williams recalled. "Everyone started going crazy and I thought, 'This is the place.'"
With players bought in, and more talent than just Newell — the 2018 team also featured talented seniors in tight end Blake Thorpe (now at UC Davis) and quarterback Dylan Graham (DVC) — the Knights won their first 12 games on their way to the Diablo Athletic League-Valley Division championship and a NCS Div. III semifinals appearance. 
Newell racked up 2,166 rushing yards and 31 touchdowns during his junior season. Apalit-Williams caught three touchdown passes in his first game, which came after a four-game transfer sit-out period. He now holds six offers, including one from Colorado State. Lineman Zach Transue logged 23 sacks during the season. 
With all three back among 13 returning starters and some impact transfers, Las Lomas football is firmly back on the map among competitive Bay Area programs. The rebuild is complete. 
Newell comes into his senior year having committed to Oregon State on Aug. 15, his dad's birthday. 
"Every single offer I got, I would just think of my dad," Newell said. "And I thought that when I choose the school I'm going to go to, I'm going to announce it on his birthday. This was his dream for me, which makes it the best gift someone could give."
It doubled as a special moment for Longero as well.
"It's a unique bond," the coach said. "He and I are super close outside the football field. There's a lot of support I provide for him on and off the field. His mom has been a wonderful human being for him, providing structure and all that. I'm just filling a guiding role.
"I'm so proud of what he's done for himself. It's been awesome to see him mature as a student and as a person."
If all goes to plan, the coach will have a chance to be proud of several more Knights come this postseason. 
"I think we can be something special," Apalit-Williams said. 
His close friend and teammate shared that same confidence.
"We put a lot of people on notice," Newell said. "A lot of people know that the Knights are back, and we're going to prove that in 2020."
BEST OF THE NCS — MEDIUM SCHOOLS
Names to know and teams to watch from North Coast Section schools which have been placed in the Division III and IV groups.
TOP OFFENSIVE THREAT: Jackson Pavitt, Cardinal Newmman-Santa Rosa, Sr.
TOP DEFENSIVE TALENT:  Jamar Sekona, DL, Marin Catholic-Kentfield, Sr.
BEST ARM (QB): Jackson Pavitt, Cardinal Newman-Santa Rosa, Sr.
BEST BACK (RB): Isaiah Newell, Las Lomas-Walnut Creek, Sr.
BIGGEST DEEP THREAT (WR): Lucas Eppinger, Acalanes-Lafayette, Sr.
TOP ROAD GRADER (OL): Timothy Clifford, Marin Catholic-Kentfield, Sr.
TOP RETURN THREAT: Raymond Davis, El Cerrito, Jr.
BIGGEST LEG (P or PK): Gabriel Plascentia, Bishop O'Dowd-Oakland, Jr.
TOP PASS RUSHER: Zach Transue, DE, Las Lomas-Walnut Creek, Sr.
TOP BALLHAWK (DB): Asi Bailey, Hayward, Sr.
OFFENSIVE BREAKOUT CANDIDATE: Ethan Ford, RB, Bishop O'Dowd-Oakland, Sr.
DEFENSIVE BREAKOUT CANDIDATE: Elijah Lash, OLB/DE, Las Lomas-Walnut Creek, Sr.
BIGGEST TITLE FAVORITE: Cardinal Newman
BEST CHANCE TO SURPRISE: Acalanes-Lafayette