NorCal Preseason Top 30: Expanded Football Rankings To Open 2019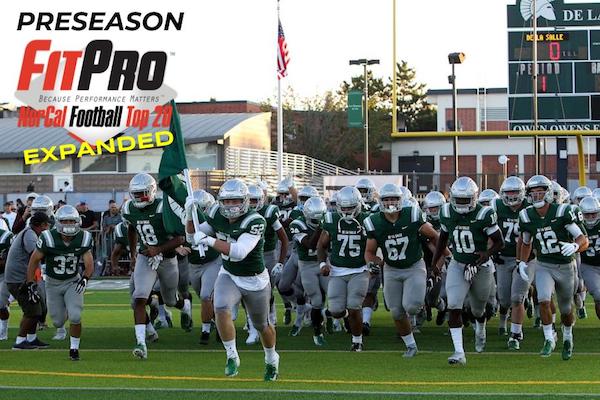 SportStars Opens The 2019 High School Football Season With Our NorCal Preseason Top 30 Rankings •
NorCal Preseason Top 30.
All records are from 2018
1. DE LA SALLE-CONCORD (11-1)
FINAL 2018 NORCAL RANK: 1
OUTLOOK: No surprise here. The Spartans enter 2019 with 27 straight North Coast Section championships, 10 straight CIF Open Division State Bowl game appearances, and a 299-game unbeaten streak against NorCal opponents. This year's squad returns skill players throughout the offense, including senior Shamar Garrett, a three-year starting all-purpose back and free safety. Dual-threat junior QB Dorian Hale also returns, as does his top two receiving targets, senior Grant Daley and junior Lu Magia Hearns. The secondary will be a major strength on defense, with linebackers being the most inexperienced group to start the year.
KEY GAMES: ST. THOMAS AQUINAS-FT. LAUDERDALE (Florida), 8/23; @ No. 2 Folsom, 9/13; BUCHANAN-CLOVIS, 9/20; @ No. 11 Monte Vista-Danville, 10/4; @ No. 10 Clayton Valley Charter-Concord 11/1
2. FOLSOM (14-1)
FINAL 2018 NORCAL RANK: 2
OUTLOOK: A new coaching regime takes over as Paul Doherty begins his tenure after longtime coach Kris Richardson joined the Sacramento State coaching staff. While Doherty will need to break in a new QB to replace SportStars' Offensive Player of the Year Kaiden Bennett (Boise State), there are still plenty of weapons at the new coach's disposal. They include three-year all-purpose back Daniyel Ngata, four-star WR Elijhah Badger and three-star defensive end DeShawn Lynch. WR/DB CJ Hutton, who caught the CIF State Bowl-winning TD in overtime last December, also returns. The Bulldogs are still the best of the Sac-Joaquin Section until proven otherwise.
KEY GAMES: No. 1 DE LA SALLE, 9/13; No. 5 MENLO-ATHERTON-ATHERTON, 9/27; No. 28 DEL ORO-LOOMIS, 11/1
3. LIBERTY-BRENTWOOD (13-1)
FINAL 2018 NORCAL RANK: 3
OUTLOOK: Oregon-bound four-star QB Jay Butterfield is back to lead the offense. But the defending CIF 1-A State Bowl champions will have new faces at just about every other offensive skill position. Both lines will be healthy and the defense should have playmakers, including rising junior DE Akil Calhoun. How quickly the new faces on offense become impact players will determine if the Lions are a Top 5 team in December.
KEY GAMES: @ No. 14 Oakdale, 8/30; vs. No. 10 Clayton Valley-Concord (@ James Logan HS/Honor Bowl), 9/7; No. 11 MONTE VISTA-DANVILLE, 9/13; No. 6 PITTSBURG, 10/18
4. VALLEY CHRISTIAN-SAN JOSE (11-3)
FINAL 2018 NORCAL RANK: 5
OUTLOOK: QB Cory Taylor and 1,200-yard rusher Isaiah Mcelvane return to lead the offense, but the Warriors will be a defensive juggernaut in 2019. Which is saying something considering they allowed seven points or less in eight of their 14 games last season. Defensive standouts include LB Moon Ashby, DE JT Reed, CB Deven Vanderbilt and FS Kavir Bains.
KEY GAMES: No. 12 WILCOX-SANTA CLARA, 8/30; No. 22 PLEASANT VALLEY-CHICO, 9/6; No. 20 ST. FRANCIS-MOUNTAIN VIEW, 9/27; @ No. 8 Serra-San Mateo, 11/2
5. MENLO-ATHERTON-ATHERTON (12-2)
FINAL 2018 NORCAL RANK: 10
OUTLOOK: The head coach has changed, but the returning skill players are everywhere for the defending CIF 3-AA State Bowl champs. Troy Franklin is one of the top recruited junior wide receivers in the country, and senior Justin Anderson is a premier two-way player at RB/WR/DB. The Bears picked up another impressive athletic talent via transfer from Sacred Heart Prep, QB/ATH Raymond Price III is sure to make an impact. Menlo-Atherton's JV team went 9-1 last season, too.
KEY GAMES: @ No. 8 Serra, 9/7; @ East-Salt Lake City (Utah), 9/13; @ No. 2 Folsom, 9/27
6. PITTSBURG (7-4)
FINAL 2018 NORCAL RANK: 8
OUTLOOK: It says something when the preseason No. 6 team is considered under the radar to start a season. Expect plenty of new faces, but no shortage of athletes. RB Avant Muldrow is among the few offensive returners. He'll benefit from an offensive line led by Div. I recruits Ryan Lange and Samiuela Fonongaloa. Transfer RB Brian Pierce will also boost the run game. Also keep an eye out for junior WR/DB Kionte Guess — who coach Victor Galli said had one of the team's best summers — and freshman WR/DB Rashid Williams.
KEY GAMES: @ No. 7 St. Mary's-Stockton, 8/23; @ No. 8 Serra-San Mateo, 8/31; No. 15 BISHOP O'DOWD-OAKLAND, 9/13; No. 12 WILCOX-SANTA CLARA, 9/20; @ No. 3 Liberty-Brentwood, 10/18
7. ST. MARY'S-STOCKTON (7-5)
FINAL 2018 NORCAL RANK: 18
OUTLOOK: The Rams had a fairly young nucleus a year ago and will benefit from a handful of key returners. Offensive that starts at the skill positions with QB Noah May — who engineered a thrilling playoff game-winning drive over Sheldon-Sacramento in 2018 – RB Tyrei Washington, WR Jared Gipson and WR Elijah Wood. Wood and LB Nick Huggins will be key members of the defense. Watch for junior LB Izaiah Aponte for a potential breakout year as well.
KEY GAMES: No. 6 PITTSBURG, 8/23; No. 9 CENTRAL CATHOLIC-MODESTO, 9/6; No. 8 SERRA-SAN MATEO, 9/13; @ No. 1 DE LA SALLE-CONCORD, 9/27; @ No. 17 Tracy, 10/18
8. SERRA-SAN MATEO (7-5)
FINAL 2018 NORCAL RANK: 21
OUTLOOK: Plenty of skill position experience returns, including RB Nate Sanchez, RB Jackson Lataimua and WR Terence Loville. Senior QB Daylin McLemore takes over behind center after rave reviews from opposing coaches who faced him at 7-on-7 events. DE Nusi Malani will lead the defense. Also keep an eye on RB/DB Dylan Eaton. He quarterbacked the 2017 JV team before spending last year at Lutheran-Orange.
KEY GAMES: No. 6 PITTSBURG, 8/31; No. 5 MENLO-ATHERTON-ATHERTON, 9/7; @ No. 20 St. Francis-Mountain View, 10/18; No. 4 VALLEY CHRISTIAN-SAN JOSE, 11/2
9. CENTRAL CATHOLIC-MODESTO (11-2)
FINAL 2018 NORCAL RANK: 14
OUTLOOK: An argument could easily be made that the Raiders are the No. 2 team in the Sac-Joaquin Section to begin 2019. St. Mary's earned the edge so that we could place the Rams next to No. 6 Pittsburg, teams that will clash in Week Zero. As for Central Catholic, expect big seasons from RB Minaya Olivo (the son of former Major League baseball player, Miguel Olivo) and QB Dalton Durossette. WR Sithri Price and TE Nick Sani will be key passing targets. The learning curve of the defense will determine how dominant this group can be.
KEY GAMES: No. 1 DE LA SALLE-CONCORD, 8/30; @ No. 7 St. Mary's-Stockton, 9/6; @ No. 29 Manteca, 9/20; No. 14 OAKDALE, 11/1
10. CLAYTON VALLEY-CONCORD (9-2)
FINAL 2018 NORCAL RANK: 9
OUTLOOK: The newest member of the East Bay Athletic League should fit in just fine. While 1,500-rusher Makhi Gervais may not return, according to Bay Area News Group, the Ugly Eagles will still have plenty of firepower. Impact guys will include RB/DB Carson Sumter, WR/DB Rayshawn Jackson and sophomore RB Rashaan Woodland II.
KEY GAMES: vs. No. 2 Liberty-Brentwood (@ James Logan HS/Honor Bowl), 9/7; @ No. 25 California-San Ramon, 10/4; No. 11 MONTE VISTA-DANVILLE, 10/25; @ No. 1 De La Salle-Concord, 11/1
11. MONTE VISTA-DANVILLE (7-4)
2018 FINAL NORCAL RANK: NR
OUTLOOK: It's typically the third year of a coaching tenure when program's really begin to flourish. That's where the Mustangs are now with Matt Russi. The Monte Vista coach is still on his first QB, Jack Stewardson, too. Teams with three-year starting QBs trend well also. Stewardson is coming off a junior season of 2,300+ yards, 21 TD and just 5 INT. The Mustangs have 14 returning starters in total, including 3-star WR/DB Nate Rutchena and LB/TE Connor Shay.
KEY GAMES: @ No. 2 Liberty, 9/13; @ No. 15 Bishop O'Dowd-Oakland, 9/20; No. 1 DE LA SALLE-CONCORD, 10/4; @ No. 10 Clayton Valley-Concord, 10/25.
12. WILCOX-SANTA CLARA (14-1)
2018 FINAL RANK: 11
OUTLOOK: The Chargers opened eyes and turned heads with a 10-6 Week Zero win over Valley Christian-San Jose last fall. It'll be a lot harder for the defending CIF 3-A State Bowl champs to surprise anybody in 2019. Nine starters return, including two-way All-NorCal standout Paul M. Rosa. He'll anchor the team's punishing veer offense and captain the defense from his free safety position. Roan Poulivaati, Isaiah Flores and Samuela Lolo will be two-way impact players as well.
KEY GAMES: @ No. 5 Valley Christian-San Jose, 8/30; @ No. 6 Pittsburg, 9/20; @ Palo Alto, 9/27 
13. CARDINAL NEWMAN-SANTA ROSA (11-1)
2018 FINAL RANK: 12
OUTLOOK: Had they not met the cruel end of a coin flip, the Cardinals might have had a real shot at a CIF State Bowl appearance. A relatively young nucleus logged wins over one NCS champ (Fortuna) and a Utah state champion (Summit Academy-Bluffdale). Their only loss was a 42-14 defeat to CIF 1-A CIF Bowl champ, Liberty-Brentwood. Dual-threat All-NorCal QB Jackson Pavitt (41 total TDs in 2018) is back along with leading rusher Shane Moran. Replacing Pavitt's WR corps and key members of the defensive front will be the focus early.
KEY GAMES: @ Placer-Auburn, 9/6; @ No. 3 Liberty-Brentwood, 9/20; @ No. 23 Rancho Cotate-Rohnert Park, 10/4.
14. OAKDALE (9-4) 
2018 FINAL RANK: NR
OUTLOOK: Coach Trent Merzon is on record saying that his 2019 Mustangs "have a chance to be special." Since he's beginning his 20th season leading Oakdale and has reached NCS finals in 10 seasons and won four, we're inclined to believe him. Zeke Saffar will lead the offensive attack after averaging more than 10 yards per carry as a sophomore last season. Defensive end Peyton Bradford and linebacker Cameron Snow will be the defensive leaders. If sophomore QB Jackson Holt finds his feet quickly, look out.
KEY GAMES: No. 3 LIBERTY-BRENTWOOD, 8/30; @ Aptos, 9/6; No. 29 MANTECA, 10/4; @ No. 9 Central Catholic-Modesto, 11/1.
15. BISHOP O'DOWD-OAKLAND (12-2)
2018 FINAL RANK: 20
OUTLOOK: The defending NCS Div. III champs will return 13 starters, including seven on offense. All-State RB Austin Jones is now at Stanford, but there's more than enough talent on this team to keep the winning ways going — many with recognizable last names. There's TE/DE Colton Vardell (son of Tommy Vardell), WR/DB Sterling Stokes (son of JJ Stokes) and Coach Napolean Kaufman's son, RB/DB Nehemiah Kaufman. Then there's the new QB, junior Jesse Madden (grandson of John Madden). Also keep an eye on RB/DB Ethan Ford and WR/DB Malachi Ward.
KEY GAMES: @ No. 24 Las Lomas-Walnut Creek, 8/30; @ No. 6 Pittsburg, 9/13; No. 11 MONTE VISTA-DANVILLE, 9/20; @ Placer-Auburn, 9/27
16. INDERKUM-SACRAMENTO (11-1)
2018 FINAL RANK: 16
OUTLOOK: We're not being flippant when we say just chalk the Tigers up for at least 10 wins right now. Really, just do it. They haven't won less than 10 games since 2005, a streak of 13 consecutive seasons. This year's group will be led by a handful of returning players, most notably senior all-purpose back, Aaron Espero. Espero racked up more than 1,600 all-purpose yards in 2018, rushing for close to 1,100 of them. He scored 15 TD and also had 3 INTs on defense. QB Jamijah Ray returns as well as his top receiver, Javi Daniels. MLB Josiah Tyes will captain the defense after leading the Tigers with 86 tackles last season.
KEY GAMES: @ No. 28 Del Oro-Loomis, 8/30; WOODCREEK-ROSEVILLE, 10/4; YUBA CITY, 10/25
17. TRACY (8-4)
2018 FINAL RANK: NR
OUTLOOK: There's no need to visit Vatican City to see the Pope. If it's blessed football talent you're looking for, the Bulldogs' Trevor Pope II will do just fine. A superb athlete, Pope had more than 800 yards in both rushing and receiving as a junior last season. He scored 21 TD and led the defense with four INT. He'll be flanked by returning QB Logan Fife (28 TD, 6 INT in 2018) and running back Elias Williams (1,051 yards, 17 TD). Defensively, keep an eye out for DB Jordan Matson and DL Kyle Silveira.
KEY GAMES: @ Turlock, 9/5; No. 29 MANTECA, 9/13; VACAVILLE, 9/20; @ No. 7 St. Mary's-Stockton, 10/25
18. MCCLYMONDS-OAKLAND (12-2)
2018 FINAL RANK: 19
OUTLOOK: The Warriors are coming off a historic season in 2018. They became just the third school — and first public school — to win three straight CIF State Bowl titles after defeating Garfield-L.A. for the 5-AA crown. McClymonds lost it's two-headed rushing combo of Jarmar Julien and Adi Anderson. However, a confident Dre Paul returns at QB. WR/DB Daveonne Sanders will be a go-to target, and Gary Alexander Jr. (an El Cerrito transfer) should help fill one of the RB vacancies. Strong safety Edward Woods is fielding Pac-12 offers and should lead the defense.
KEY GAMES: @ No. 19 Marin Catholic-Kentfield, 8/31; No. 22 CAMPOLINDO-MORAGA, 9/13; OAKLAND TECH, 11/8.
19. MARIN CATHOLIC-KENTFIELD (10-4)
2018 FINAL RANK: 24
OUTLOOK: Top-end talent won't be hard to find in Kentfield this season as head coach Mazi Moayed returns a host of accomplished skill position players as well as a player to build around in the trenches in USC-bound DL Jamar Sekona. Sophomore Michael Ingrassia returns at QB after seeing time under center as a freshman, former QB turned do-everything WR/S/KR/PR Gaven Cooke will play a big role all over the field and 1,200-yard rusher Matteo Perez is also back to carry the load in the backfield.
KEY GAMES: No. 18 MCCLYMONDS, 8/31; No. 30 ARCHBISHOP MITTY-SAN JOSE, 9/7; @ Monterey, 9/13; @ Antioch, 9/20.
20. ST. FRANCIS-MOUNTAIN VIEW (11-3)
2018 FINAL RANK: 6
OUTLOOK: The Lancers will hit the reset button in 2019 with the departure of 33 seniors creating both uncertainty and opportunity for head coach Greg Calcagno's squad. The defending WCAL champs do return foundational pieces on both sides of the ball in OL Mose Vavao and DL Afa Sanft. QB Ryan Daly is also back in the fold after spending the majority of 2018 as St. Francis' starter under center.
KEY GAMES: @ No. 1 De La Salle-Concord, 9/6; @ No. 4 Valley Christian-San Jose, 9/27; No. 8 SERRA, 10/18; vs. No. 30 Archbishop Mitty-San Jose @ Foothill College, 11/1
THE NEXT 10