Las Lomas Basketball To Its First State Finals Appearance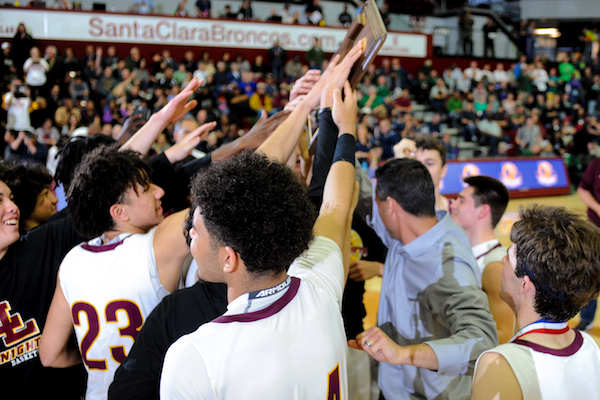 A Nine-Point Flurry From Senior Devin Payne Helped Lift Las Lomas To Its First State Finals Appearance •
For almost three full quarters, Palo Alto High and Las Lomas Basketball teams played the equivalent of a three-yards-and-a-cloud-of-dust football game, grinding out possessions and hoping to score.
Then Devin Payne of Las Lomas scored nine points in a three-minute span to spark the Knights to a 44-41 win Saturday in the CIF NorCal Division I finals at the University of Santa Clara.
But even though Payne finished with 12 points, and Nathan Robinson led all scorers with 18. The key to the Walnut Creek school's win was a sticky man-to-man defense that held Palo Alto to just one field goal in the first 11:57 of the second half, and limited the Vikings to 26.7 percent shooting.
"Our defense is our backbone," Las Lomas basketball coach Brian Dietschy said, and the plan to have Robinson defend Palo Alto's top scorer, Max Dorward, without help so that the other Viking shooters wouldn't have room to score, worked to perfection.
"It was a very good defensive effort by Las Lomas," said Palo Alto coach Peter Diepenbrock. "We weren't able to execute in the halfcourt."
Palo Alto also struggled with turnovers, getting almost double their usual amount, with 16 total. And the Vikings managed just two assists against those 16 turnovers.
A ratio basketball statheads, and even casual fans, know does not bode well for success.
Max Dorward led Palo Alto with 10 points, but conceded, "They really hounded the ball."
That said, Palo Alto also played sterling defense in its own right, holding Las Lomas scoreless for more than three minutes in every quarter. The Vikings controlled the game in the first half, allowing Las Lomas to lead for just 19 seconds, but Payne's late third-quarter burst changed the complexion of the game.
Still, Las Lomas almost gave the game away in the closing minutes. Looking to run out the clock rather than trying to score.
After building a 40-29 lead with 3:45 remaining,  Las Lomas slowed the already glacial pace, which allowed Jarod Wulbrun to get the Palo Alto offense back in gear.
He scored seven straight points in just over a minute. Spencer Rojahn free throw with 1:18 left cut the margin to 40-37.
But in what Dietschy said might have been the most important play of the game.
Blake Thorpe rebounded a missed Robinson free throw that allowed Las Lomas to run another possession down to almost zero – and then after Robinson missed a tough jumper. J. T. Estes wound up with the ball and Palo Alto was forced to foul. This time Robinson made both free throws. Extending the lead to 42-37 with 35.1 seconds left.
Dorward made two free throws of his own with 19.4 seconds remaining to again make it a one-possession game. ut, another Robinson free throw and another tenacious Las Lomas effort on defense proved to be too much for Palo Alto to overcome.
"We can win high-scoring games," said Dietschy, "and we can win grind-it-out games." He wasn't surprised that Saturday's game fell into the latter category. "When you play in a place like this, it takes a while to settle in."
But after Las Lomas adjusted, the Knights combined just enough offense with impressive defense to win their first-ever NorCal title. It was especially sweet for Dietschy.
Who played in the last NorCal title game for Las Lomas, in 1988.
That one ended up a 69-56 loss to Jefferson-Daly City. But, this year's senior-dominated Knights took the team one step further.
Las Lomas, the second seed in Northern California. Now  31-3, will play Chino Hills in the Division I state championship game at 8 p.m. Friday at Golden 1 Arena in Sacramento. Palo Alto, the eighth seed, finished 26-4.
Story by CLAY KALLAM | Photos by SAMUEL STRINGER