Manteca Football: Bring On The Doubters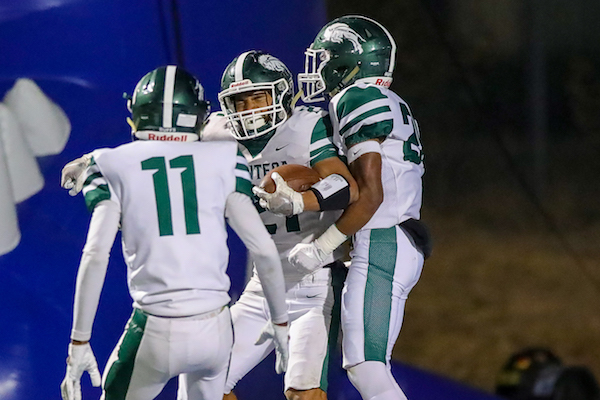 Scrappy Manteca Football Team Upends Expectations En Route To Punching A Ticket Into SJS Div. III Final •
They've read the articles. They've seen the predictions. Players and coaches from the Manteca football program have fully embraced their underdog status this season.  
Pundits and computer rankings picked against the fourth-ranked Buffaloes in nearly every big game this season. Now after a 20-14 road upset over defending champion and top-seeded Capital Christian last Friday, the program is making its 12th trip to the Sac Joaquin Section title game.
"We feel like we were doubted last week, and we liked being in that position," Manteca football coach Mark Varnum stated. "We want people to keep doubting us."
The team will once again be underdogs against second-seeded Placer this Saturday in the Div. III final at Sacramento City College — another chance to upset the favorite in a rematch of the 2016 Division IV championship tilt.
"These seniors were freshmen at that time, so they got a taste of that," Varnum said. "It's two very similar teams, similar programs, proud traditions and proud football towns."
_______________________________
CONNECT WITH US:
Follow SportStars on Twitter & Instagram | Like us on Facebook | Subscribe!
_______________________________
Manteca dominated that first matchup, 50-28, as the defense tallied five interceptions and forced three fumbles. Varnum was an offensive coordinator on that team, coaching under former longtime head coach Eric Reis, who won five section championships for the program. 
This year, Placer owns an 10-2 record with losses early in the season to Whitney-Rocklin and Cardinal Newman-Santa Rosa. The Hillmen have won nine consecutive games, while Manteca has won seven straight — the program's best win streak this decade. 
"We kind of fueled off everybody picking against us," Varnum said. "Our kids knew we were playing some good football going into the end of the season, and they just let it all hang out there. It was a big, big win for us — a big win on the road, but we know that we've got one more to go. 
"We want to finish this one out and finish the right way."
Following Friday's win, Varnum praised his team's defense and defensive coordinator Rick James for holding Capital Christian to a single offensive touchdown. The Cougars' offense came into the game averaging nearly 180 rushing yards per game, but the Buffaloes held them under 100. They also recorded a pair of interceptions as they eked out the narrow win.
The Cougars only offensive score came on the opening drive, but Varnum's offense put together a 16-play drive to answer and tie the game at 7-7. Manteca added touchdowns in the second and third quarters and that proved to be enough to earn the victory. 
Senior quarterback Ryan Ward, who's committed to play baseball next year at the University of Pacific, threw for 158 yards and  two of the team's three touchdowns.
"Our team has been rolling and it's nice to keep that up after a big win," Ward said. "I mean, it's a big credit to our defense to hold Capital Christian to only a touchdown. We were all hyped up, and obviously the odds were against us as nobody expected us to win. But like our coaches say, 'If we can do that, then we can do anything.'"
Despite a pair of interceptions, including a late pick-six, Ward's play from the pocket was impressive. He threw a pair of clutch touchdown passes to his electric receiver Jacob De Jesus, who scored from 15 and 63 yards to put his team on top.
"We have pretty good chemistry that we've built over the years," Ward said of De Jesus. "And having that connection, it's like you could throw it with your eyes closed and still know where he's going to be at, which is nice. We've also got Sunny Dozier on the other side, and he's been great. So if teams are double covering Jake, then we've got other outlets."
Another one of those outlets is senior back Trabron Russell, who's rushed for more than 1,200 yards this season.
After churning out 161 yards on the ground against Vista Del Lago in the opening round of the playoffs, Russell led Manteca again with 70 yards on the ground against Capital Christian. Varnum knows if his squad can play that way again, with their balanced offensive attack, then they'll have a good chance at an eighth-straight win this weekend. 
"We feel like we're a few plays away from being undefeated," the veteran coach said. "We had a double-overtime loss early in the year and we had a one-point loss to Central Catholic. So if we don't make mistakes, and just play our game, we can compete with anyone."
Fast starts and early scores has helped propel Manteca's win streak. They've averaged nearly four touchdowns in the first half of games this season and they'll look for a similarly quick start in their biggest game of the season Saturday.
"Against a great team like Placer, every possession counts," Varnum said. "We want to make sure we can execute and hopefully get out in front early on. A big part of that is our line. We're young, small and scrappy up front. But it's really a testament to our line coach… he gets the most out of our guys. They play their butts off for him and for the quarterback and the running backs. They'll do whatever it takes. Our thing is, give our guys a little space and they'll take a lot."
If Manteca hopes to win its seventh section title, it will need another inspiring defensive performance. Placer averages nearly 300 yards per game on the ground. The Hillmen have rushed for 3,500 yards and 45 touchdowns this year. That attack is led by 6-foot-4, 230-pound senior Hans Grassman, who has 1,587 of those yards and 26 of the scores.  
Varnum knows it will be a tough test, but only a fool would pick against them again.
"Nobody remembers who finishes second, so regardless of what happened last week, we want to finish this thing out — get that blue banner and move on to state," Varnum added. "We want to get back what's ours. That's how the kids feel, that's how the coaches feel and we want to go get another one."