Pleasant Valley Football: Defending CIF Champs Ready For Battle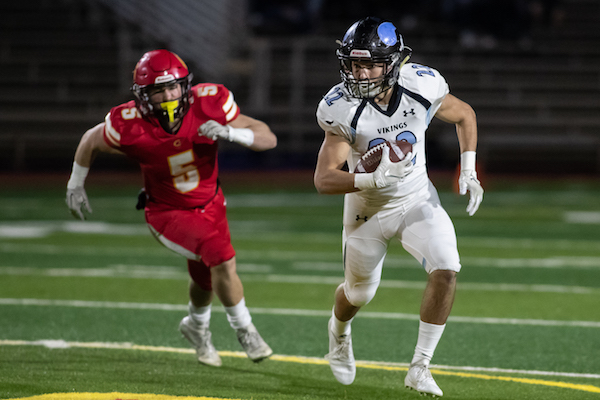 Chico's Pleasant Valley High Opens Its Season At Del Oro With 12 Returning Starters, A Dynamite Junior Class — And Special Forces Training •
"Everyone has a job to do." It's the mantra of the Pleasant Valley football program. 
It wasn't crafted by its stellar bookend offensive tackles or other elite recruits, but by United States Navy SEALs.
On Aug. 12, the reigning CIF Div. 4-AA State Bowl Champions engaged some of the countries most elite members of the armed forces. It's coach Mark Cooley's annual operation that preps his program for the grueling CIF campaign to come.
It's beyond motivational speaking. The Vikings are taught to function with the style and efficiency of SEALs. Player groups are divided into "SEAL teams" and given specific debriefings that task their minds and bodies to achieve greatness.
_______________________________
GET CONNECTED:
Follow SportStars on Twitter & Instagram | Like us on Facebook | Subscribe!
_______________________________
Beyond Motivational
"We have had SEALs come in the last six years and get these guys dialed in," Cooley explained. "It promotes overall work ethic, because to be the best, you have to do the right things to get there — sleep, nutrition, hard work, rest and recovery."
Cooley said the process includes forward-thinking sports science practices. 
It's a system that has propelled the Chico high school to six playoff appearances, three Northern Section titles, two NorCal titles and two CIF bowl wins in the last six years.
Last year, Pleasant Valley shellacked Central Valley Christian-Visalia 43-12 in the 4-AA finale.
Old news, as far as Cooley is concerned.
"We definitely want to move on from last year," Cooley said. "The past doesn't matter. It's what you want to get done now and what legacy you want to leave behind."
The program returns 12 starters to build that legacy, and begins 2019 at No. 21 in SportStars' Preseason NorCal rankings. Beefy offensive tackles Aidan Finney (6 feet, 7 inches, 290 pounds) and Josh Anderson (6-4, 265) will anchor the Viking lines. Finney is committed to Arizona State while Anderson is still weighing his options.
"Finney's work ethic is off the charts," Cooley said. "Josh Anderson is also a tremendous young man with big upside to his game."
New Look
The new-look Vikings will likely break from the pass-heavy squad of 2018 that gobbled up 2,228 yards and 26 touchdowns through the air last year. Quarterback Tanner Hughes now plays for Butte College and the squad graduated about 95 percent of its receiving production.
The new signal caller doesn't have to be Hughes or Pleasant Valley/Butte alum Aaron Rodgers, but he does have to win a job.
Cooley said the battle is between junior Sean Saise and sophomore Ian Guanzon. Saise, a NorCal top-12 QB for the class of 2021, according to Battleprepwest.com, is the early favorite to win the job.
Either way, Cooley expects the offense to roll on the legs of senior running back and Montana State commit Aidan Parks. Parks, also one of the top linebackers in the state, is the son of Stanford and NFL alum Nate Parks.
Senior Austin York recorded six sacks on defense last year, but Cooley expects him to thrive at tight end for the Vikings' offense.
"(York) knows football inside and out," Cooley said. "His dad coaches at Butte College."
Without incredible depth from the class of 2020, Cooley said he anticipates big things from his junior class. The unit was undefeated at the junior varsity level last year.
Varsity speed will come at the Vikings fast.
The team travels to No. 28 Del Oro-Loomis Aug. 23 to open the season. The Golden Eagles won eight of nine home games last year (losing only to Folsom), bested Central Catholic-Modesto 20-17 in the Sac-Joaquin Section DII finals and stunned a stellar St. Francis-Mountain View Squad 14-13 to win their CIF regional bowl. Del Oro ultimately fell 21-14 to Grace Brethren-Simi Valley in the 2-AA state bowl game. The program later vacated its postseason honors after self-reporting the unknowing use of an ineligible player in a playoff blowout.
_______________________________
GET MORE: Read Steven Wilson's Del Oro season preview spotlighting RB Sheldon Conde.
_______________________________
We Want to Play Tough Teams
Pleasant Valley's preseason schedule also contains No. 5 Valley Christian-San Jose (NorCal runner-ups to Liberty-Brentwood) and North Coast Section Div. II semifinalist, No. 23 Rancho Cotate-Rohnert Park. Including SJS stalwarts Yuba City and River Valley-Yuba City, all of Pleasant Valley's preseason foes were serious postseason contenders last year.
"We want to play the top teams in the state of California," Cooley said. "Tougher teams prepare you down the road."
Cooley said he does anticipate being underdogs in Loomis.
"It's a mental push to see if we can stay focused on the task at hand and compete with these guys," he said. "If we win, it will be a major upset, and if we lose, that will show us where we need to get to."
It's happened before.
Pleasant Valley was bounced in Loomis 29-9 in 2016 and went on to win a state bowl game. 
It just shows that if everyone does their job, a team can achieve greatness.