Sheldon Conde, No. 28 Del Oro Football Prepare For The Unknown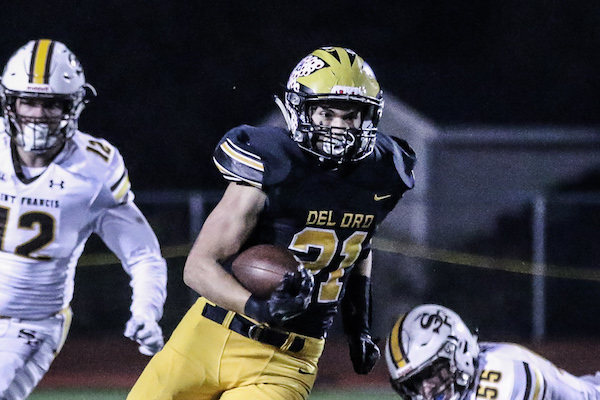 With Just Three Returning Starters, Del Oro Will Look To Determined Senior RB Sheldon Conde To Set The Tone •
Third-year coach Jeff Walters hopes his Del Oro football team will attack the 2019 season like senior running back Sheldon Conde hits the hole.
The Golden Eagles may not have a better role model for success than the hard-nosed tailback who never stops his feet. 
Conde, who rushed for a little more than 1,000 yards last season while averaging 8.6 yards per carry, will have defenses keying on him as the leading candidate for the majority of the workload in the Eagles' backfield this season. The 2018 All-Sierra Foothill League first team selection displayed great burst through the hole last year. However, more impressively, he had excellent endurance which allowed him to out-race defenders en route to a team-high 14 touchdowns. 
"He doesn't have an off switch," Walters confessed. "And I know coaches talk about guys that go hard, but there will literally be times at practice where I have to tell him, 'Sheldon, this is a non-contact drill. Stop seeking contact.' So much so that we actually coined the phrase 'a Conde rep.' That's basically when a running back takes a handoff and finishes in the end zone."
_______________________________
GET CONNECTED:
Follow SportStars on Twitter & Instagram | Like us on Facebook | Subscribe!
_______________________________
Conde's breakout season helped Del Oro post a 13-2 record and earn a trip to the 2-AA CIF State Bowl Championship game last year. The team eventually forfeited its Sac-Joaquin Section Div. II and CIF regional bowl titles due to an ineligible player in a playoff game blowout. All of which left a sour taste the program is eager to move on from.
But the team will look quite different. Del Oro graduated 18 starters from both sides of the ball and will need underclassmen to step up around Conde to find repeated success in 2019. 
"We have a lot of guys with potential – we'll just have to see how it all shakes out," Walters added.
Seniors Tucker Black  and David Veske will anchor both lines this year. Three-sport senior Kal Lunders takes over quarterback duties on offense. Last year, Lunders played primarily at safety, recording 36 tackles, 1.5 sacks, a blocked punt, a blocked field goal and a 99-yard pick-six. He'll go both ways for the 2019 Golden Eagles. 
"We're a little undersized this year, but we've got hearts of lions," Walters said. "We're not getting too far ahead of ourselves – it's been a really long time since Del Oro wasn't playing in December, and we hope that it won't be this year."
It's been a half-decade since the team wasn't practicing on Thanksgiving, and with the resurge of SFL foes Grant-Sacramento and Rocklin, a solid team could be left out of the playoff race this season.
"The SFL, top to bottom, is one of the best-coached leagues. … Everyone gets the best of their players," Walters stated.
The veteran coach also pointed out that his group will take it one game at a time. 
"We want them to grow every single week, and just like last year, we believe we have a very special team," Walters said. "But our next game is always our most important game. Every game matters, obviously, especially in the new playoff format where you have to get to four wins just to qualify."
The Golden Eagles open the new campaign Friday night against Pleasant Valley-Chico, the reigning CIF 4-AA State Bowl champions.
"We're dedicating the game to the memory of (former coaches) John Fletcher and Bob Christensen," Walters said. "So it's going to be a great town event. Obviously, our new field is exciting and our community, our town enjoys coming together. So it's pretty cool that we're going to celebrate our new field with a flashback to where our program really got going."
Christensen, a former tight end in the NFL with the Los Angeles Rams and Buffalo Bills, joined Fletcher as co-coaches at Del Oro back in 1979. Together, they won 10 league and four section championships up until 1994. Christensen stayed on with the program until 2002 and amassed a 146-46-3 record in 24 years.
"They really laid the foundation for every coach and every player that came after them," Walters acknowledged. 
Fletcher and Christensen taught at Del Oro and Christensen eventually served as principal during his 28 years in the education sector. This past September, following a long battle with cancer, Fletcher passed away. He was 68.
Christensen and Shelly Fletcher, Bob's wife, will speak during the dedication Friday night. Kickoff is slated for 7 p.m.