SportStories, Episode 01 | The Passion Of Patrick Walsh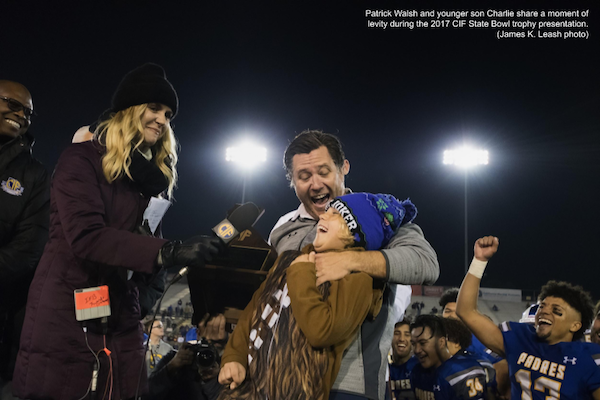 For The Debut Episode Of Our SportStories Podcast, We Solicited Stories About Serra-San Mateo Coach Patrick Walsh — A Leader In The Efforts To Restart High School Sports
Patrick Walsh has led the Serra High football program in San Mateo since 2002. In 18 seasons he's won 155 games, eight West Catholic Athletic League titles, five Central Coast Section championships and made three CIF State Bowl appearances (winning it all in 2017).
Yet, none of that is why we chose him to be the subject of our first podcast's premiere episode.
There are many individuals involved in the statewide effort to get all high school sports back in action. Few have been more present in spreading the message than Patrick Walsh.
He's been quoted in several stories, appeared on local radio, local television and even a few national news broadcasts. He also hosted a very effective virtual press conference on Jan. 29.
His efforts in leading the Golden State Football Coaches Community and working with the massive (50,000+) parent-athlete lobbying group, Let Them Play CA, have yielded impressive results. The organizations have had successful meetings with Governor Gavin Newsom, his top aid Jim DeBoo and State Health Secretary, Dr. Mark Ghaly.
Walsh is expected to be part of another meeting the week of Feb. 9.
For our first SportStories podcast — where the stories are the star — we set out to look for stories about Patrick Walsh. We were hoping to find tales that highlighted the origins of the fire that's driven him to his success, and the desire to spearhead his current quest for student-athletes across the state.
We spoke to his high school football coaches at De La Salle — where he would arguably be the first face carved into a Spartans gridiron Mt. Rushmore. The famous architects of the nationally renown program, Bob Ladouceur and Terry Eidson, each share stories and thoughts on Walsh.
We also interview Monte Vista-Danville boys basketball coach Nick Jones, who knew the Walsh family well from his days playing for the San Ramon Valley Little League All-Stars.
The root of every story boiled down to one thing: Passion.
We hope you'll take a listen to this first episode of SportStories: The Passion of Patrick Walsh.
Find and follow/subscribe to the podcast on the following sites: Spotify, Google Podcasts, Breaker, Pocket Casts and Radio Public. Visit the podcast's home site of Anchor to leave us a voice message about the episode, or to suggest a topic of your own.
EPISODE NOTES/VIDEOS
Walsh's De La Salle Highlight Reel (1991-92 Seasons)
Walsh's 2019 CIF State Bowl Postgame Speech