West Campus Girls Basketball on a Championship Run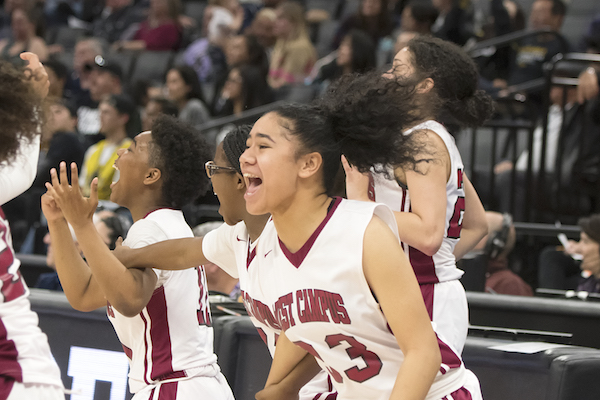 West Campus Girls Credit Their Track Coach, Conditioning Program In The Wake Of Winning A Second Consecutive State Championship •
West Campus Story by MIKE WOOD | Photos by JAMES K. LEASH
You might not expect to hear groans, gasps and cackles from a girls basketball team that just won its state championship game in lopsided fashion. The West Campus High girls of Sacramento were the exception.
Because memories of summertime workouts in 100-degree heat still sting in March.
The Warriors had just captured the CIF Division III state championship by handling Sunny Hills-Fullerton 75-47 on March 23 in front of a hometown crowd at the Golden 1 Center in Sacramento. For them, it's been about running, running and more running. Even in the hot summer sun.
"They are committed and they come out," coach John Langston said. "It could be 100 (degrees), it could be 90. It could be 110 and they realize that running is very imperative for their success."
For senior forward Kiara Jefferson, who will be taking her game to UCLA, the players realized what the road would lead to. West Campus (29-7), which won the Division IV state championship one year before, was able to repeat. The Warriors were one of only two Northern California teams — the Pleasant Valley-Chico boys team being the other — to win a state championship on March 23-24 at Golden 1 Center.
Payoff:
"Usually we're out there for an hour and 30 and we're giving it our all," Jefferson said. "It hurts during the process but we realize it will pay off in the end."
That payoff was evident from the outset of the championship game. West Campus bolted to a 25-4 first-quarter lead, making 10 of 16 field goals (and 4 of 9 from 3-point range), while holding Sunny Hills (24-11) to just 1 of 13 in the opening quarter.
The Warriors were off to the races. Sort of like a track meet. Cal State Bakersfield-commit Nia Johnson led the way with 23 points and 12 rebounds. Jefferson had 21 points and sophomore Gabby Rones scored 14.
"We have a great track coach (Hardy Slay) who is very animated about form, about condition, about structure," Langston said. "He's everything for this team. He doesn't get enough credit but he runs them three days a week. And he often tells them, 'look, this is about form, this is about finishing, this is about the fourth quarter. This is about the beginning.' And he says 'you have to finish everything.' And they have done that for the last four years."
For freshman Simone Johnson, who led the team with 13 rebounds, the strenuous workouts from the outset were hard.
"We did a lot during the summer," she said. "It was really, really hot. It was crazy. But we worked together. And I think we got it done. We did!"
The early lead held for much of the game, even after the Lancers were able to get their offense going. Sunny Hills, making its first state finals appearance after winning their regional as the No. 6 seed, was led by Jessica Barrow and Kayli Arii with 15 points each.
"It's frustrating because I thought we were getting looks offensively," Lancers coach Jae Byun said. "I told the girls that I was not worried offensively, (but) defensively I was a little concerned because we were throwing everything at them. We were throwing man, zone, different types of zones, but to no avail. They put up 75 and that's the most we've given up all year."
The Warriors kept the jets going, realizing their championship dream.
"It's a state championship and we know it can go either way," Jefferson said. "They are as good a team as we are. They had fought to get here just as we had. So I was comfortable, but not relaxed."
All seven of West Campus' losses came during a demanding December stretch that included a trip to the Nike Tournament of Champions and a stint in the West Coast Jamboree's top division, the Platinum.
"I think it made us closer and made us grow as players, because we saw what we needed to work on," Jefferson said.
For Langston, that stretch was a part of the journey to get to the Golden 1 Center and a second straight state championship.
"They've done it all year," he said. "Yeah, we lost seven games. … We didn't care about that. This is what we care about."
Because of the college preparatory school's academic standards, it's not easy to put together an elite sports team, Langston said.
"The school itself, we don't get the cream of the crop," Langston said. "Because everyone can't get into this school (because of its academic standards). But what we do get are some kids who are willing to work their tails off on and off the court."