Wilcox Football: Charged For An Encore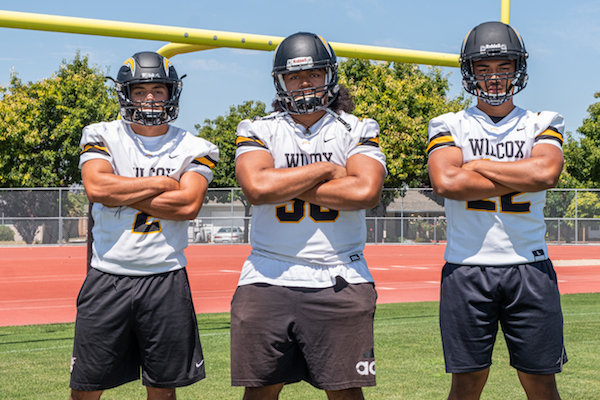 After 14 Wins And A CIF State Bowl Title, Wilcox Football Enters New Territory As It Prepares To Follow Its Most Successful Season Ever •
For the Wilcox football team, it's been about shattering barriers and destroying preconceived notions.
Barriers were blown away during the Chargers' outstanding 2018 season in which they won their first 12 games and finished 14-1, not only playing in their first CIF NorCal and State Bowl Games, but winning each to blast through two massive championship barricades.
And they smashed any preconceived notions that Santa Clara-based high school can be tabbed a baseball school. The Chargers baseball program has five Central Coast Section championships and a field named for former Oakland A's third baseman Carney Lansford. 
Now Wilcox football players are making names for themselves.
"Baseball has been the most consistent sport at our school," said Wilcox football coach Paul Rosa, who coached the baseball team to two of those section titles before taking the gridiron job in 2015. "Now in football, our numbers are up. We have a freshman group of 35-40 out there working, and that is at a time when other schools aren't able to field a freshman team. So it is like we have an extra team out there learning how to do the right thing."  
There's a special brand of determination at Wilcox, which enters the season ranked No. 12 in NorCal by SportStars. The Chargers bring a gritty work ethic and look to a handful of experienced stars to contribute in a variety of ways. 
With the bar raised, their schedule becomes even tougher. It starts with an Aug. 30 opener at No. 4 Valley Christian-San Jose. Wilcox has added No. 6 Pittsburg for another road challenge on Sept. 20, as the Chargers travel for six of their 10 games. Playing in the competitive Santa Clara Valley Athletic League, they face Palo Alto, Los Gatos and Milpitas amid a four-game midseason stretch.
"I think we're fired up and we just want to work hard and hope everything turns out well," senior running back/kicker/wide receiver Paul M. Rosa, son of the head coach said. The 5-foot-7, 180-pound Rosa brings plenty of heart and exceptional play-making ability. His 30 touchdowns last year were the second-highest in the CCS.
"You can trust him to do his job, and he always seems to find the hole," said senior lineman Samuela Lolo. "When you see him break for a run, you know not a lot of people are going to catch him."
Rosa is well aware that the state bowl win has greatly changed opponents' perception.
"Now that we are the team to beat, we know we never will be taken lightly anymore," he said. "We can't slack off." 
There was no slacking off last year. Wilcox opened with a hard-fought 10-6 win over Valley Christian-San Jose to start that 12-game win streak. The program seemed primed for a section crown. 
But with the exception of Division II championship teams in 1995 and 1997, CCS title games have been a source of frustration for Wilcox football squads. The 2018 team became the eighth from the school to fall in a CCS final, and that loss was in absolutely crushing fashion.
The Chargers' CCS Open Division I title hopes unraveled in a nightmarish fourth quarter with four turnovers, as Menlo-Atherton (itself an eventual state champion) came from 28-14 down to win 33-28. There wasn't much time to shake off that devastating loss before the school's first NorCal game.
"That was one of the most challenging weeks in my coaching career in any sport, to be 12-0 and lose an epic game and lose it in a bad way, even though it was to a great team," Rosa said.
A bonding team barbecue was a great mood-lifter, players agreed. Then it was back to practice.
"We didn't have a great first practice, but for the second one, we came out fired up, and after that great practice we realized we could do something in NorCal," Paul M. Rosa said.
Being in new bowl-game terrain helped restore focus.
"We had never been to a NorCal game," the coach said. "In our culture, it was all about CCS. Now things have changed. And they weren't just there for the experience."
"Everyone just forgot about the loss and went into the NorCal game and just played it," senior running back and linebacker, Roan Poulivaati said, "Yes, it was our first time there, but it felt like a game we needed to win because of the week before — so we could prove ourselves again."
The magic returned quickly against then-undefeated Capital Christian-Sacramento. Ryan Cooper returned a kickoff 99 yards for the Chargers' first score in an eventual 34-30 Div. 3-A NorCal win. The Chargers didn't even need to attempt a pass in their 41-27 State Bowl win over Kaiser-Fontana. Gabe Herrera rushed for 246 yards and four touchdowns and Rosa went for 117 yards and a score.
With stars like Cooper and Herrera having graduated, returning veterans will need to do more.
That task fits the multifaceted Paul M. Rosa, who enters his fourth varsity season with a heavy mix of seasoning, talent and energy.
"Because he played as a frosh on varsity, it was like he had been a senior year last year, and he was a leader and was a captain," the coach said. 
"It's nice to get a guy for a third year, but when you get a guy for a fourth year, that is great. And he's in a different role. Now he is the guy. With Ryan Cooper being gone, Gabe being gone, he is the guy." 
To propel a vaunted running game that saw Rosa and Herrera each run for close to 1,600 yards a year ago, Wilcox is turning to two players to work alongside Rosa. There's a powerback in Poulivaati, who at middle linebacker led the Chargers in total tackles with 108 in addition to 4.5 sacks last season. And there's a speedster in Aaron Ah Sing. 
"I'm pretty excited to play both ways this year," Poulivaati said. "Last year we just talked about it a little, but now we are going to go for it."
Likewise, talented defensive tackle Lolo will also start at guard, joining linchpin tackles Osiris Niko and Scott Smith in the important responsibility of creating space for the big-time running game. 
"I just know I cannot get tired; I know I can play both ways because it is about being mentally tough," Lolo said. "In your head, you have to say to yourself: one more play."
And if the Chargers can bring on the magic once again, they should earn plenty more plays and more dates on their schedule.
BEST OF THE CCS 
Names to know and teams to watch from Central Coast Section schools.
TOP OFFENSIVE THREAT: WR Troy Franklin, Menlo-Atherton-Atherton, Jr.
TOP DEFENSIVE TALENT: LB Moon Ashby, Valley Christian-San Jose, Sr.
BEST ARM (QB): Carl Richardson, Salinas, Sr.
BEST BACK (RB): Paul M. Rosa, Wilcox-Santa Clara, Sr.
BIGGEST DEEP THREAT (WR): Jamir Shepard, Palo Alto, Sr.
TOP ROAD GRADER (OL): Andres Dewerk, Los Gatos, Sr.
TOP RETURN THREAT: Vaenuku Vahai, Mills-Millbrae; Sr.
BIGGEST LEG (P or PK): Ronan Donnelly, Sacred Heart Prep-Atherton, Sr.
TOP PASS RUSHER: DE Damien Herena, Overfelt-San Jose, Jr.
BEST BALLHAWK (DB): Justin Anderson, Menlo-Atherton-Atherton, Sr.
TOP OFFENSIVE NEWCOMER: QB Raymond Price III, Menlo-Atherton-Atherton, Jr.
TOP DEFENSIVE NEWCOMER: DB/WR David Silk, Serra-San Mateo, Jr.
BIGGEST TITLE FAVORITE: Menlo-Atherton, Valley Christian-San Jose
TOUGHEST SCHEDULE: St. Francis-Mountain View
BEST CHANCE TO SURPRISE: Archbishop Mitty-San Jose