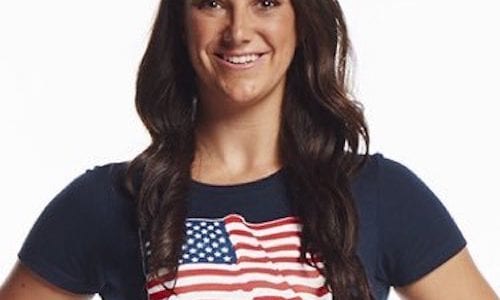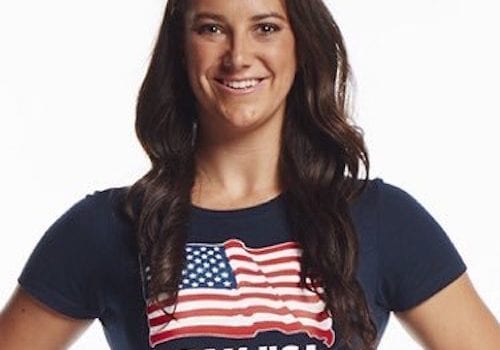 1 – Maggie Steffens, Monte Vista-Danville, Water Polo When we named her our first SportStars Female Athlete of the Fall in January of...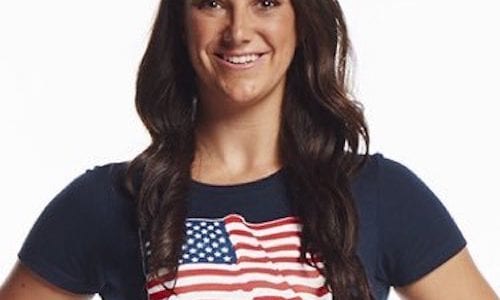 1 – Maggie Steffens, Monte Vista-Danville, Water Polo
When we named her our first SportStars Female Athlete of the Fall in January of 2011, we asked her if she could see herself competing at the Olympics. This is what Steffens said:
"I can envision myself (in London), but it's kind of just in my own mind. It's a lot of work to get there, and there are a lot of great girls on that team. With hard work and motivation and discipline, hopefully I can get there. But it's definitely going to be a long road…(But) you get a taste of something, you just want it so much more. I want to make that team."
She made the team. She started. And she tied an Olympic single-game scoring record with seven goals in her first Olympic match. She scored 21 goals in the tournament. She won Gold. And she was the tournament's MVP and was named 2012 Female Water Polo Player of the Year by both FINA and Swimming World Magazine.
2 – Aaron Gordon, Archbishop Mitty-San Jose, Basketball
Unquestionably the most decorated, and most dominant boys basketball player in the SportStars Era to date. Gordon won a pair of CIF Division II State Basketball titles, was named the Cal-Hi Sports Mr. State Basketball as a junior, was a McDonald's All-American (and the game's MVP) and was the Pac-12 Freshman of the Year at Arizona before declaring for the draft and being taken No. 4 overall by the Orlando Magic.
3 – Jake Browning, Folsom, Football
Browning was a once-in-a-generation quarterback for the Bulldogs, obliterating state and national records over a three-year stint as the team's starter. He threw for 10 TDs in his first ever varsity game in 2012. In his last varsity game, he threw for six TDs and rushed for one as Folsom completed a 16-0 season and won the CIF Division I State Bowl Championship. For his career, he set or equaled national marks for career TDs (239) and TDs in one season (91) as well as the state mark for career yards (16,775).
_______________________________
GET CONNECTED:
Follow SportStars on Twitter & Instagram | Like us on Facebook | Subscribe!
_______________________________
4 – Nate Moore, Castro Valley, Track & Field/Basketball
Moore etched his name into the state history books as the first boy to win both the long jump and triple jump state titles in back-to-back years (2013 and 2014). Moore's winning jumps (TJ: 51 feet, 4 inches, LJ: 25-8.75) were both the top high school marks in the nation for 2014. He also earned a silver medal with the Trojans' 400 relay team. During the winter, he was a key guard off the bench for the Castro Valley boys basketball team.
5 – Brittany Boyd, Berkeley, Basketball
Our 2010-11 Female Athlete of the Winter honoree "" after leading the Yellowjackets to a record 10th NorCal title "" went on to become a four-year pillar of the Cal Women's program. She closed out her career as a semifinalist for the Naismith Award recognizing the beat female college basketball player. In April, she was selected No. 9 overall in the WNBA Draft and will play for the New York Liberty.
6 – Marcus Lee, Deer Valley-Antioch, Basketball/Volleyball
A McDonald's All-American hooper, Lee has spent the last few seasons contributing off the bench for one of the best college programs in the country "" Kentucky. Lee was also an absolute force as a volleyball player, helping Deer Valley to a 42-2 record in 2013.
7 – Nikko Villareal, Gilroy, Wrestling
He was a three-time CIF State Champion and finished third in his other trip to Bakersfield. He is one of just 20 wrestlers in state history to win at least three state championships and just the sixth NorCal wrestler to join the club.
8 – Ivan Rabb, Bishop O'Dowd-Oakland, Basketball
He's been at the top of national recruiting lists for each of the past three seasons and finally chose to attend Cal not long after winning the CIF Open Div. State Championship by sinking the game-winning free throw with less than a second remaining. He averaged more than 20 points and 15 rebounds a game as a senior.
  9 – Kristian Ipsen, De La Salle-Concord, Diving
Ipsen was the only the Magazine's second ever SportStar of the Week. Like Steffens, he went on to star for the Americans at the 2012 Summer Olympics. Ipsen and his 3-meter synchro partner, Troy Dumais, brought home a Bronze medal.
  10 – Arik Armstead, Pleasant Grove-Elk Grove, Football/Basketball
After a phenomenal and decorated two-sport career with the Eagles, Armstead excelled at Oregon where he played both sports as well. He was a first-round draft pick (No. 17 overall) of the 49ers on April 30.
  11 – Chelsea Chenault, Carondelet-Concord, Swimming
Her four-year prep swimming career included 12 North Coast Section golds, five NCS records and two national records. She was a two-time All-American in her freshman year at USC and is a current member of the U.S. National Team.
  12 – Robert Stephenson, Alhambra-Martinez, Baseball
Began his senior year with consecutive no-hitters and finished as the Gatorade State Player of the Year and the 27th overall selection in the MLB Amateur Draft. He is currently the No. 1-ranked prospect in the Reds organization.
  13 – Mariya Moore, Salesian-Richmond, Basketball
The McDonald's All-American averaged 17.8 points, 8.6 rebounds, 7 assists and 3.5 steals her senior year, and led the Pride to two state finals in her career. As a freshman she led national-power Louisville in scoring, assists and 3-point field goals.
  14 – Shaq Thompson, Grant-Sacramento, Football/Baseball/Track
His decorated career with the Pacers included being one of six finalists for the U.S. Army National Player of the Year in football. He was also an 18th round pick in the MLB Amateur Draft by the Red Sox and played a month of minor league ball before going to Washington for a dominant three-year career that ended with him winning the Paul Hornung Awards (nation's most versatile player). He was the No. 25 overall draft pick to the Carolina Panthers in the first-round of the 2015 NFL draft.
15 – Sasha Wallace, Holy Names-Oakland/Castro Valley, Track
As a senior she won double-gold at the CIF State meet for the second straight year, defending her state titles in the 100-meter hurdles and the triple jump. She was the first East Bay girl to ever repeat at state in the same two events. At Oregon, she had two Top-3 finishes at the 2014 Pac-12 Championships.
  16 – Eddie Vanderdoes, Placer-Auburn, Football/Baseball
Before starting for UCLA, he was the top-ranked defensive lineman recruit in the nation as a senior. He was also a .400 hitter and highly-effective pitcher in baseball. Many schools recruited him for both sports.
17 – Tommy Thompson, Granite Bay, Soccer
He played for the Grizzlies through his junior year in 2012. He graduated early to play for Indiana University before signing with the San Jose Earthquakes at age 18. Current member of the National under-20 team.
18 – Joe DeMers, College Park-Pleasant Hill, Baseball/Basketball
One of the best two-way baseball players in the state since his freshman year in 2012 and was a starter for the CIF NorCal Championship basketball team as sophomore. As of April 25, he was batting .490 and had logged three no-hitters as a senior.
  19 – Dylan Wynn, De La Salle-Concord, Football/Wrestling
Wynn was a three-year starter and dominant two-way player for the Spartans. His wrestling career also took him to the state meet twice. Recently closed a strong career as a DL at Oregon State.
20 – Johanna Grauer, Amador Valley-Pleasanton, Softball
She was the Bay Area's most dominant pitcher from 2011-2014. As a senior she posted a 27-0 record, 0.51 ERA, 290 strikeouts and just 60 hits allowed over 191.1 innings pitched. She was also the team's top hitter with a .429 average. She currently pitches for UCLA.
21 – Oderah Chidom, Bishop O'Dowd-Oakland, Basketball
The McDonald's All-American was the SportStars Bay Area Female Athlete of the Winter in 2013 after leading the Dragons to a second straight state title. She currently plays for Duke.
22 – Derek Hill, Elk Grove, Baseball
A three-year standout for the Thundering Herd, he was the 23rd overall selection in the 2014 MLB Amateur draft after batting .500 with 11 doubles, 7 triples and 30 RBI in his senior year. The outfielder is currently the No. 4-ranked prospect in the Tigers organization.
23 – Ciarra Brewer, James Logan-Union City, Track
A two-time state champion in the triple jump, Brewer has since gone on to star at the Univ. of Florida and is a two-time SEC Champion.
24 – Taylor Nelson, Granite Bay, Volleyball
Nelson was honored as the Gatorade State Player of the Year after leading the 2013 Grizzlies to an unprecedented 45-0 state-championship season. That year she had 996 assists (8.9 per set) with 192 kills and 90 aces.
T25 – Carrie Verdon, Campolindo-Moraga, Cross Country
The current Pac-12 star for Colorado won back-to-back state titles as a junior and senior. Her state-winning time of 17:15 in 2010 ranks second all-time for the Div. III state race.
Fiona O'Keeffe, Davis, Cross Country
Already a two-time state champion, O'Keeffe will have an opportunity in 2015 to become just the seventh girl to win three or more state titles.