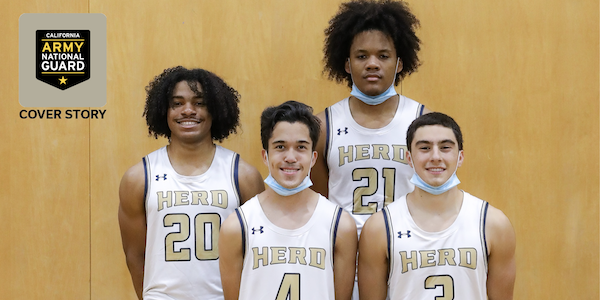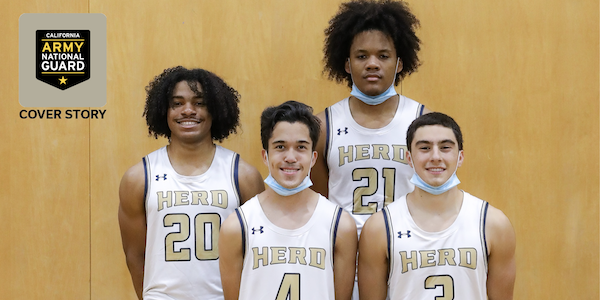 Fueled By Four Seniors And Longtime Best Friends, Elk Grove Basketball Will Be Among Sac-Joaquin Section's Best — And May Just Raise A Banner...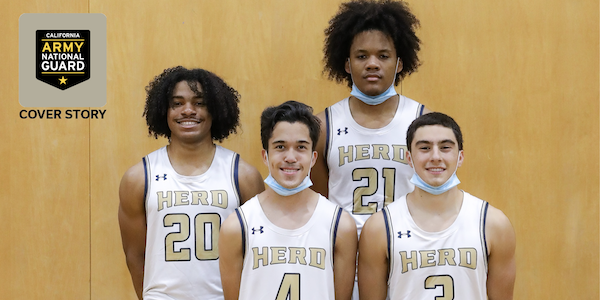 Fueled By Four Seniors And Longtime Best Friends, Elk Grove Basketball Will Be Among Sac-Joaquin Section's Best — And May Just Raise A Banner •
From sleepovers to step-backs, crossovers to companions, no one has a deeper bond on and off the court than Elk Grove High's four standout senior boys basketball student-athletes. The quartet has played together on the court for the last eight years, and have grown even closer off the hardwood.
In fact, you could call it a brotherhood over a normal friendship.
Since fourth grade, Ameere Britton, Dajon "Money" Lott Jr., Karlos Zepeda and Jordan Hess have been inseparable.
"It's really kind of cool that this core group of guys have been playing together so long, and ended up at the same high school," Elk Grove basketball coach Dustin Monday said. "That's really unique and a special part of our team — we have guys that are so committed to each other." 
That bond has also helped the group become more unstoppable. After postponing the winter season to the spring, the Herd won 10 games and went 5-1 in Delta League play, finishing second. Unfortunately, the shortened season did not include playoffs — which meant another Thundering Herd season ending too soon.
"We haven't had a deep run [in the playoffs] since 2008," Monday said. "We made the playoffs with this group as freshmen and sophomores. And it was really unfortunate last year, because I think we had a really, really good team. I thought we were the best team in D2 without question, but without the playoffs we didn't get to show that. We're hoping this year we can fix that."
_______________________________
CONNECT WITH US:
Follow SportStars on Twitter & Instagram | Like us on Facebook | Subscribe!
_______________________________
Monday returns nearly half of last year's roster for the upcoming slate, including the four seniors, each of whom have been on varsity for at least two seasons.
That's helped the coach move beyond basic offensive system-install, and into lessons for more nuanced technique and situational basketball.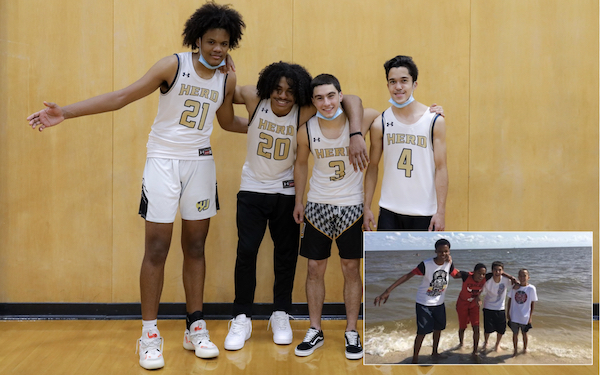 "It's been different with this group," he said. "I've really tried to find the best offensive system and scheme for them. We've actually had three different offensive systems within their four years. But this is the first time that we've had the same system installed in back-to-back years, so we're able to get to a higher-level skill compared to standard install."
That means Monday has been harping on the details — sharing first, second, and third reads for the pick-and-roll, working with his team on situational awareness and digging deeper into the playbook.
Many of those decisions will fall on the shoulders of the 6-foot-2 Britton, who will serve as a combo guard and the team's main ball-handler this season.
Named last year's Delta League MVP, Britton nearly led the Herd in every statistical category, averaging a team-high in scoring (18.5) and steals (2). He also finished second in rebounding (6.2) and assists (3.4). Britton was second in the Delta League in scoring, and equally impressive, it was the third year in a row that he's averaged double-digits for the Herd. In fact, he needs just 59 more points this year to cross the century mark for his prep career.
"He's been our leading scorer the last two years, but he's still a very unselfish, team-first guy," Monday pointed out. "He'll pass up shots to get other guys looks, and he makes everyone around him better."
Britton says that is partially due to the team's chemistry. Because they've been playing together since the fourth grade, he knows where his teammates will be at any given time, and how to get them the ball.
"Just watching each other grow up, knowing each other's tendencies, knowing how we like to play — it's really unselfish basketball," Britton explained. "When they're open, I try to get the ball to them as fast as possible."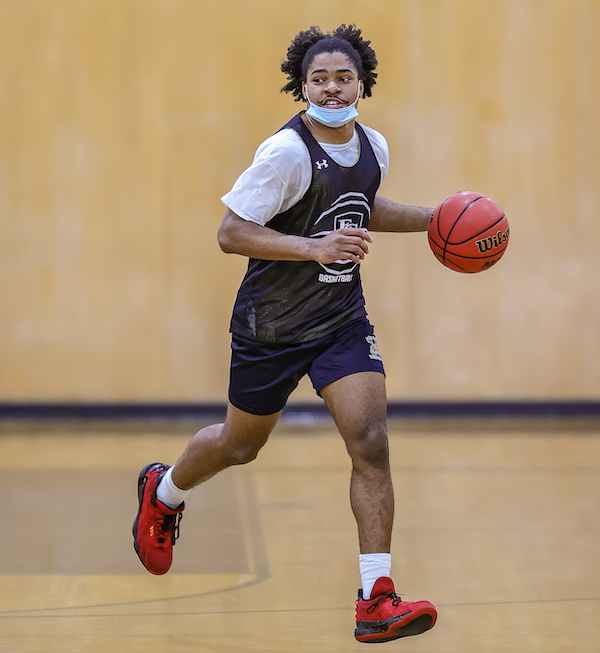 In last year's impressive 67-57 win over Sheldon-Sacramento, Britton led the way with a team-high 20 points. That win held significance because it halted a 16-game losing streak to the Huskies — one that dated back to 2006. 
Although Sheldon later earned redemption in a fall-league contest, the team believes those high-caliber wins are not a fluke and will be more frequent this season.
"I think we're right there with Sheldon and Jesuit, and I think we have a good enough team to beat anybody we play this season," exclaimed Britton, who has collegiate interest from many local programs and offers from Sacramento State, Chico State, Cal State Monterey Bay, Cal State East Bay and San Francisco State.
Fellow senior Dajon Lott, who's appropriately nicknamed "Money", is also receiving collegiate interest. The 6-8 forward led Elk Grove basketball in rebounding last year, averaging 7.4 a game to go along with his 7.5 points and nearly two blocks. But it's his versatility that shines brightest.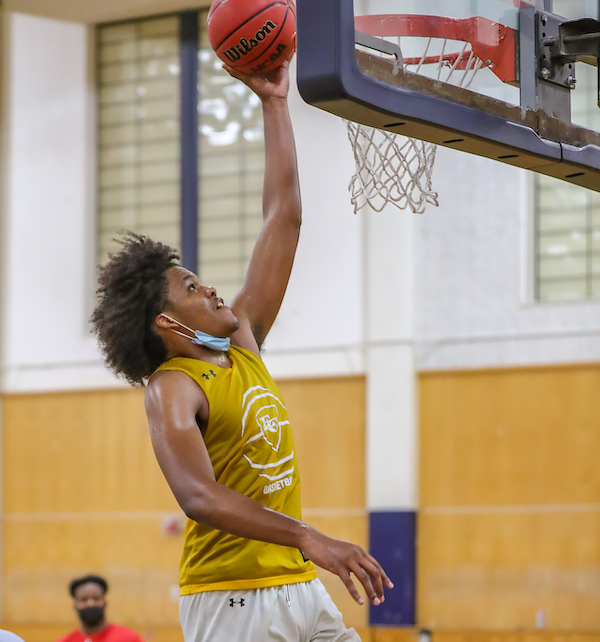 "Money's not like your traditional big," Monday said. "He'll play wing, where he's a really good perimeter shooter, and he'll play in the post, where we have a lot of action to utilize his skills. He's also a great passer, particularly out of the post. We try to find ways to get him the ball and allow him to be a playmaker."
Guards Jordan Hess and Karlos Zepeda, a three-year captain, will help the Herd space the floor this year with their 3-point shooting. Both shoot over 30 percent from the arc, and are key contributors on defense.
"Everyone brings something different to the table, so it's tough for defenses to guard," Zepeda explained. "Money has skills inside-outside, Ameere is one of the best defenders I've ever played against, and Jordan is one of our best shooters."
That combination is special, says Hess, on the court and off. In fact, it's been that way for a while.
The group of four started playing together on a travel-ball AAU team when they were 8-years old. Hess's father, Scott, was the coach for those teams.
"Watching them go from little kids to young men has been amazing," Scott Hess said. "They're good kids. They're talented at basketball, but it's more important that they're good kids."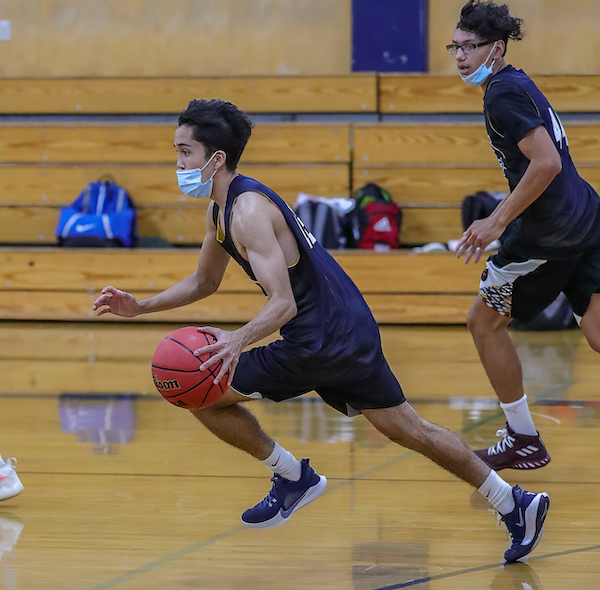 Whether they run it back for another double-digit win season or not, one thing is clear: This team is going to enjoy the ride. 
"These are my best friends on the court with me, and I know the chemistry is there between us," Lott said. "Being able to play with them all these years, and have that connection with these guys is something you really can't take for granted because not a lot of people get that chance.
"It's something I'm grateful for."