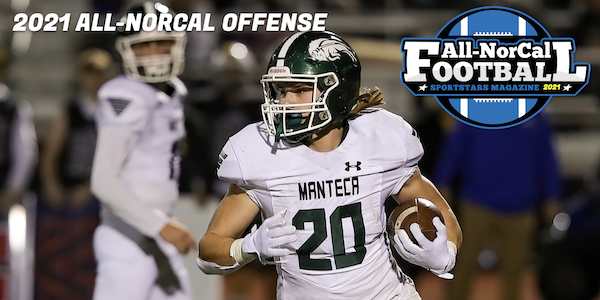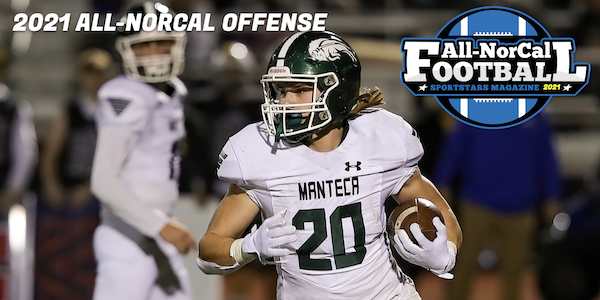 The SportStars All-NorCal Team Is Selected As One 54-Man Roster — These Are The 27 Guys Who Make Up Our All-NorCal Offense • WANT...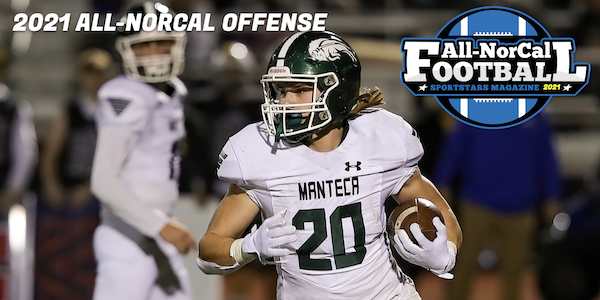 The SportStars All-NorCal Team Is Selected As One 54-Man Roster — These Are The 27 Guys Who Make Up Our All-NorCal Offense •
There's no first-teams or second-teams when it comes to SportStars' All-NorCal Team. We just build a roster and turn it loose. And these are the guys we're using to put the ball in the end zone. Try stopping us! This is the 2021 SportStars All-NorCal Offense.
Listed in no particular order.
QUARTERBACKS
TYLER TREMAIN (Folsom) | Sr.
Our NorCal Player Of The Year went on an early tear, driving Folsom's high-powered offense with 34 total touchdowns in his first six games. He missed three games to injury and came back to provide clutch moments in the CIF postseason, including a game-winning touchdown against Jesuit and four scores against De La Salle.
NICHOLAS CORONADO (Kimball-Tracy) | Sr.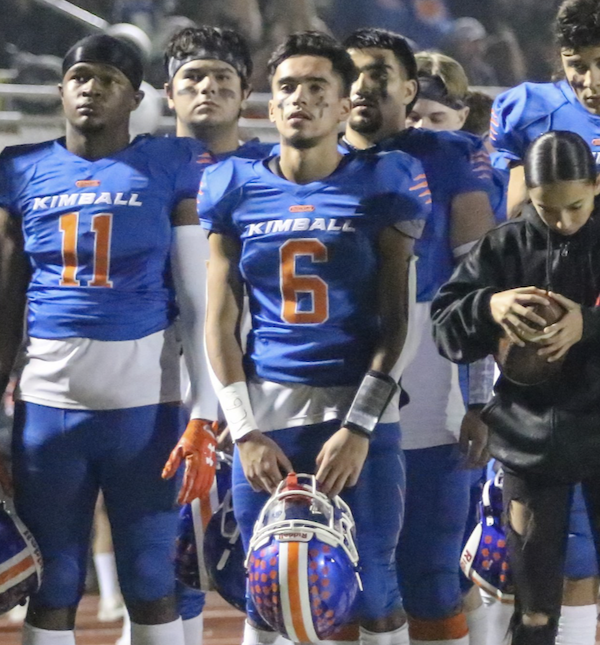 California's state leader in passing yards (4,315) and touchdowns (56) was sensational all season, and a shoe-in to named to the All-NorCal Offense. He also ran for 479 yards and seven touchdowns, and led Kimball to the section semifinals. Coronado was a candidate for Offensive Player of the Year for a reason. He is special.
SERGIO BELTRAN (Menlo School-Atherton) | Sr.
His 52 TD passes ranked fourth in the state and set a new Central Coast Section record. He threw for 3,581 yards and rushed for another 1,101 and 7 TDs, leading the Knights to a 12-1 mark and earning him CalHiSports' Small School Player of the Year honors.
MICHAEL INGRASSIA (Marin Catholic) | Sr.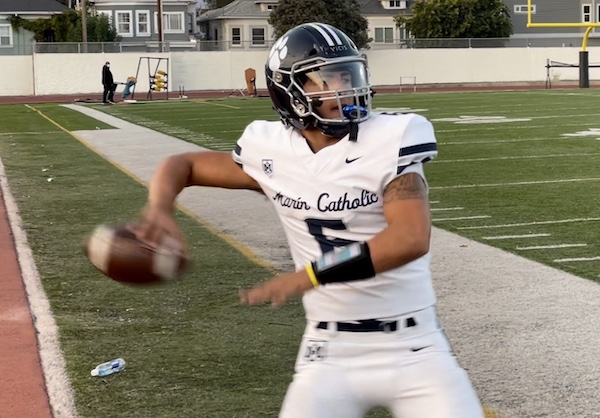 Ingrassia's near-flawless season behind center included zero interceptions over the team's first 13 games. He finished with 34 TDs and just two picks while rushing for 13 more scores and leading Wildcats to their first state bowl crown.
RUNNING BACKS
LUTHER K. GLENN (Wilcox-Santa Clara) | Sr.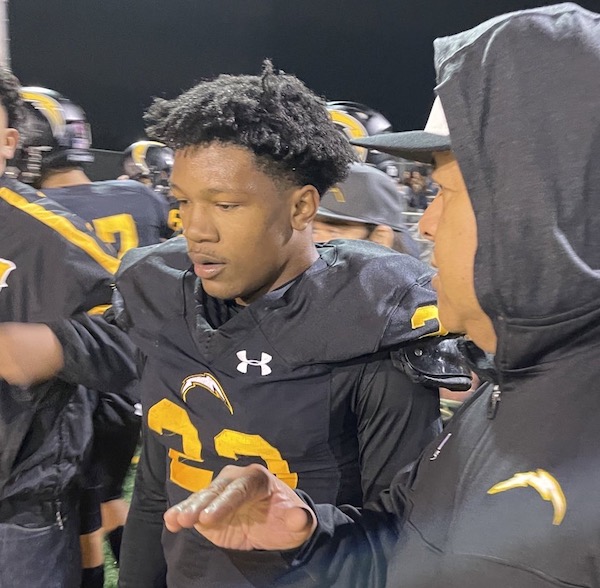 His 2,366 yards led all of NorCal and was third in the state among reported stats. He scored 29 TDs on the ground and added 424 yards receiving and seven more scores for the section and NorCal champs.
VILIAMI TEU (St. Francis-Mountain View) | Sr.
Our Offensive Player of the Year saved his biggest performances for the Lancers' biggest games and finished with 2,211 yards and 27 touchdowns. He added another 651 yards in return and receiving yards.
AIDAN TAYLOR (Central Catholic-Modesto) | Sr.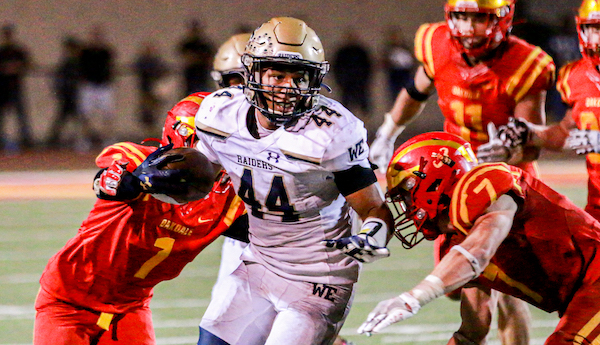 Taylor led Northern California with 38 touchdowns on the ground and finished with 2,128 yards, despite sharing the ball on a talented quad. He amassed nearly 500 yards in NorCal and state bowl appearances.
LAVELLE DAVIS JR. (Placer-Auburn) | Jr.
The Do-it-all junior was tenacious on both sides of the ball for Placer, and become the workhorse for the one of best rushing programs in the SJS. Davis had over 2,000 all-purpose yards with 30 touchdowns and even bagged two sacks on defense.
CURRON BORDERS (Antelope) | Sr.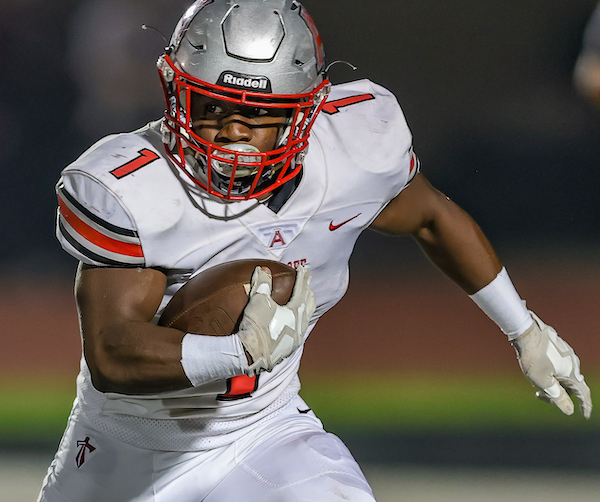 Antelope was a 2021 darling, and erupted for 2,039 yards and 32 touchdowns in only 10 games. He was a explosive out of Antelope's triple run-pass option offense, and truly became one of the significant breakout players of the year.
BLAKE NICHELSON (Manteca) | Jr.
One of the best all-around offensive players in the state, few were more qualified to be named to our All-NorCal Offense. "Thor" led non-quarterbacks with 44 touchdowns and 288 points. He also amassed over 2,500 all-purpose yards and forced three fumbles on defense.
_______________________________
CONNECT WITH US:
Follow SportStars on Twitter & Instagram | Like us on Facebook | Subscribe!
_______________________________
WIDE RECEIVERS
JURRION DICKEY (Valley Christian-San Jose) | Jr.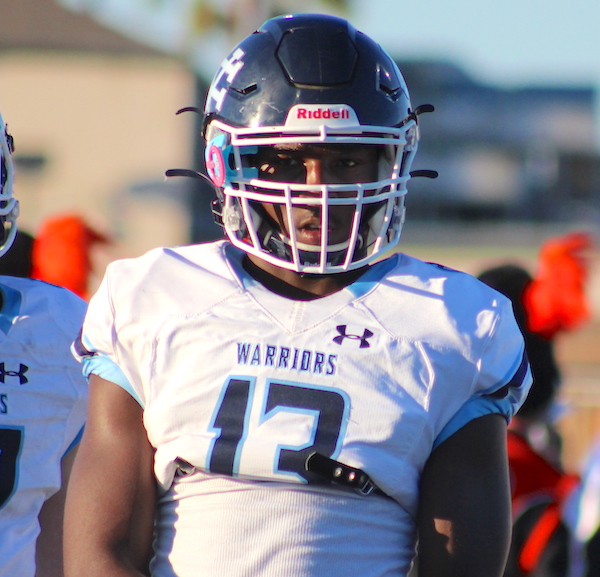 Every secondary was Dickey's Barbeque in 2021. The big-build, big-play wideout caught 78 balls for 1,304 yards and 19 scores. He finished with 23 total TDs.
RICO FLORES JR. (Folsom) | Jr.
One of the supreme talents of the SJS, Flores grabbed 81 catches for 1,157 yards and 11 touchdowns. He also returned a kick for a touchdown and played spectacular on defense for NorCal champion Folsom.
ROBBIE MASCHERONI (Campolindo-Moraga) | Sr.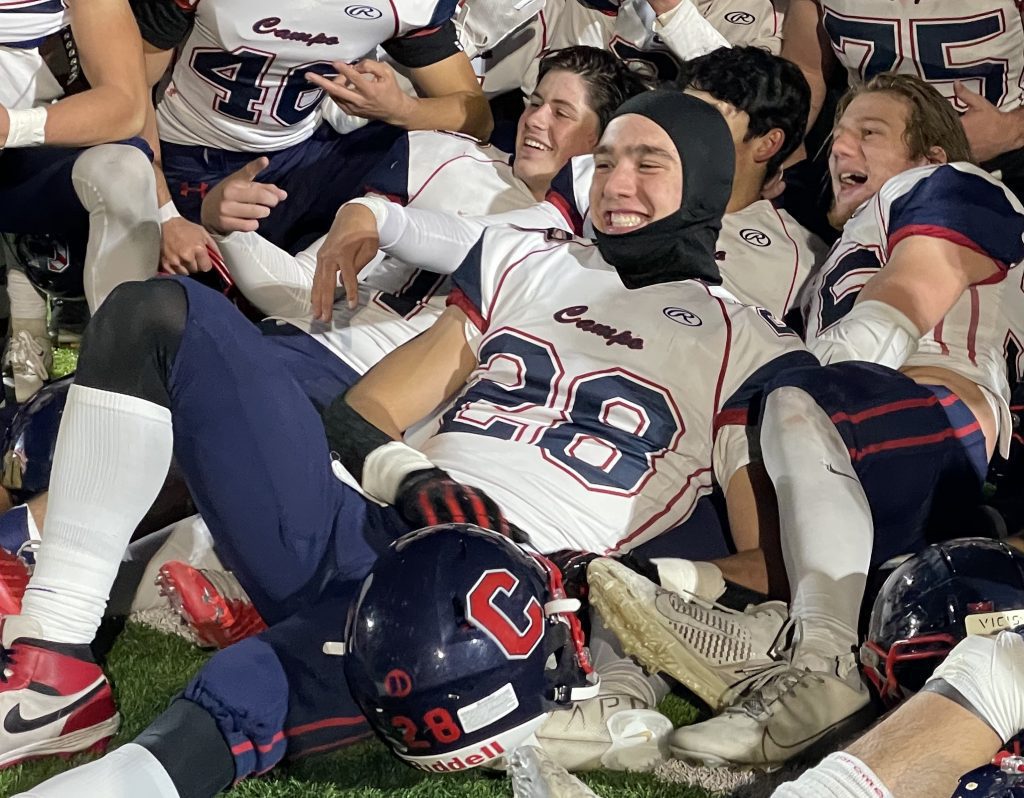 Opponents knew Mascheroni was the guy to stop on the Cougars offense. His 70 catches, 1,364 yards and 14 TDs showed it was easier said than done.
JAKE CALCAGNO (California-San Ramon) | Sr.
Deceptively quick and a great route-runner, Calcagno won the NorCal triple crown in the three big receiving categories. His 91 catches, 1,456 yards and 20 TD grabs were all unmatched in the region.
RASHID WILLIAMS (Pittsburg) | Jr.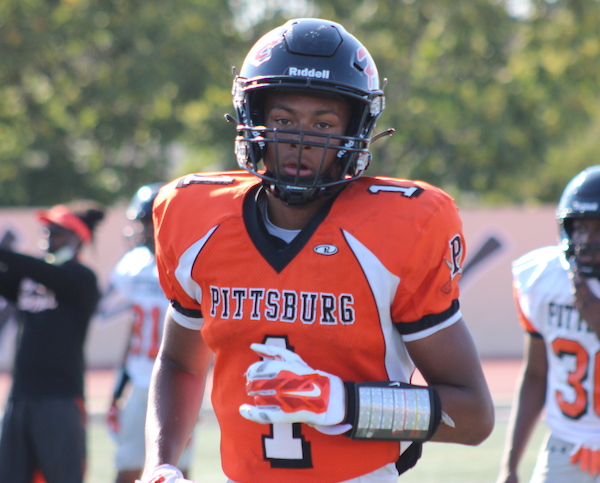 Pirates QB Jaden Rashada had a number of weapons to choose from in the fall, but none as dynamic as this 4-star recruit. Williams caught 55 balls for 753 yards and 11 TDs.
JALEN MOSS (Menlo-Atherton-Atherton) | Sr.
Moss was electric everywhere he lined up for the Bears. The Fresno State-bound lands on the All-NorCal Offense after catching 58 passes for 1,127 yards and 15 TDs. He also had 565 return yards and six interceptions on defense.
TIGHT ENDS
WALKER LYONS (Folsom) | Jr.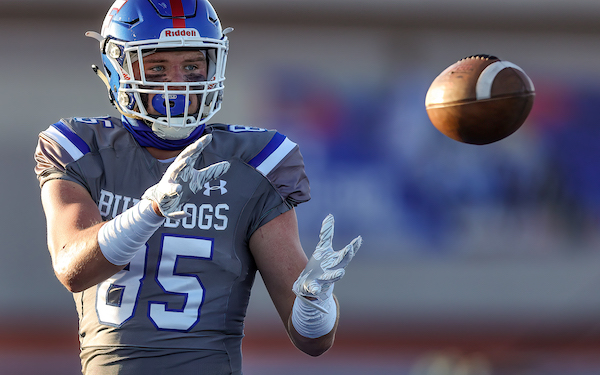 The best pure tight end in NorCal, Lyons is big, fast and tenacious. He caught the game-winner against Jesuit in the SJS semifinals and finished with 646 yards and seven scores.
JACK ENDRIES (Monte Vista-Danville) | Sr.
The 6-foot-4 Endries was a legit weapon for coach CJ Anderson in his first year with the Mustangs. He caught 49 passes for 579 yards and nine TDs.
OFFENSIVE LINEMEN
ALANI NOA (Grant-Sacramento) | Jr.
Grant's Sierra Foothill League Lineman of the year has offers from Cal and Fresno State. He has another year to bolster his already impressive resume.
NATHAN ELU (Serra) | Sr.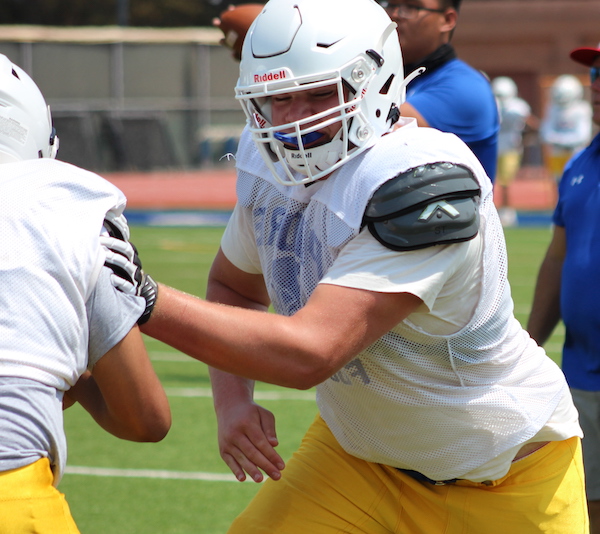 The 6-5, 295-pound tackle signed with Oregon State after helping lead a physical Padres line that served as a major reason for their run to the CIF Open Division Bowl game.
DREW AZZOPARDI (Serra-San Mateo) | Sr.
Together with fellow All-NorCal selection, Nathan Elu, the San Diego State-bound Azzopardi was part of the Bay Area's best tandem of offensive tackles in quite some time.
BRAD BAUR (Rocklin) | Sr.
The powerful force on Rocklin's offensive line is a big reason why the Thunder slowed little after the season-ending injury to quarterback Kenny Lueth. Buar is smart, aggressive and plays with a high motor.
SIMI PALE (Elk Grove) | Jr.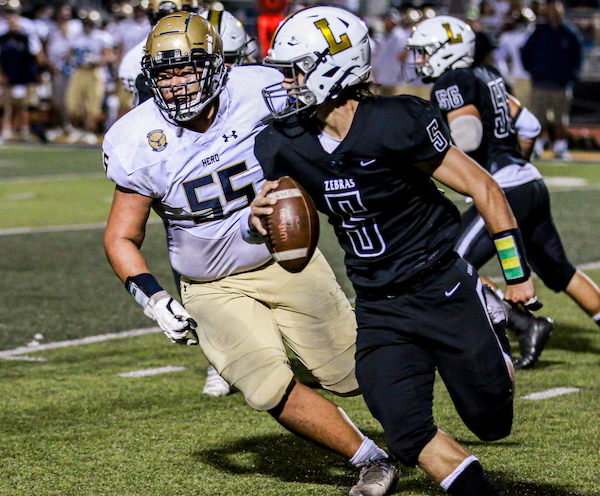 Pale was the Delta League Lineman of the Year and for good reason. His hulking presence powered one of the best rushing attacks in the SJS. Two of his teammates ran for over 1,500 yards.
ULUAKINOFO TALIAULI (St. Francis) | Sr.
There may not have been a more physical and punishing offensive line in all of NorCal than the Lancers — and the San Jose State-bound Taliauli was the heart of it.
DEREK THOMPSON (De La Salle-Concord) | Jr.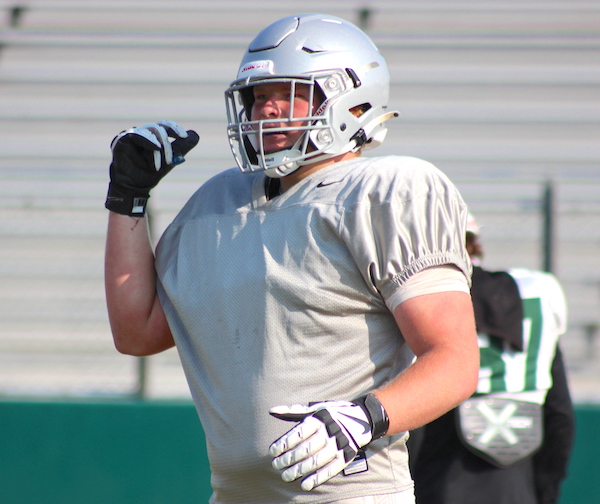 The Spartans' 3-star junior was a dominant interior lineman that helped fuel a rushing attack that featured three different players with 10 or more touchdowns. He currently holds offers from Nevada and Colorado State.
JACKSON BROWN (San Ramon Valley-Danville) | Sr.
Brown is a 6-foot-6, 295-pound mover of young men. A 3-star Cal-commit, he helped lead the Wolves to an 8-4 season and section semifinal appearance.
KICKER
DIEGO NUNEZ-SMITH (Vanden) | Sr.
The game winning extra-point in Vanden's state bowl game was nice, but so was his state-leading 98 points after six field goals and 80 extra points. He averaged seven points a game.