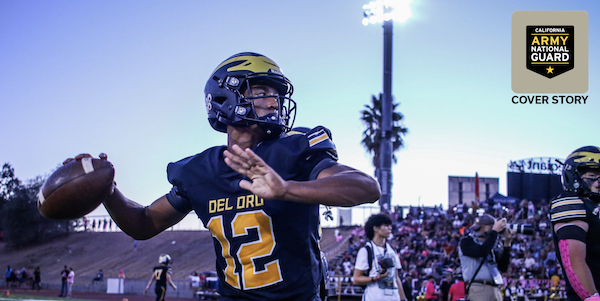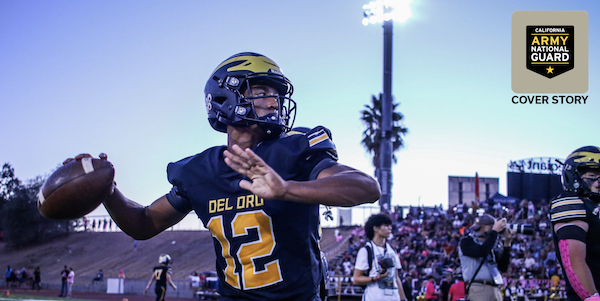 Golden Eagles Off To Best Start Since 2018 Behind Caden Pinnick, A Superb Leader And The Cousin Of Del Oro's Last State-Winning QB •...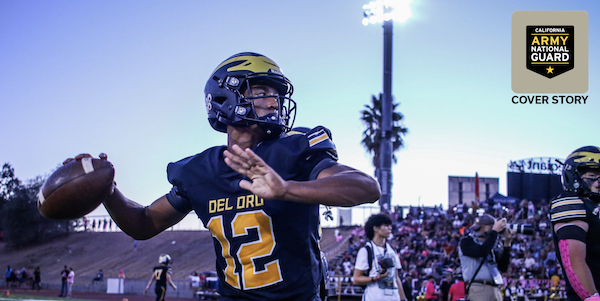 Golden Eagles Off To Best Start Since 2018 Behind Caden Pinnick, A Superb Leader And The Cousin Of Del Oro's Last State-Winning QB •
Admit it.
For the first five seconds of Queen's "Under Pressure," you secretly hope it's actually "Ice, Ice Baby."
Sometimes it's both.
Emcee and quarterback of the Del Oro-Loomis football team, Caden Pinnick is cool as ice under pressure. His steely playmaking on offense and special teams has helped the Golden Eagles soar to a 6-0 start to the 2022 campaign.
It's not just hyperbole.
Pinnick is so chill in the spotlight (how chill is he?), that offensive coordinator and former NFL fullback Josh Parry put the ball in his hands on 4th and 1 from Del Oro's own 13-yard line with 2:50 remaining in the third quarter on Sept. 30. His big solo — a two-yard QB sneak for a first down as Del Oro cradled an 11-point lead against Granite Bay.
_______________________________
CONNECT WITH US:
Follow SportStars on Twitter & Instagram | Like us on Facebook | Subscribe!
_______________________________
Pinnick's electric performances stole the show in Del Oro's 21-10 victory over the Grizzlies, the first defeat of Granite Bay's season (5-1), while Del Oro stayed perfect.
It wasn't all passes and runs.
In a game that was battled so tightly at the line of scrimmage, field position won the day, and no one mattered more than Del Oro's hybrid punting quarterback.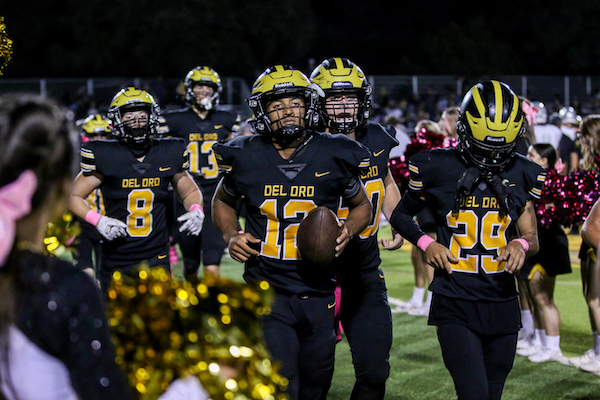 Pinnick punted seven times, and Granite Bay couldn't score after any of them. He pinned the Grizzlies behind their own 20 three times (once at the three).
His best punt came after evading an all-out block attempt by Granite Bay, sliding to his right and cooly belting the ball to the Grizzlies' 14-yard line with nine minutes to play. His longest punt went 54 yards down field.
The game's pivotal score was also a Pinnick highlight to close the opening half. Parry dialed up a passing play with 10 seconds remaining on the Granite Bay 15, with no timeouts remaining.
The plan: a quick shot at the end zone or a quick pass to the sideline.
The outcome: Pinnick's 10-second scramble that guzzled the remaining clock, before a deep backfield heave to Jagger French for the game's last score.
"I believe in my abilities and what I can do," Pinnick said after the win. "I also know my guys up front got my back, my running backs got my back, and with me extending plays, it's all about relying on my receivers to come back to the ball.
"We work on it all the time, and it's all about trust."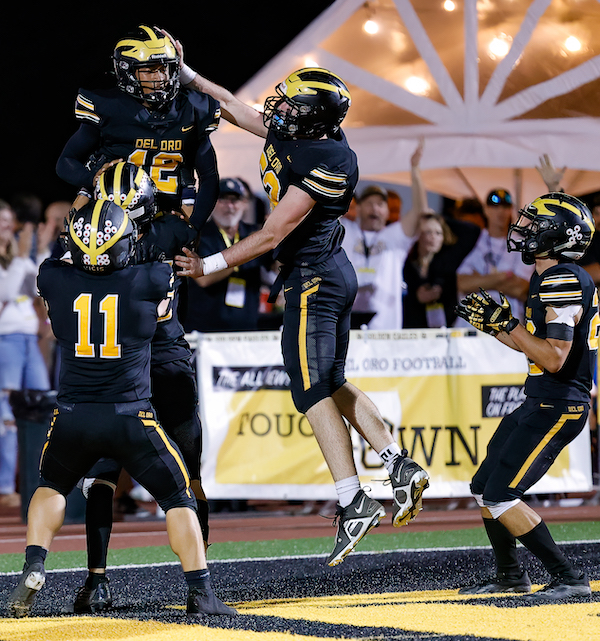 That extends both ways.
"I trust (Pinnick) with my life," 6-foot-3, 285-pound two-way lineman Akio Martinson said. "We have a great quarterback, he's very skilled and he knows what he's doing.
"We trust him, and we just block for him."
If Pinnick is the lead singer, Martinson and Brandon Hill (6-3, 230) are guitar and bass in the Del Oro trenches. They are a big reason why the Golden Eagles haven't been overwhelmed by the hulking talent on Del Oro's schedule.
It also helps to have a playmaker like Thomas Graham II, who returned a punt for a touchdown against Granite Bay and has two interceptions this year.
The team also relies on their reliable roadie, running back/linebacker Kainoa Acia. He leads the squad with 708 offensive yards (four scores) through six contests and also has a team-high five sacks.
"My strength is keeping my feet moving, after contact," Acia said. "The defense gets so focused on the run, that when (Pinnick) does pass, he has a lot of time."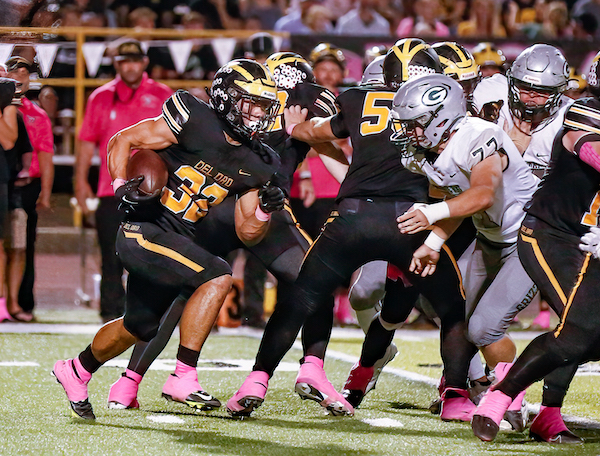 That balance will be crucial as Golden Eagle tour dates align Sierra Foothill League juggernauts Rocklin (5-1), Folsom (5-1), Whitney-Rocklin (3-3) and Oak Ridge-El Dorado Hills (5-1) to close out the regular season. 
Mike Maben, Del Oro's ninth head coach, in his second varsity season, credited all the positions on Del Oro's depth chart for the teams' success. He specifically lauded Pinnick's leadership and talent, Martinson and Hill's control of the line of scrimmage, and Acia's drive to improve as a runner and teammate.
He also pointed out what it takes for a program to truly shine.
"I think a lot of the credit goes to an amazing, dedicated coaching staff, from our freshman level to varsity," Maben said. "It's also the community that supports us, from the 'Black Hole' (student cheering section), to the cheerleaders, band and leadership of our administration.
"If it takes a village to raise a kid, it takes an even bigger village to raise a football program, and it all comes down to that support from our community."
It's the same community that heartily welcomed Pinnick, a Roseville native with alumni ties. Pinnick's cousin, Stone Smartt (now an injured reserve tight end with the Los Angeles Chargers) was a state championship quarterback for Del Oro back in 2015.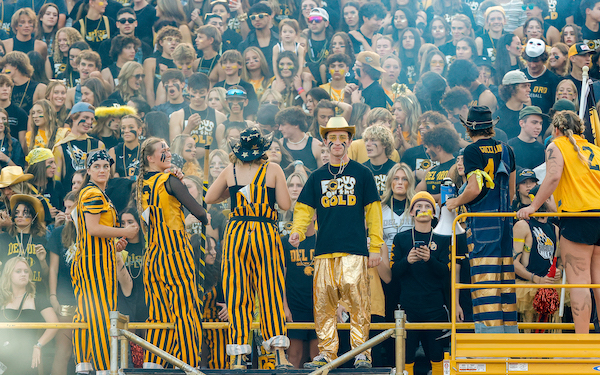 Pinnick said people who know him well would describe him as deeply focused and determined, but also fun. He doesn't have a huge family, but that's made connections even more intense.
"It's just me and my mom (Heidi Pinnick)," Caden said. "She is the biggest person in my life, and I can always rely on her.
"Two weeks ago I was feeling down about Menlo (Atherton), because they are a really good team, and my mom was like, 'Caden, just play your game, don't let anyone get to you.'"
Del Oro was expected to lose that game, but Caden passed for four touchdowns and Del Oro won 42-13.
Caden's encore?
"I love you, Mom."