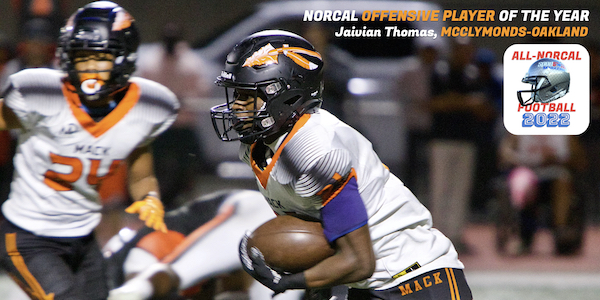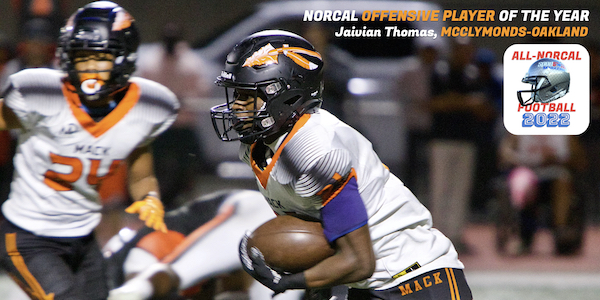 Replacing 13 Starters, McClymonds Put Its Offense On The Back Of Jaivian Thomas — He Led All Of NorCal In Rushing As Warriors Won...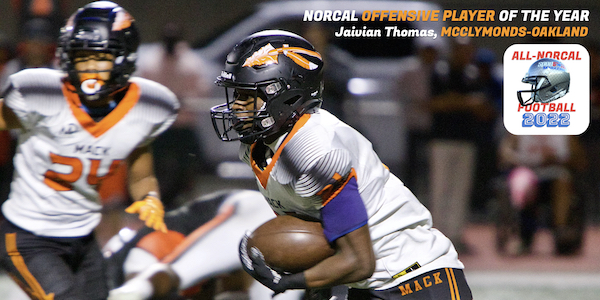 Replacing 13 Starters, McClymonds Put Its Offense On The Back Of Jaivian Thomas — He Led All Of NorCal In Rushing As Warriors Won CIF 2-AA NorCal Title •
_______________________________

MORE SPORTSTARS 2022 ALL-NORCAL FOOTBALL:
Coaches Of The Year | All-NorCal Defensive Roster | NorCal Defensive Player Of The Year | All-NorCal Offensive Roster | NorCal Player Of The Year | #7FridayNight Podcast Season Finale
_______________________________
In a recent meeting with players who expect to take the field for the 2023 McClymonds football team, coach Michael Peters asked a question.
"I asked them who was going to be the next 21," the coach said.
It was a clear reference to McClymonds' star running back Jaivian Thomas, who wore number 21 for the Oakland school. And after Thomas's 2022 season, that's a challenge that won't be easily met.
"We rolled him the whole year," Peters said. "We leaned on him a lot. … I can say that the one kid carried us to the state championship game."
Thomas, nicknamed "The Jet", opened the season by rushing for 227 yards and a pair of touchdowns in a 24-21 win over Bellarmine-San Jose. He would average 210 rushing yards over his next 11 games, scoring multiple touchdowns in every contest but the last — the CIF 2-AA State Championship bowl game where he was playing through illness (and still scored once).
In just 12 games, Thomas led all of Northern California and finished third in the state with 2,528 rushing yards. He rushed for 30 scores, had a pair of TD catches and also returned a kickoff 87 yards to the house.
And perhaps the most impressive stat line: In five games against 2022 section champions (Bellarmine, Pittsburg, San Ramon Valley-Danville, Lemoore and Mater Dei Catholic-Chula Vista), Thomas rushed for 1,074 yards and 13 TDs. It all added up to a season's worth of effort that lifted a 12-win McClymonds team to league, section and CIF regional titles — and made Thomas the SportStars NorCal Offensive Player of the Year.
"What can you say? You can't say anything wrong about him," Peters said. "He's a great kid who just put in the work. … He has dedication and heart and a love of the game. Lots of kids don't love this game. That kid was here every day in the weight room at 7 a.m. by himself. He prepared himself for his senior year, and it showed."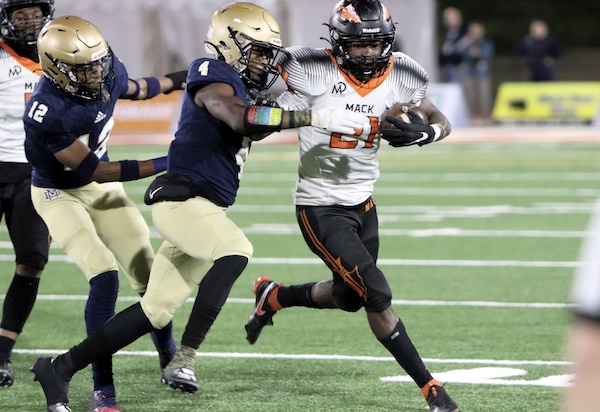 It wasn't the easiest path to get there.
Thomas suffered a hip injury during the 2021 COVID spring season and had to grind through rehab in time for the fall campaign. He entered that season toward the back of the running back depth chart. The turning point came after breaking off a 60-yard touchdown run in an overtime loss to Menlo-Atherton in the fourth game of that junior season.
"His confidence hit a new level. Around midseason of his junior year, he really figured it out," McClymonds running back coach Jason Walton said. "Before that, he was just a kid playing football. Then he finally realized, 'I can excel in this.'"
The McClymonds staff realized it, too. With only four returning starters on offense to open the 2022 season, Thomas was going to have to 'The Man.'
And it's nice when "The Man" is also "The Jet."
It's more than just speed with Thomas, though.
"Tenacity and hard work. Leadership," Walton said. "He watches a lot of film, lifts weights, and is always trying to see what he can do better. He's matured as a back, too. You watch his junior tape and compare it to this year, and you can just see it. He's also just a great kid to be around."
Walton is in his seventh season coaching running backs for the Warriors. Before that he spent time coaching at Skyline-Oakland and at Berkeley where he was an assistant on Alonzo Carter's staff. That journey has allowed him to work with several proficient ball-carriers.
"I truly don't like to rank and compare," Walton said. "I've coached some great running backs and they're all different in their own right. I can say this, Jaivian is among those guys at the top of the list. … The sky's the limit for him."
_______________________________

CONNECT WITH US:
Follow SportStars on Twitter & Instagram | Like us on Facebook | Subscribe!
_______________________________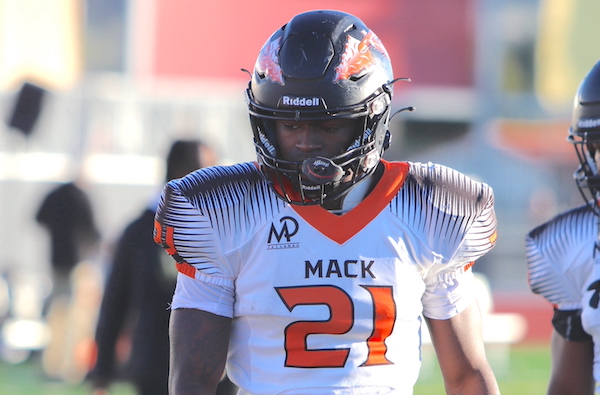 Thomas will next look to test his skill in the Pac-12 as a member of the California Golden Bears.
"It's a different beast," Peters said of college football. "He'll have to get a little bigger and faster. He knows he's going to have to take some real beatings. … I think he can do it. Those are things he's aware of, and I don't think he's even taken a break since the end of our season. I've taken more breaks than he has. He's been putting in work every day."
McClymonds may be looking for its next Jaivian Thomas, but Jaivian Thomas is out to make sure Cal doesn't have to look far.