FINAL 2018 NorCal Football Rankings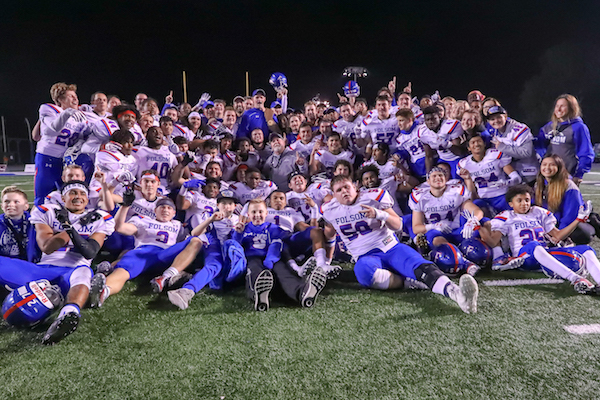 FINAL RANKINGS: We Close Out The 2018 Season With An Expanded Top 30 After NorCal Teams Won 10 Of 15 CIF State Bowls •
NorCal Final Football Rankings 
1. (1)  —  De La Salle-Concord   12-1
COMMENT: Finishes As CIF Open runner-up to Mater Dei-Santa Ana; had wins over No. 2 Folsom and No. 3 Liberty.
2. (2)  —  Folsom  14-1  [ABOVE: David Gershon photo]
COMMENT: Repeated as CIF Div. 1-AA champions with 21-14 OT victory over Cathedral Catholic-S.D.
3. (3) — Liberty-Brentwood  13-1
COMMENT: Came from behind to win CIF 1-A title 19-17 over Sierra Canyon-Chatsworth; Lions are 24-3 in last two season.
4. (4)  —  Del Oro-Loomis  12-2
COMMENT: Only losses to No. 2 Folsom and Grace Brethren-Simi Valley (21-14) in the CIF 2-AA bowl game.
5. (5)  —  Valley Christian-San Jose  11-3
COMMENT: Top 5 of final rankings rounds out with Central Coast Section Open Div. II champs which came within 12 minutes of topping Liberty in 1-A regional bowl.
6. (6)  —  St. Francis-Mountain View  11-3
COMMENT: Season ended with a pair of one-point defeats to Valley Christian-San Jose (31-30 OT) and Del Oro (14-13).
7. (7)  —  Monterey Trail-Elk Grove  12-1
COMMENT: If Sac Joaquin Section used an Open Div., Monterey Trail would've been a serious bowl threat following its lone loss to Folsom.
8. (8)  — Pittsburg  7-4
COMMENT: Injuries ravaged Pirates from mid-October to season's end; 24-21 loss to Liberty cost team any chance of a deep playoff run or higher final rankings finish.
9. (9)  —  Clayton Valley-Concord  9-2
COMMENT: Strong season ended in NCS Open semifinal loss to Liberty.
10. (10) —  Menlo-Atherton-Atherton  12-2
COMMENT: Bears finished season on 10-game winning streak, claiming CCS Open Div. I and CIF 3-AA State Bowl titles.
11. (11)  —  Wilcox-Santa Clara  14-1
COMMENT: Rebounded from CCS championship loss to Menlo-Atherton to eventually win CIF 3-A bowl championship.
12. (12)  —  Cardinal Newman-Santa Rosa  11-1
COMMENT: Wildfire smoke postponements eventually kept us from seeing Cardinals true potential as they chose against playing for NCS Div. III title and lost CIF bowl berth coin flip; won eight in a row to close season.
13. (13)  —  Capital Christian-Sacramento  13-1
COMMENT: Perfect season ended with 34-30 loss to Wilcox in 3-A regional bowl thriller.
14. (14)  —  Central Catholic-Modesto  11-2
COMMENT: Only losses came against final rankings Top 5 teams, De La Salle (35-7) and Del Oro (20-17).
15. (15)  —  Placer-Auburn  12-1
COMMENT: Hillmen had perfect season end on last-minute field goal by Capital Christian; had win (48-23) over CIF bowl champ, No. 17 Rio Linda, and Nevada's Northern regional champ Bishop Manogue-Reno.
16. (16) —  Inderkum-Sacramento  11-1
COMMENT: Missed out on shot at first SJS title with a 31-30 semifinal loss to Central Catholic.
17. (22)  ↑  Rio Linda  13-2
COMMENT: Outlasted San Gorgino-San Bernardino 38-35 for CIF 5-AA bowl win; 3,000-yard back Cameron Skattebo is heavy NorCal Offensive Player of the Year candidate.
18. (18)  —  St. Mary's-Stockton  7-5
COMMENT: Rams went 7-1 after 0-4 start that included losses to Pittsburg, Central Catholic, Mater Dei and Nevada-power Damante Ranch; season ended at Folsom
19. (NR)  ↑  McClymonds-Oakland  12-2
COMMENT: Warriors became first public school to win three consecutive CIF bowls after defeating Garfield-L.A. 32-6 in 4-A final.
20. (19)  ↓  Bishop O'Dowd-Oakland 12-2
COMMENT: Played for NCS Div. III title instead of risking coin-flip entry to CIF field and defeated No. 24 Marin Catholic 16-15; McClymonds' bowl win and 26-0 early-season win over Marin Catholic resulted in Dragons & Warriors trading spots for final rankings.
21. (17)  ↓  Serra-San Mateo  7-5
COMMENT: Someone had to move down to make room for Rio Linda, and a Padres team lacking a signature win was the easiest choice.
22. (21)  ↓ Eureka  12-1
COMMENT: Arguably the best season in Loggers' history ends with no section title (they won coin-flip over Cardinal Newman) and a gut-punch 28-20 loss to Menlo-Atherton in 4-AA regional bowl.
23. (23)  —  Aptos  11-3
COMMENT: Mariners avenged early season loss to Palma-Salinas before winning CCS Open Div. III title 35-34 over Sacred Heart Prep-Atherton; Played McClymonds tough before 28-20 defeat in 4-A regional.
24. (25)  ↑  Marin Catholic-Kentfield  10-4
COMMENT: Began the year 1-3 and nearly ran the table to an NCS title; Wildcats get this final rankings spot due to NCS semifinal win (7-2) over Rancho Cotate-Rohnert Park.
25. (NR)  ↑  Rancho Cotate-Rohnert Park  11-2
COMMENT: Hard to ignore Cougars' full 2018 resume which included wins over No. 27 Campolindo and No. 29 Pleasant Valley-Chico, a CIF bowl winner.
26. (NR)  ↑  Palo Alto  10-2
COMMENT: Vikings only losses were to a pair of bowl-winners, Menlo-Atherton and Wilcox; had a win (29-20) over McClymonds.
27. (NR)  ↑  Campolindo-Moraga 10-2
COMMENT: Another 10-win season on the hill, ho-hum; future is bright with Grant Harper back at QB next season.
28. (NR)  ↑  Palma-Salinas  10-2
COMMENT: Chieftains can claim to be only NorCal team to beat Menlo-Atherton this season, a 26-20 OT result in early September.
29. (NR)  ↑  Pleasant Valley-Chico  10-3
COMMENT: Avenged a loss to cross-town rival Chico in Northern Section final, then got a bye into the 5-AA Bowl (due to a vacated NCS slot) and won it convincingly over Central Valley Christian-Visalia.
30. (24)  ↓  Colfax  13-1
COMMENT: Magical season ended with a 21-10 loss to San Diego High in the CIF 5-A final; loss necessitated a slight drop in final rankings for larger schools with more signature wins.