JP MURPHY San Ramon Valley Football, SportStar of the Week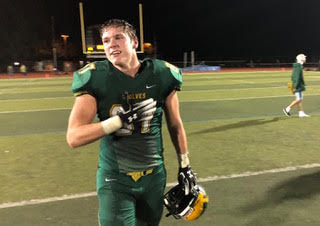 San Ramon Valley JP Murphy  Honored as SportStar of the Week!
It was the night after Halloween, but JP Murphy was still plenty scary in his relentless pursuit of the quarterback. Murphy terrorized Monte Vista's Jack Stewardson by sacking him four times in a thrilling 17-16 double-overtime victory over the Wolves' cross-town rival. Three of Murphy's four sacks came in the fourth quarter or overtime. And he also batted down a pass at the line of scrimmage during the second overtime.
Murphy also made an impact on offense as a tight end, catching a first-half touchdown pass that gave San Ramon Valley a 7-0 lead. The win clinched the Wolves a share of the East Bay Athletic League-Mountain Division championship.
_______________________________
CONNECT WITH US:
Follow SportStars on Twitter & Instagram | Like us on Facebook | Subscribe!
_______________________________
Photo: Christopher Weills