Logan's Run: James Logan Boys Nearly Net State Hoops Title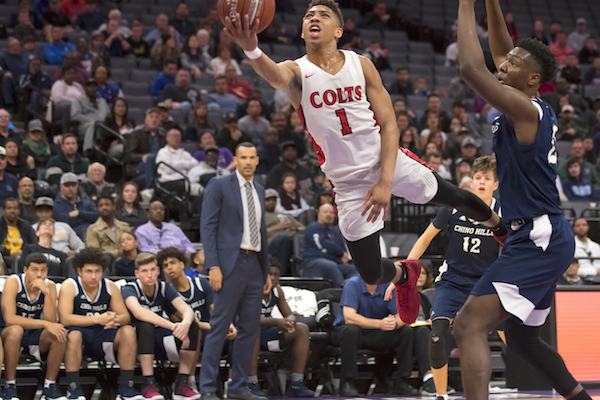 An Epic Comeback Falls Just Short As James Logan Basketball's Stellar Season Ends With Second State Runner-Up Finish In Three Years •
Exhausted. Emotionally drained. Physically spent. Left it all on the court. All of those applied to the boys of the James Logan basketball team at the Golden 1 Center on March 8. 
The Union City school's epic postseason run came to an end in a hard-fought 69-63 loss to Chino Hills in the CIF Division I boys state final. A championship game which saw them mount what earlier seemed an improbable comeback. But they came darn close to making it a reality.
"Like I've said time and time again, this team is resilient," senior Gabriel Hawkins said. "We fight to the end. No matter who we are playing, no matter what the obstacle is. We will fight with anybody."
This fight came against the Huskies, who were in the state finals for the fourth time in five years. They came away with championship No. 3 and their second straight in Division I, but not before a furious finish by the Colts, who trailed 50-31 midway through the third quarter but drew to within 63-61 with 52 seconds to play.
It was a rock 'em, sock 'em second half that saw five starters foul out, three from James Logan and two from Chino Hills — most notably center Onyeka Okongwu, a 6-foot-10 mighty force who will next play for USC.
"We were up for the challenge," James Logan basketball coach Melvin Easley said. "We have faced adversity like that before in previous games. The Branson game. The Folsom game. They all had solid big men."
Every bit of adrenaline and emotion seemingly was exhausted after the game was over. It was the end of a wild playoff ride, which included a thrilling 86-83 win over Dublin in the North Coast Section Division I semifinals on a Tim Oldham 3-pointer, a loss to De La Salle-Concord in the NCS finals and then a NorCal sweep past Folsom, Bishop O'Dowd-Oakland and Branson-Ross to reach the state finals for the second time in three years.
"We played with our emotion, and we put everything we could on that floor," Easley added. "The big man, yeah, he was a factor for sure. Absolutely, no doubt. He's a skilled player. But for us, it was just another challenge."
Okongwu has been the star this season for Chino Hills, the school best known for the Ball brothers — Lonzo, LiAngelo and LaMelo — who along with Okongwu were part of the Huskies team that beat De La Salle 70-50 in the 2016 Open Division state championship game to finish that season undefeated. The Ball brothers have each moved on, and this year's team certainly was Okongwu's.
Early on, Okongwu was held in check. The Colts held him scoreless until the 3:40 mark of the first quarter. But he broke out in the second for 13 points, and the Huskies led 41-28 at halftime.
But after the break, Okongwu ran into foul trouble. When he shockingly fouled out with 1:30 left in the third quarter, the crowd reaction shook the arena. He left with 26 points, 15 rebounds, five assists and three blocked shots — and with his team up 15 points.
"Our plan was to get him out of the game," Easley said. "We knew how powerful he was in the game. We were going to attack him and see if we could get him into foul trouble early."
Despite power forward Daniel Combs and then star guard Brett Thompson fouling out, there was still life in the Colts.
"I played my heart out," Brett Thompson said. He finished 13 points and three assists. "I couldn't do anything else. I left it all out on the court and tried to stay positive on the bench with my energy. Keep my guys going, keep my cousin going, but it just didn't work."
A Hawkins basket cut it to 59-51, the first single-digit deficit since the second quarter. Oldham hit a couple of huge baskets, and Logan trailed just 62-58 with 1:36 left. Chino Hills' Nick Manor Hall also had fouled out, as had Logan's Malcolm Steadman. When Hawkins converted a three-point play to culminate a 17-4 Logan run, suddenly that mighty Chino Hills lead was down to 63-61 with 1:30 to go.
"I was very concerned," Chino Hills coach Dennis Latimore said about his team's vanishing lead. "I was very concerned when the big guy got his fifth foul. But the guys competed. They earned it. They had to work through a lot of obstacles throughout the season. Throughout the playoffs."
After a Uduakobong Essien putback brought the margin back to five, a pivotal call came when Hawkins launched a 3-pointer but was called for an offensive foul.
Though Hawkins knocked down another basket with 23 seconds left, the Huskies finally locked up their third state title in four years after Will Pluma's two free throws with 9.7 seconds left.
For Logan, Brahjon Thompson finished with 19 points and three steals. Hawkins had 16 points and 10 rebounds, and Steadman had eight points and eight rebounds.
"It was David and Goliath for us," Easley said. "And we're going to battle all the way to the end, every single time we play this game. … These guys played harder than any team I think I've ever coached. They played hard."