McClymonds Football: "We'll Bounce Back"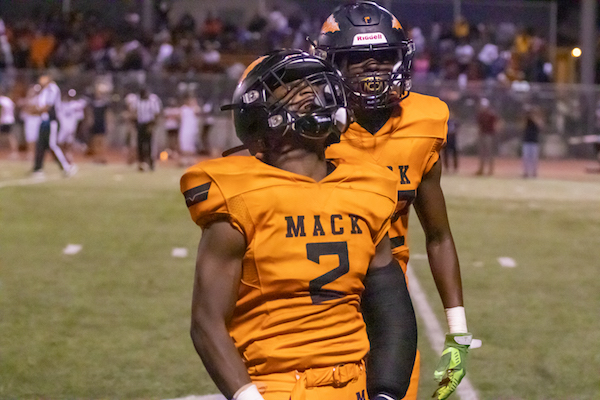 Denied A Fourth Straight CIF Bowl Win, McClymonds Football Still Made History As The First Oakland Section Program To Reach Division 2-A Or Higher
McClymonds football coach Michael Peters took a long stroll off the field on a cool gray Dec. 14 day at Cerritos College. And he didn't look pleased. He waited for reporters to gather near the north end zone, a place only unfamiliar for his Warriors' offense all day. 
Peters spent 10 minutes with a half-dozen scribes trying to explain a 34-6 loss in the CIF Division 2-A State Bowl Championship game to Pacifica-Oxnard. 
The Warriors were outgained 411-112. They committed four turnovers and 12 penalties. Their offense never did reach the end zone, instead scoring on a 30-yard scoop and score by junior defensive linemen Arrion Hughes with 4 minutes, 41 seconds remaining in the game. 
By that time, the Southern Section champs had long been scheming their victory plans and celebrations. Peters and the prideful Warriors were planning the fastest way to get home to West Oakland. 
A lopsided loss was indeed foreign territory for a squad that had won three straight state bowl championships, 10 consecutive section crowns, and triumphed 83 times in 92 games since Peters took over the program in 2013. 
_______________________________
CONNECT WITH US:
Follow SportStars on Twitter & Instagram | Like us on Facebook | Subscribe!
_______________________________
Of those nine defeats, two were by forfeit for using an ineligible player and five others were by single digits. 
So what happened? 
"That was our first afternoon game," Peters said. "We (evidently) don't come out fast playing at 12 o'clock. It's all right. We'll be back next year."
Bouncing back is something Mack is used to doing. Especially from real adversity. Losing a football game is minor, compared to the kind of losses the Warriors have endured the last couple of years. 
In 2018, the team lost its longtime manager and McClymonds graduate Dean Hodges, who was also one of Peters' closest friends. "That was rough," Peters said. 
On Nov. 22, Ramone Sanders, a key player and leader for the 2016 and 2017 state title teams, died from a year-long bout with bone cancer. He was only 19 and many of the current Warriors were extremely close to him. The team, in fact, attended his funeral only hours before posting a resounding 46-13 North Regional final win over Manteca. 
"He was a real smart and strong guy with a real happy spirit," Semaj Sims said before the regional game. "I can't express enough what a wonderful brother he was. Personally, I'm going to dedicate Saturday's game and the rest of the season to him. I think most of us are."
Coming up short in the title game, thus, was emotional for many of the Warriors. Especially the seniors, like Sims, who was convinced by Sanders to come to McClymonds before his freshman season. 
Sims' older brothers attended Oakland and Oakland Tech, but Sanders strongly urged him to join Mack nation to learn about leadership, accountability and general pride. And, of course, winning. 
Sims, a 6-foot-1, 210-pound inside linebacker, was hoping to pull off the grand hat trick plus one — four straight titles. He did his part with 10 tackles and an interception. But Pacifica, a school with more than 3,000 students and a roster of 59, overpowered the Warriors from the outset. 
Quarterback RJ Maria threw for 185 yards and four touchdowns to four different receivers: Isaiah Moon, Kyrie Wilson, Nohl Williams and Savonne Farmer. 
Fresno State-bound running back Malik Sherrod rushed 29 times for 124 yards against a defense that had allowed just 63 points all season. And Wilson, an Arizona State commit with coach Herm Edwards in attendance, had two of the team's four interceptions. 
Considering McClymonds is a school of just 360 and its roster (28) was about half of Pacifica, or the fact McClymonds skipped an entire classification from 5A twice to 4A all the way to 2A, Peters could have ranted and challenged the CIF's "competitive equity" pairing
Instead, he maintained things like: 
"We'll  play anyone, anywhere, don't make no difference," the 2018 Cal-Hi Sports Coach Of The Year said. "They could put us in Open Division, it doesn't matter. We don't back down from nobody."
And "We just needed to play better," he kept saying afterward. "My hat's off to (Pacifica). … But to me they weren't that much better than us. We just had a lot of mistakes.
Some of the seniors, it's their last time playing. It hurts everybody. It hurts me. We didn't drive down here to play like this. This was our worst game of the year. Worst game in two years."
Pacifica certainly had lots to do with it. 
Linebackers Brad Bichard (14 tackles) and Caleb McCullough (10 tackes) were dominating, with three sacks each. Kicker Scooter Carranza drilled field goals of 42 and 32 yards and made four straight extra points. 
They finished the season 15-1, claiming the first public school state championship in Ventura County history. They finished with a point differential of 784-215. 
But McClymonds (11-1) finished with a 535-97 point differential of its own. 
They showed some fine defensive work, holding Fresno State-bound running back Malik Sherrod to 4.3 yards per carry. They got big defensive games from Emmanuel Perry (14 tackles), Arizona State-bound Edward Woods and Hughes, eight tackles each, and Timm Ross and Montrell Smith, with seven tackles each. Smith also rushed 17 times for 65 yards. 
After the disappointment began to fade later in the afternoon, the Warriors saw the big picture. 
"We come down here a school of 300 and we put West Oakland on the map, it's a great accomplishment," Peters said. "We were on the other end of the stick last year, so sometimes it's just the way it goes. Can't win them all. 
"For a group of 28 deep, I think we did well just to make it here."
— Story By Michael Scott