Preseason All-NorCal Football 2019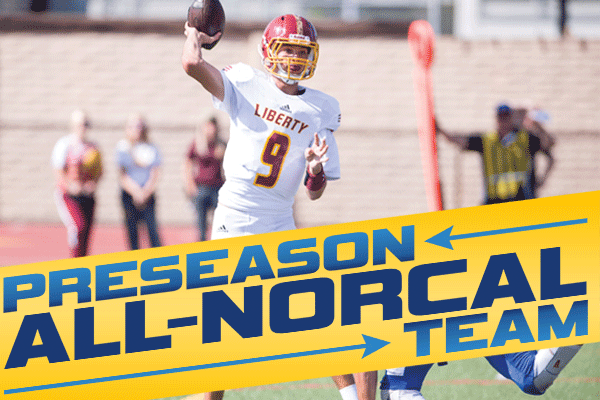 SportStars' 2019 Preseason All-NorCal Football Team Features 44 Players Representing Five Different NorCal Sections •
Welcome to our Preseason All-NorCal Football Team, a staple of our annual Football Preview Issue. Selections are based on a variety of criteria, including 2018 performance, 2019 expectations, comments from coaches and recruiting buzz.
PRESEASON ALL-NORCAL OFFENSE
QB Jay Butterfield (Liberty-Brentwood) Sr. | 6-6, 200
Oregon-bound, four-star talent will be "The Man" on offense full of fresh faces. 
QB Carl Richardson (Salinas) Sr. | 6-4, 210
He completed 73 percent of his passes for more than 3,600 yards as a junior; Pac-12 taking interest
QB Jackson Pavitt (Cardinal Newman-Santa Rosa) Sr. | 6-2, 190
The Cardinals' dual-threat leader accounted for 41 TD through air and ground in 2018
RB Daniyel Ngata (Folsom) Sr. | 5-9, 180
Four-star recruit returns for his senior year after scoring 20 TDs as a junior.
RB Cam Skattebo (Rio Linda) Sr. | 5-10, 200
A record number of yards (3,550) and touchdowns (42) wasn't enough for Skattebo as he returns for more.
RB Raleek Brown (Edison-Stockton) So. | 5-9, 165
Young, but explosive, Brown is ready to improve on a dynamic 28-TD freshman season.
RB Fresh Ison (Moreau Catholic-Hayward), Sr. | 5-11, 205
Ison used quick, but bruising style to amass more than 2,000 yards for the 2018 NCS Div. IV runner-up
RB Isaiah Newell (Las Lomas-Walnut Creek), Sr. | 6-2, 220
A central figure in the Knights' rebirth, the 2,000-yard rusher committed to Oregon State on Aug. 16 
RB Hans Grassmann (Placer-Auburn), Sr. | 6-4, 230
He'll be the go-to back in 2019 after rushing for 1,600+ yards and 24 TD as a junior.
WR Elijhah Badger (Folsom) Sr. | 6-2, 195
Overshadowed as an underclassman, Badger is ready to prove his four-star worth as the leading receiver.
WR Troy Franklin (Menlo-Atherton-Atherton) Jr. | 6-2, 170
He'll enter the season as the No. 3-ranked junior receiver in the country, by 247sports.com
WR Jamir Sheperd (Palo Alto) Sr. | 6-2, 185
He holds at least three Pac-12 offers after catching 19 TD passes as a junior.
WR Grant Daley (De La Salle-Concord) Sr. | 6-2, 190
His other sport is baseball — and he's a home run hitter in the DLS passing game (36 yds. per catch in 2018) 
TE Brock Bowers (Napa) Jr. | 6-4, 205
Several big schools are vying for this four-star prospect currently ranked among top 10 TE nationally (247sports.com).
TE Kaleo Ballungay (Kimball-Tracy) Sr. | 6-5, 235
Cal has nabbed the commitment of this big target who averaged 23 yards a catch last season.
OL Frank Poso (Branham-San Jose) Sr. | 6-5, 320
The All-NorCal tackle committed to Nevada in late June.
OL Everett Johnson (Turlock) Sr. | 6-8, 290
It's the second straight year on the SportStars All-Preseason team for this Cal-committed tackle.
OL Andres Dewerk (Los Gatos) Sr. | 6-7, 310
Close friends with Poso, he committed on the same day — choosing USC. 
OL Aidan Finney (Pleasant Valley-Chico) Sr. | 6-7, 260
Arguably the Northern Section's highest-rated recruit, the hulking tackle has multiple Pac-12 offers. 
OL Mose Vavao (St. Francis-Mountain View) Sr. | 6-3, 290
Agile guard will anchor both lines for a rebuilding Lancers team hoping to surprise.
OL Payton Zdroik (Liberty-Brentwood) Sr. | 6-1, 260
Tireless and non-stop performer on both lines for the defending state bowl champs. Holds five scholarship offers.
K Ronan Donnelly (Sacred Heart Prep-Atherton) Sr. | 6-1, 175
SportStars' 2018 All-NorCal kicker connected on 12 of 17 field goals with a long of 47.
PRESEASON ALL-NORCAL DEFENSE
DL Omarr Norman-Lott (Grant-Sacramento) Sr. | 6-4, 305
Among section's best pass rushers, he had 18 tackles for loss, 10 sacks and two fumble recoveries in 2018.
DL DeShawn Lynch (Folsom) Sr. | 6-5, 265
Harnessing rare combination of size and speed, Lynch ranks among nation's top 40 senior defensive ends.
DL Jamar Sekona (Marin Catholic-Kentfield) Sr. | 6-4, 295
A three-year starter and four-star recruit, Sekona committed to USC on July 30. He was also a 2018 Preseason All-NorCal selection.
DL Nusi Malani (Serra-San Mateo) Sr. | 6-6, 250
Boise State, Nebraska, Colorado and Arizona State have all offered the Padres' talented pass rusher.
DL Akil Calhoun (Liberty-Brentwood) Jr. | 6-4, 230
His late fourth-quarter strip sack sealed a see-saw CIF Div. 1-A regional final at Valley Christian-S.J.
DL Samiuela Fonongaloa (Pittsburg) Sr. | 6-1, 290
Returning three-year starter will be an anchor on both Pirates lines in 2019. 
LB Elijah Lash (Las Lomas-Walnut Creek) Sr. | 6-3, 240
This De La Salle transfer has the potential to break out as one of Bay's top defensive talents.
LB Marcus Jones Jr. (Monterey Trail-Elk Grove) Sr. | 6-0, 190
A tackling machine, Jones Jr. racked up over 100 tackles in each of his first two varsity seasons.
LB Mason Mastrov (Campolindo-Moraga) Sr. | 6-5, 220
The recent SMU-commit will be the linchpin of a solid Cougars defense in 2019.
LB Gary Alexander (McClymonds-Oakland) Sr. | 5-10, 210
The El Cerrito transfer will make an immediate impact on both sides of the ball for the Warriors.
LB Moon Ashby (Valley Christian-San Jose) Sr. | 6-5, 205
Offers are starting to pile up for the versatile outside linebacker.
LB Osaro Aihie (San Leandro) Sr. | 6-1, 220
A two-way standout for the Pirates, Aihie had 76 tackes in 2018 and rushed for seven TD.
LB Will Schweitzer (Los Gatos), Jr. | 6-4, 210
He's one to watch as he enters season ranked among state's Top 100 junior recruits.
DB Dejuan Butler (Antioch) Sr. | 6-0, 165
The Cal-commit had 48 tackles from the cornerback position a year ago.
DB Deven Vanderbilt (Valley Christian-San Jose) Sr. | 5-11, 170
Lauded as one of the CCS' top cover corners, Vanderbilt recently earned an offer from BYU.
DB Justin Anderson (Menlo-Atherton-Atherton) Sr. | 6-0, 170
Boston College, Iowa State among schools lining up for the corner who had five INTs in 2018.
DB Trey Paster (Buhach Colony-Atwater) Sr. | 6-2, 190
He committed to Cal in mid-July, choosing the Bears over UCLA, Oregon, Washington and Arizona. 
DB Nate Rutchena (Monte Vista-Danville) Sr. | 6-3, 195
Gifted two-sport athlete (hoops) had five INTs last season and averaged close to 27 yards per return.
AP Shamar Garrett (De La Salle-Concord) Jr. | 5-7, 170
Spartans' ultimate weapon is 1,000-yard rusher, top-end free safety and a dangerous returner.
AP Trevor Pope (Tracy) Sr. | 6-1, 165
The Oregon State-commit had 800+ yards both rushing and receiving, 21 TD and four INTs on defense in 2018.
AP Paul M. Rosa (Wilcox-Santa Clara) Sr. | 5-7, 175
He led 3-A State Bowl champs with more than 2,000 yards of offense, 44 tackles and three INTs on defense.
AP Jermaine Terry (Kennedy-Richmond) Jr. | 6-4, 235
Holds offer from Alabama, considered among the top junior athlete recruits in the nation.