Walnut Creek Aquanuts on High Point at Nationals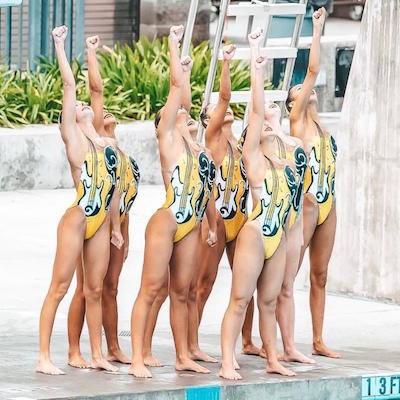 Walnut Creek Aquanuts Win Gold and High Point Award at U.S. Nationals!
The Walnut Creek Aquanuts had another strong showing at the U.S. Junior and 13-15 National Championships, winning Gold in 5 and the High Point Award.
U.S. Nationals is the most prestigious National event in the sport of synchronized swimming for the Jr. and 13-15 age groups.
The competition took place in Riverside, California April 10-14, 2019.
One year ago at this event, WCA walked away without a single gold. This year was not to be a repeat!
2019 brought the Aquanuts five golds and Overall High Point Award. Junior coach and Olympic Gold Medalist Tammy McGregor also won the Junior Coach of the Year Award.
She has coached most of this year's Junior team for the past four years, coaching soloist and graduating senior Ava Jih-Schiff of Danville for over six years.
"In her 10-year career, Ava had never won a national gold medal until now. This year, her last with WCA, she won a medal of every color. It was the perfect ending!"  said McGregor.
For the Juniors, the Free Combination event brought their first gold medal for WCA.
The momentum continued into the solo event where Yara Elian topped the podium with gold, Ava Jih-Schiff took the bronze swimming one of her routines to "Last Dance", and Marlena King took fourth nationally.
In Junior Duets, Miko Begossi partnered with Jih-Schiff to take the silver medal. Ryan Lewis and Ariana Stanton took sixth place nationally.
The excitement continued, and carried into the final Junior Team event.
WCA took home gold with their precise and energized "Rock vs Classical" routine. Flier Heather Ding topped lifts eight feet off the pool surface, wowing the crowd.
"We kept doing more and more and more to prepare, and finally this year it was enough for gold! Everyone did a great job and you could tell the athletes were 'all in'," beamed McGregor.
In the 13-15 events, Kristen Smidstra coached her athletes to gold in both the Team and Free Combination events. (Team has eight swimmers and Combo has ten swimmers).
The WCA B team, coached by Robin McKinley, also made the finals placing seventh in the Team event.  13-15 duets missed the podium, but all three made it into the finals.
Joanna Liu and Dalia Ovadia placed fifth, Emma Moore and Miya Yamamoto placed sixth and Atira O'neil and Megan Kerner took seventh place in the country.
Soloist and former gymnast Alexis McCracken of Walnut Creek placed fifth in the solo event. "Since the addition of the 13-15 age group to this prestigious National meet in 2014, WCA hasn't won gold until this year. The girls put in a tremendous amount of hard work for this outcome", said Coach Smidstra. 
On the final day of Nationals, WCA placed two athletes on the 13-15 National Team. Megan Kerner of San Ramon and Alexis McCracken of Walnut Creek will represent the U.S. internationally this summer at the Youth World Games in Slovakia. 
Upcoming event for the Aquanuts:
Walnut Creek Aquanuts Presents "Symphonic Synchro" May 11th 4-7 pm at Clarke Memorial Swim Center.
See WCA's competition routines and an exhibition by the U.S. National Team. Experience piano music poolside by Maestro Gregory Taboloff on a Steinway concert grand piano as well as a string ensemble performance by Play Youth Orchestra.
Elegant food included with your ticket. Plus a great silent auction. $25 for General Admission; Kids under 5 are Free. For more information: www.aquanuts.org