West Coast Jamboree Scholarship: Tournament Names 2018-19 Winners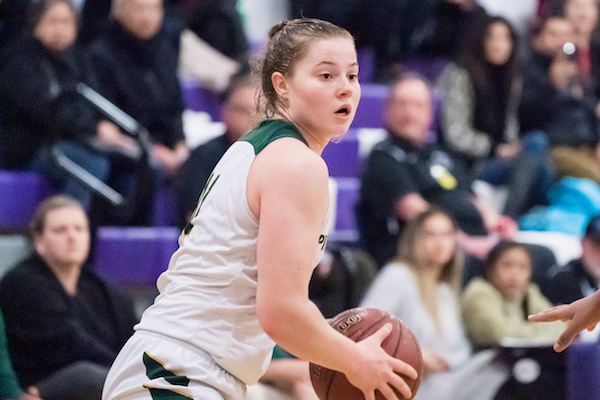 Three Players Are Honored In The Third Year Of The West Coast Jamboree Scholarship Program; Tournament Looks To Expand Program In 2019-20 •
On July 11, the West Coast Jamboree (a 501c3) girls basketball tournament announced the three 2018 winners of its annual scholarship program. The West Coast Jamboree Scholarship Program is the only one of its kind in any high school sports tournament in the nation.
The 2018 winners were Alyssa Andrews of Vintage-Napa, Klara Astrom (pictured at top) of Pinewood-Los Altos Hills and Paige Lyons of Eureka.
The three recipients were selected from 24 finalists by a committee including Jamboree founder David Jackson. The finalists were selected from a pool of 50 girls who competed in the 2018 tournament and submitted applications. Criteria for consideration included maintaining a 3.0 GPA, community service and letters of recommendation from coaches and administrators. Finally, the student-athlete was required to submit a short essay about what it meant to play in the Jamboree, and the experience of meeting players from distant places in the largest high school girls basketball tournament in the nation.
Each recipient will receive a $2,500 scholarship to be used toward verifiable and approved college expenses.
When Jackson started the girls basketball tournament 20-years ago, one of his dreams was to turn the tournament into a non-profit and give away scholarships. It took almost 12 years to get the non-profit status and another four to start the Scholarship Program, but the progress is moving along.
In the first three years of the program, the Jamboree has awarded $22,500 in scholarships. Plans for the 2019 Jamboree, our 20th year, involve widening the field of applicants and expanding the number of scholarships with the help of corporate sponsorships.
"I am so pleased and proud of the success of the Scholarship Program these first three years. I'm looking forward to the possibility of it being expanded to include a needs-based criteria," Jackson said. "This has become part of what the West Coast Jamboree is all about. On behalf of the West Cost Jamboree, congratulations to our 2018 recipients, Alyssa, Klara and Paige."
Alyssa Andrews
"Being able to participate in a tournament like the West Coast Jamboree was extremely beneficial for not only myself, but my team as well because of the crazy competition you get to see. To be selected from a group so big and so deserving makes me extremely proud of everything I've done up to this point. Next year I plan on studying environmental science at UC Santa Barbara. And I am so grateful for the chance to continue my education with the help of this scholarship."
Klara Astrom
"Being able to play in the West Coast Jamboree is such an honor. You get the chance to compete against the best schools and best talent on the West Coast. You get the opportunity to play your biggest rivals in the preseason, and play against teams you have never played against before. Winning a scholarship like this means that I'm one step closer to achieving my goal of going to college — and graduating with the least amount of student debt possible. Choosing an Ivy League school like Yale gives me the opportunity to study biology at one of the best universities in the world, but unfortunately no athletic scholarships are awarded. Being the recipient of this scholarship means I'm one step closer to graduating, and hopefully going to medical school to become a doctor."
Paige Lyons
"Playing in the Jamboree was very exciting because there was so much talent in one place. I loved being able to play teams that came from different areas of the west coast and had a variety of skills and players. … I am extremely grateful to win the West Coast Jamboree Scholarship because I believe that it really honors the challenge of being a student-athlete. Basketball was not the sport that necessarily came easy for me. I had to continuously work hard to keep up my skill. Being the Co-Salutatorian on top of that took a lot of dedication and energy. The West Coast Jamboree Scholarship will make a huge contribution towards my future and will help my future dreams become a reality. Next year I will be attending the University of California-Berkeley while exploring my interests for the future. "
Other Scholarship Program Finalists
Hope Alley – Foothill-Pleasanton
Teresa Ascencio – Holy Names-Oakland 
Mielle Bazzano – Middletown
Kidest Befikadu – Heritage-Brentwood
Kennedi Cox – Rodriguez-Fairfield
Megan Downing – College Park-Pleasant Hill
Kenny Hamlin – Churchill County, Nevada
Lily Hitchcock – Mt. Shasta
Emily Jacobson – Liberty-Brentwood
Allie Korst – Sir Francis Drake-San Anselmo
Kayden Korst – San Domenico-San Anselmo
Makenzie McFarlane – Whitney-Rocklin
Lily Teders – Seattle Prep, Washington
Tiffany Siu – Oakland Tech
Isabella Thompson – Las Lomas-Walnut Creek
Sheridan Todd – Concord
Kelsey Valencia – Atwater
Jacquelin Velasquez – Emery-Emeryville
Jenny Walker – Redwood-Larkspur
Jenna Wallace – Foothill-Palo Cedro
Kamryn You Mak – Bay School-San Francisco
For more information contact: Harold Abend – West Coast Jamboree, Associate Executive Director – marketingharoldabend@gmail.com