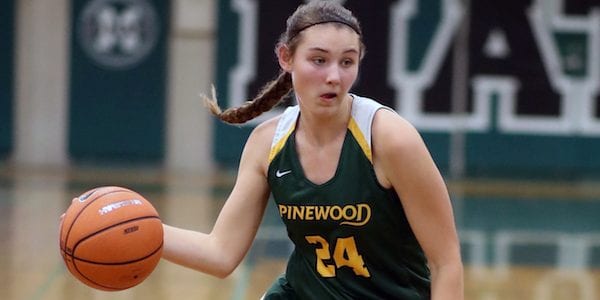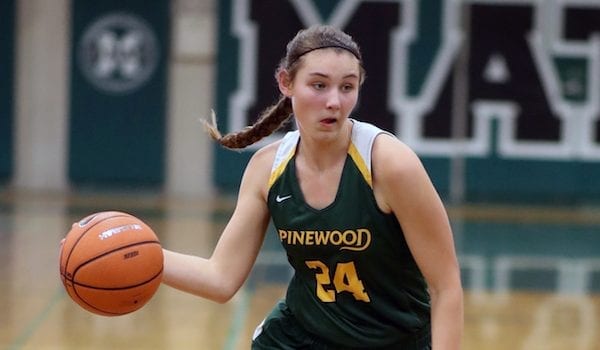 A Deadly Outside Shot Is Only One Element To Pinewood Basketball Star Hannah Jump's Continually Rising Game • Story by CLAY KALLAM | Photos...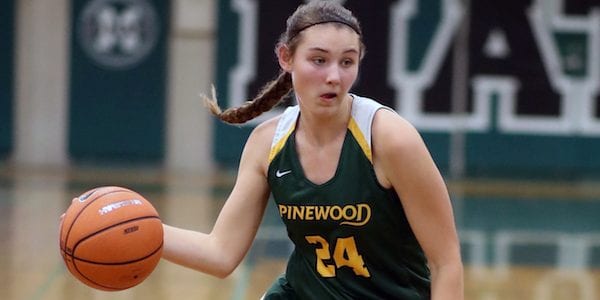 A Deadly Outside Shot Is Only One Element To Pinewood Basketball Star Hannah Jump's Continually Rising Game •
Story by CLAY KALLAM | Photos by ED OSWALT
Haley Jones has seen Hannah Jump launch 3-pointers as an opponent (since middle school) and as a teammate (CalStars in the summer).
"When she shoots," says Jones, who is the star of Archbishop Mitty-San Jose's No. 1 team in the country, "I'm surprised when it doesn't go in."
But Jump isn't your traditional 5-foot-5, camp-behind-the-arc sharpshooter. First, she's 5-11, which allows her to get her shot off when smaller players can't, and she's also much more versatile than her reputation suggests.
Of course, the same could be said of Pinewood-Los Altos Hills.
Many casual fans believe the Panthers are a one-trick pony that rely only on a barrage of 3-pointers for its success under coach Doc Scheppler. But opponents have learned that Pinewood not only rains 3s, but defends, rebounds and gets into the paint as well as any team in Northern California.
Jump fits the Pinewood mold, and has worked to improve her game to do so. "Her defense has gotten better," Scheppler says, "and she rebounds better," but he feels there's still more Jump can bring to the court.
"She needs to work on her finishes," he says, "and learn to play with fatigue. You can't just be designated a shooter. You need to be a complete player."
Still, Jump is awfully good right now, averaging 16.6 points, 5.5 rebounds and 2.2 steals a game — and of course shooting like a female Stephen Curry. She makes 42 percent of her long distance attempts, 54 percent of her shots inside the arc and 81 percent of her free throws — and all that despite constant defensive attention.
And that defensive attention, like the NBA focus on Curry, opens up the court for her teammates.
"When somebody shoots that well," says Scheppler, "you're basically playing four-on-four."
But don't think that the notably persnickety Scheppler is totally happy with Jump's shooting. "It's a constant daily battle to keep her ball flight down," says Scheppler, which translated means that Jump's shot sometimes leaves her hand at an angle greater than 45 degrees — which Scheppler, one of the elite shooting coaches in California, if not the country, thinks is ideal.
Jump, like most Pinewood players, has had to adjust to Scheppler's perfectionism, but then again, she's a perfectionist herself — which is sometimes a problem.
"You can't let perfection get in the way of being very good," says Scheppler.
Jump understands the process at Pinewood, and what her coach is trying to do for her and her team. "He has my best interests at heart," she says, and he concedes he didn't have to do much more than tinker with her shot once she arrived in the program.
Rometra Craig, the daughter of former 49ers star running back Roger Craig, who starred at Archbishop Mitty and Duke University, saw Jump play in a middle school tournament and was immediately impressed.
"She started working with me on my shot," says Jump, and Jump applied those lessons daily in her backyard basket.
OK, lots of kids have a backyard basket. What made it unusual for Jump to have one is that she was born in England — which one would think would make it more likely this Manchester City fan would have a soccer goal instead of a hoop and net. Jump, though, never really played soccer, and when she came to California at age 9, she started out playing softball.
But basketball, oddly, was in her blood, as her father Danny played for Blackburn College in England and quickly steered his tall daughter to his favorite sport.
"He drilled me every day on my right and left hand," she says, and he and her older brother Sam would play her one-on-one.
It took her until seventh grade to beat Sam, now 18, and they still go at it when he's home from college. "He gives me a run for my money," says Jump, "but I get him."
Jump remains an English citizen, and though she will almost certainly play college basketball in the United States, she's already played for England internationally. Danny sent a highlight video to Basketball England, and they invited her over for a tryout with the Under-16 team in 2015.
"At first it was difficult," says Jump. "They all knew each other" — but Jump's outgoing personality soon won everyone over, and she settled in as one of the top players, even though she was the youngest on the team. That said, English basketball is not exactly elite, as soccer and cricket are far more popular.
"At first it was old-school basketball," says Jump, "but now we drive and kick."
Unfortunately, Jump's first experience in international competition — she's played in Romania and Portugal — resulted in enough losses that England was relegated to Europe's B competition in 2016. Things went better in year 2, but England still has a long way to go to match European powers such as France and Spain.
Still, Jump hopes to play for Great Britain again, though right now her focus is solely on Pinewood. Pinewood is one of the top teams in Northern California (No. 4 in the SportStars rankings) and on track to qualify for the Central Coast Section Open Division playoffs — and perhaps the NorCal Open after that. (Thanks to the new NorCal format, however, Pinewood's days of Division V titles are over. If the team doesn't get picked for the Open, it will undoubtedly be placed in the NorCal Division I bracket.)
"We're young and I think we're going to be really good," says Jump, but she realizes that the No. 1 team in the nation resides just down the road in San Jose. Archbishop Mitty stands in the way of a CCS title and any NorCal Open success, but perfectionist Jump is undeterred.
"We're chasing perfection," she says, "and perfection is Mitty."
And remember, Pinewood has caught perfection before, knocking off No. 1 in the nation St. Mary's-Stockton in the 2016 NorCals, though that group fell short of a California Open title. This year, however, might turn out perfectly — and really, it would be no more of a surprise than Jump draining another 22-foot 3.