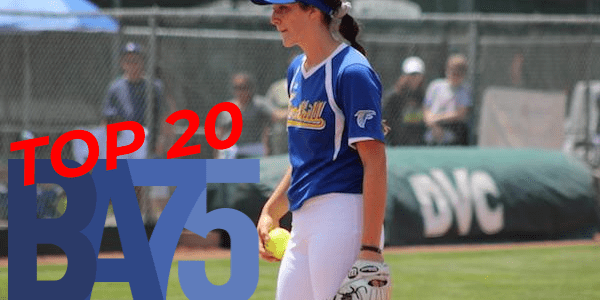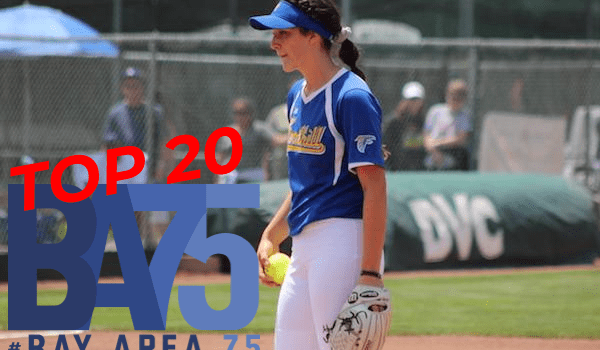 These 20 Athletes Conclude Our Annual Ranked Countdown Of The Bay Area Athletes Of The Year For 2018-19 • Below are the top 20...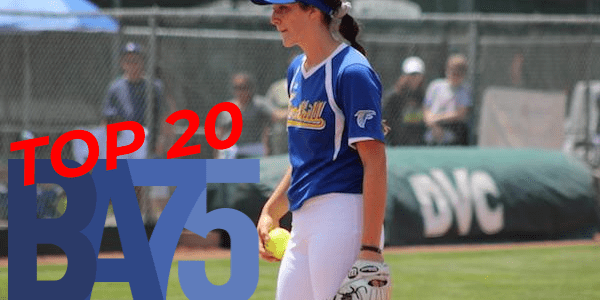 These 20 Athletes Conclude Our Annual Ranked Countdown Of The Bay Area Athletes Of The Year For 2018-19 •
Below are the top 20 athletes from our seventh annual Bay Area 75 — SportStars' rankings of the top 75 Bay Area athletes for the 2018-19 school year. The first 55 athletes were revealed in increments from July 1-4.
The only criteria used in generating this Bay Area athletes of the year list was that each athlete must be from one of the nine Bay Area counties, and they must have played in a sport which culminated in a sanctioned section title or reached a national-level of success (i.e., won a national championship or been appointed to a youth national team). All sports fans know rankings are an opinion, and certainly subjective. They also spark debate and conversation, which is why we love them. Let the 2019 #BayArea75 debate begin now.
— Chace Bryson, Editor
20. ELIZABETH FLEMING (St. Ignatius-S.F., Sr.)
Volleyball
Fleming heads to Duke in the fall after terrorizing the West Catholic Athletic League for the past three seasons. In her final year she was the WCAL Co-Player Of The Year and named 1st Team All-State by Cal-Hi Sports. She had 507 kills with 121 blocks in 42 games as the Wildcats reached the Central Coast Section Open Div. final for the second straight year.
19. JAY BUTTERFIELD (Liberty-Brentwood, Jr.)
Football, Basketball
Rivals.com lists the Oregon commit as the No. 3 QB in the country for the 2020 Class. His numbers make it easy to say why. The 6-foot, 6-inch slinger passed for 3,294 yards and 43 TDs over 14 games. He completed at least three TD passes in every game but two in leading the Lions to a 13-1 mark and CIF 1-A State Bowl title. During the winter, he was a major weapon off the bench for an undefeated league champion squad that went 21-6 overall.
18. CONNOR BARBATO (Rancho Cotate-Rohnert Park, Sr.)
Football, Basketball, Lacrosse
He was a SportStars All-NorCal selection in football after one of the best two-way seasons a player could have. He caught 55 passes for 1,134 yards and nine TDs as a tight end for the 11-2 Cougars. And on defense he posted 107 tackles and 23 sacks. In 21 basketball games he led Rancho with 11.9 points per game and added six rebounds a contest. In the spring, he finished out his senior year making a small contribution to the lacrosse team. He accepted a walk-on offer with UCLA football.
17. STEVEN ZOBAC (Valley Christian-San Jose, Sr.)
Baseball
The SportStars NorCal Player of the Year, Zobac was also one of five finalists for Cal-Hi Sports' Mr. Baseball State Player of the Year Award. The Cal-bound talent batted .465 with 40 hits, 28 runs, 23 RBI, 12 doubles and five home runs. He also went 6-1 with four saves, a 0.23 ERA and 75 strikeouts in 60.2 innings of work. He led the Warriors to a third straight CCS Open Div. title and threw four hitless innings to start the final. He also knocked in both runs in a 2-0 victory.
16. ZOIE HARTMAN (Monte Vista-Danville, Sr.)
Swimming
Headed to swim at SEC swimming-power Georgia, Hartman closed out her high school career with six gold medals in May. That included four NCS titles — the 200-yard individual medley, the 100 breaststroke and two freestyle relay wins — along with repeat CIF State Championship gold performances in the 200 IM and 100 breaststroke. At the NCS meet, Hartman set a new 200 IM record of 1 minute, 55.76 seconds. It was a mark slightly more than four-tenths of a second faster than the previous record held by Olympic medalist Maya DiRado.
15. ASHLEY YEAH (Los Gatos, Sr.)
Tennis
Yeah completed her Los Gatos tennis career ranked by TennisRecruiter.com among the Top 15 girls tennis recruits in the nation for the 2019 Class, and No. 1 in NorCal. She became the Central Coast Section's first ever three-peat singles champion when she defeated Cupertino's Kate Duong 6-1, 3-6, 1-0 (tiebreak score of 7-2). She also led Los Gatos to a third straight CCS team title. She will play at Illinois in the fall.
14. ANGELINA ANDERSON (Carondelet-Concord, Sr.)
Soccer
Considered one of the best young goalkeepers in the nation, Anderson is already an international staple. The Cal signee helped the USA to the 2018 CONCACAF Women's U-17 Championship, playing in four of the five matches as the USA qualified for the U-17 2018 FIFA Women's World Cup in Uruguay last November. Anderson was the starting keeper and team captain for that squad, which finished 1-2. With Carondelet, she allowed just 12 goals in 19 games with 79 saves. 
13. TEHYA BIRD (Cloverdale, Jr.)
Volleyball, Basketball, Softball
The Oregon softball commit is our highest ranked three-sport athlete on the list. Her 2019 video game-like softball stats included batting .754 with 46 hits, 60 runs, 48 RBI, 15 doubles and 13 homers at the plate. Plus she added a 23-1 pitching record with a 0.88 ERA and 215 strikeouts in 144 innings. She was the league MVP in basketball, leading Cloverdale to a 26-7 record. And was a 1st Team All-League selection for volleyball. 
12. RYAN REYES (Gilroy, Sr.)
Wrestling
Reyes was arguably the highest profile wrestling transfer in the state when he moved from Buchanan-Clovis to Gilroy prior to his senior year. The hype was not ill-placed. Reyes stormed his way to a CIF State title at 195 pounds; The Fresno State-bound star went 5-0 at the state meet with a pair of pins and an 18-3 tech fall. 
11. NICOLE MAY (Foothill-Pleasanton, Jr.)
Softball
May was a no-brainer when it came to naming the SportStars NorCal Pitcher of the Year Award. The Oklahoma commit posted a 0.32 ERA and a 24-0 record with 246 strikeouts in 151 innings of work. She also hit .463 with 38 hits and 27 RBI for a Falcons team which went 28-0 and won the NCS Div. I title. May threw a two-hit shutout in the final and drove in the game's only runs on a 2-run homer.
10. ETHAN HU (Harker School-San Jose, Jr.)
Swimming
With the Bay Area such a hotbed for swimming talent, it's not easy to stand out among the elite. Unless you have a postseason like Hu delivered this spring. He won CIF State titles in the 200 individual medley and 100 butterfly — setting meet records in both events. That came on the heels of the CCS Championships in which he set meet records in the same two events while also setting a third meet record with the Eagles' 200 medley relay team. 
9. JEWEL ROEMER (Acalanes-Lafayette, Jr.)
Water Polo
Roemer is widely considered to be NorCal's best female water polo prospect since two-time Olympican Maggie Steffens — and she's already been a teammate of Steffens on the US Senior Women's National Team. Roemer was one of two high schoolers on the 14-player roster that competed in the 2019 FINA Women's Intercontinental Tournament in Australia from March 26-31. She even scored a goal in the Gold Medal match, a 14-12 win over the host country. The junior attacker also led the Dons to a 27-0 season and NCS Div. I crown.
8. ASHLEY TRIERWEILER (Carlmont-Belmont, Sr.)
Basketball, Softball
The Santa Clara-bound softballer was a SportStars All-NorCal outfield selection after batting .568 with 50 hits, 38 runs, 22 RBI and 15 stolen bases. She was the Peninsula Athletic League's Softball Player of the Year. And prior to softball season, she was the PAL South Division Basketball MVP for a Scots team that finished 18-8 overall.  
7. SOPHIE JONES (Menlo School-Atherton, Sr.)
Soccer
A first-star rated midfielder by TopDrawerSoccer.com, Jones became her school's first ever Gatorade National Player of the Year in the 34-year history of Gatorade's awards program. The Duke commit led the Knights to a 20-2-2 record and the CCS Div. I championship, recording 18 goals and 16 assists despite missing the final two games of the season while training with the U.S. Soccer Under-20 Women's National Team. She played in the 2018 FIFA Under-17 World Cup in Uruguay in November.
6. HENRY TO'OTO'O (De La Salle-Concord, Sr.)
Football
The SportStars NorCal Defensive Player of the Year for the second straight year, To'oto'o was the physical and emotional leader to the region's best defense. He accounted for 76 tackles (17 for loss), 42 solo tackles, four sacks and two fumble recoveries. On the eve of the CIF Open State Bowl Championship, he broke his foot during walk-through practice. He would still make six tackles the following night. In February, he made his commitment to Tennessee live on ESPN.
5. SIONE VAKI (Liberty-Brentwood, Sr.)
Football
Vaki was the SportStars NorCal Football Player of the Year and a Cal-Hi Sports 1st Team All-State selection after catching 70 passes for 1,394 yards and 20 TDs. He also had a rushing TD, a kick return TD and an interception return for a score. Vaki finished second on the Lions defense with 97 tackles and added four interceptions, two fumble recoveries and two forced fumbles. Liberty won the CIF Div. 1-A State Bowl after Vaki made a critical tackle to force a turnover on downs late in the fourth quarter. He will suit up at Utah in two years after concluding his Mormon mission.
4. AKIL EDWARDS (St. Patrick-St. Vincent-Vallejo, Sr.)
Football, Basketball
Edwards spent his senior year being his school's best football and basketball player. He chose football as his sport at the next level, committing to Weber State as an athlete after spending the fall as arguably the North Coast Section's best dual-threat quarterback. He amassed 1,443 yards passing with 20 TD, and had just under 1,000 yards rushing despite missing some time due to a knee injury. The Bruins basketball team celebrated a 20-12 season powered in large part by Edwards' per-game averages of 19.6 points, 4.1 rebounds and 3.9 assists.
3. JAZLYNN SHEARER (Silver Creek-San Jose, Sr.)
Track
When track stars crack the Top 5 of this list, it's usually after doing something extraordinary at the CIF State Championships. Shearer checked that box for sure on May 25 when the UNLV signee just missed winning three golds. Shearer took home state titles in the 100 hurdles, and the triple jump (where she finished more than nine inches better than the runner-up's top jump). She was forced to settle for silver in the long jump. She nearly went quad-gold at the CCS Championships, winning in the 100 hurdles, triple and long jump while also finishing second in the 100 meter dash.
2. LIAM ANDERSON (Redwood-Larkspur, Sr.)
Cross Country, Track
As distance running goes, it would be extremely difficult to have had a better year at it then the Stanford-bound phenom from the North Bay. Anderson won his second CIF State title when he won the Div. III championship race in 14 minutes, 56 seconds — the fastest time by any boy at the event. Then he followed that by attending the Nike Cross Nationals in Portland and setting the five kilometer course record en route to becoming the first Californian to ever win the event. All of which earned him Gatorade National Runner of the Year honors. In the spring, his CIF State Meet performance included a 3rd in the 1600 meters and 2nd in the 3200.
Use The Arrows Below Ads To Reveal No. 1