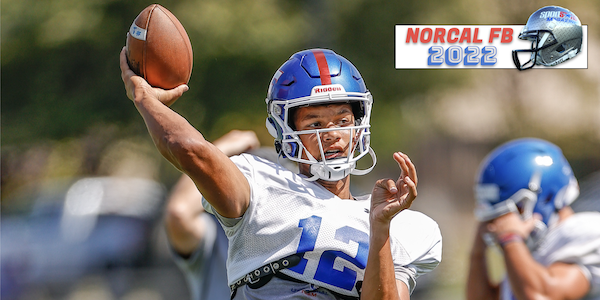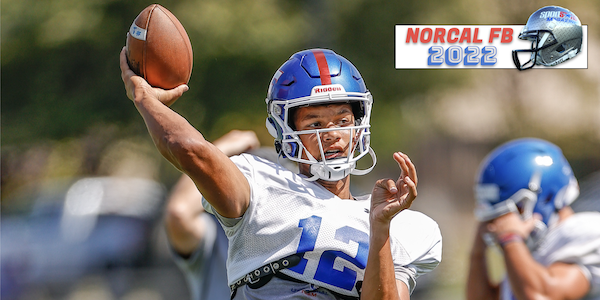 Talent-Rich Folsom Enters 2022 With Big Expectations, A Relentless Schedule, And New QB Austin Mack — Who Could Unlock It All • Austin Mack...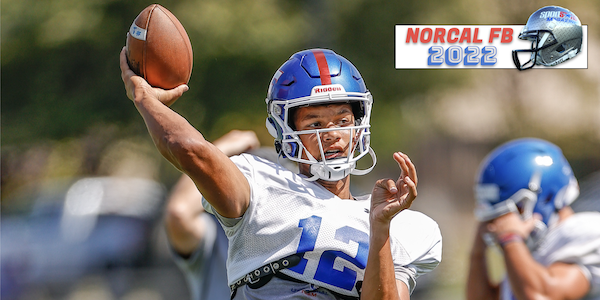 Talent-Rich Folsom Enters 2022 With Big Expectations, A Relentless Schedule, And New QB Austin Mack — Who Could Unlock It All •
Austin Mack ducks through the doorway as he enters the room. All six-foot-five of his long, lanky frame hunkers down into a chair as his coach pulls up a clip from spring ball.
Entering his fourth year atop the Bulldogs program, Paul Doherty knows the early months of physical education classes with his team and spring practices are unevenly stacked against the offense. The coaches are installing concepts to last the year and this was the defense's turn.
"Every day in spring is defense, because every day during the year it's offense," Doherty explained. "Everything is scripted against the offense, but that didn't stop (Mack) from being out there taking every snap."
On the particular day in the film, Mack struggled to distribute the ball. Doherty wanted the not-yet-junior quarterback to let it rip down the field, but Mack hesitated at times, checking it down or missing a progression read. The defense was ready for what they were running and Mack learned some valuable lessons.
"His poise and the way he talks it through, explaining where his eyes are, what he sees, and why the ball went a certain way — he takes the time to explain it all," Doherty said. "He's really mature in that aspect. He sees the field really well, and understands what we do well."
They reach a point in the film where Mack made the right decision. He recognized the coverage early and saw the safety creep into a deep drop to take away the shot play. He may have taken the sack or checked the ball down, but he gained respect in the process.
_______________________________
CONNECT WITH US:
Follow SportStars on Twitter & Instagram | Like us on Facebook | Subscribe!
_______________________________
"He made his points and earned his stripes that day," Doherty said. "But that's what's great about working with him. It's a collaborative process, and it's that way with all of our quarterbacks. That back and forth will really help us this year."
Mack enters the 2022-23 season as the designated starter on what projects to be one of the best teams in Northern California. And he has a lot of buzz around him.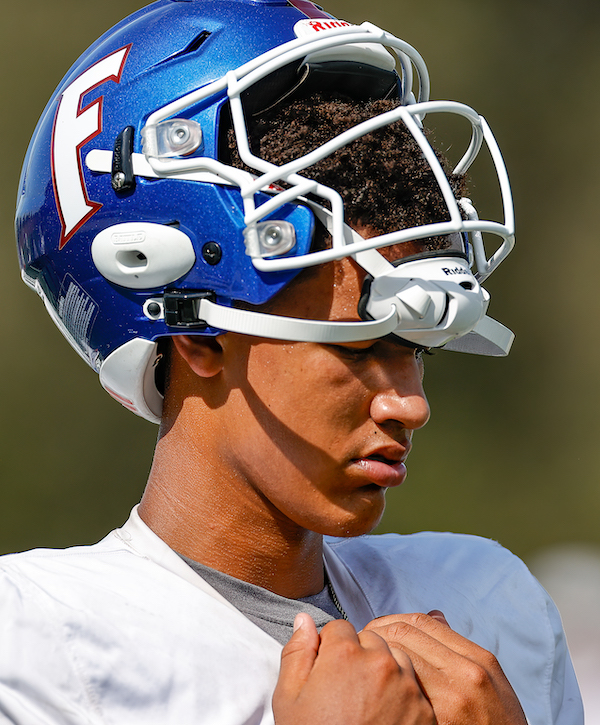 "He's a high-profile kid," Doherty said. "He'll probably be the number one kid in the state of California in 2024 … So we're anxious to see how he plays this year."
Although this will be his first full season under center at the varsity level, Mack has experience in the system, and with his playmakers. In fact, he played three full games in 2021 and a handful of snaps in two others.
His best outing came against Whitney in mid-October last year. Mack threw for 160 yards and two touchdowns as he completed over 50 percent of his passes in a 52-14 victory.
The win was the team's seventh of the year, but it came on the heels of back-to-back losses to De La Salle — a pain-staking defeat — and Rocklin. Senior quarterback Tyler Tremain, who was having an outstanding season, got hurt in that 31-10 loss to the Spartans and Mack was called in for three starts.
This was his chance to show off his big arm. Against Rocklin, Mack completed a 40-yard pass downfield after escaping the pocket, showcasing the future like an author foreshadows an ending. Doherty admitted navigating the pocket is one of Mack's strengths and he's working on keeping his eyes downfield when he escapes to the edge.
"I'd say one of my strengths is my arm and my accuracy," Mack stated. "I can hit the spots I want, especially on the deep ball, which is one of my favorites to throw."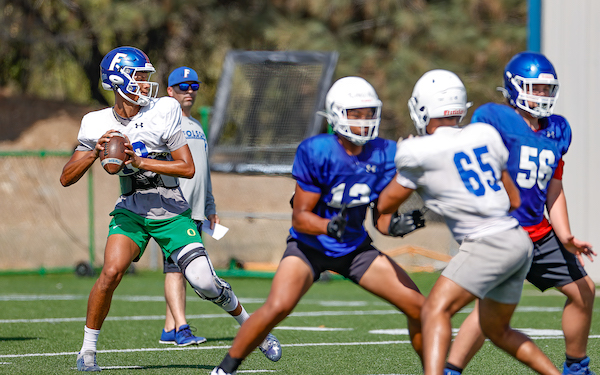 Two weeks later against Granite Bay, Mack did it again. He launched a 49-yard bomb that nearly went for six, splitting the safety and corner. The big-play ability is something his teammates are looking forward to this season, and Mack hopes he can make those reads faster and cut down on any mistake-worthy throws in the process.
He noted that in each of his losses last year he turned the ball over — throwing three interceptions against Rocklin and one against Granite Bay.
"I had a lot to work on this summer, but really, it was just being more comfortable with the game speed at the varsity level," the junior admitted. "Getting reps with my guys and working through it more and more. With time and reps, it all becomes easier."
AUSTIN'S ARSENAL
As is usually the case, Folsom is loaded with talented receivers, backs and tight ends this year to surround Mack with an aerial assault of weapons. Although it will take a little time to build chemistry, that level of depth should pay off if the team makes a postseason run.
"We use 10 different guys at the skill positions," Doherty stated. "So there are a lot of moving parts and getting used to that rotation is a work in progress… we have three D-1 (collegiate prospects) at tight end, three D-1 receivers, and we have a lot of guys to get the ball to, and they all play … So building chemistry with that many guys takes time."
"Rico (Flores Jr.) is popular, and for good reason, but the kid on the other side is just as good, Brian Ray III," Doherty added. "No scholarship offers yet, but they'll come. Onterrio Smith Jr. is playing in the slot. He's a Pac-12 kid and missed most of last year due to injury, but he looks incredible. Our other slot, RJ Whitten has an offer at Cal … and then we have the tight ends. Walker Lyons is a national recruit; Mason Norberg has some offers and Colin Gallagher is a D-1 baseball kid who looked good in our scrimmage."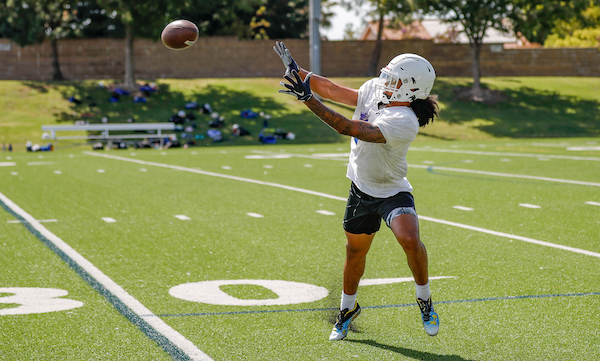 In the backfield, the Bulldogs return Donovan Parler, a physical runner who led the team in rushing in 2021. He'll be joined by last year's top JV tailback, Abram Woodson.  
This offense could be explosive if Folsom's offensive line can hold up. After graduating three starters from a year ago, three sophomores take their place and will need to assimilate quickly to varsity speed.
"The O-line is young," Doherty said. "But there's no such thing as sophomores on varsity. We just play with varsity football players. There's a standard we upload and they go out and try to meet that standard."
At 6-2 and 190 pounds, Flores Jr. already projects to be the top receiver in the Sac-Joaquin Section. He entertained 27 offers before committing to Notre Dame. Doherty says Flores and Smith Jr. love to play football and the energy they bring is contagious.
"When you find kids that really love recruiting and the process, and the ones that love practicing football … it brings an edge to the room," the coach stated.
DOGGED DEFENSE
Last season, injuries cost Folsom some crucial games. This year, they should have more depth. On defense, the Bulldogs will employ a 4-2-5 scheme, with Collin Denny and Julio Garcia at linebacker, but with at least seven defensive backs in the secondary. Doherty says they'll adjust to match different offices.
That secondary includes San Jose State-commit Greco Carillo and fellow senior DJ Brown, who has an offer to play at Columbia. Cornerback Cade Dutton pairs up with Slade Wilson, who led the team in interceptions last year with six (three of which he took back for scores).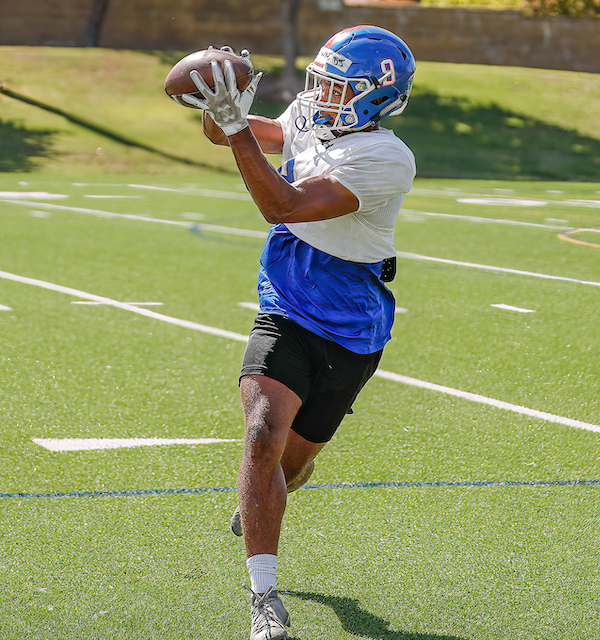 Senior Diallo Washington is a standout on the defensive line after racking up 50 tackles, three sacks and a fumble-recovery touchdown as a junior.
Folsom's defense will be tested early and often as the Bulldogs face one of the toughest slates in Northern California.
"It's really critical to try to stay healthy and it's hard to do that when you play the schedule that we do," Doherty acknowledged. "Naturally, we got a lot of guys a lot of reps last year, which is great. They'll be ready for this year. But you have to get everybody ready because you're going to need them. It's such a long season if you're winning."
STACKED SCHEDULE
The team begins the season with a three-game stand against Monterey Trail-Elk Grove, Serra-San Mateo and Edison-Stockton before a grueling road stretch of Pittsburg, De La Salle-Concord, Oak Ridge-El Dorado Hills and Whitney-Rocklin. The team will finish with a home contest versus Del Oro-Loomis, then at Granite Bay and conclude with a big-time SFL home game against Rocklin.
"It's a very tough schedule," Doherty said. "Maybe the toughest in NorCal. But we're trying to get to the Open Division so we try to play the toughest schedule we can."
A lot of Folsom's success will depend on how quickly the team can mesh and build chemistry. That usually translates to the quarterback's success and Mack's ability to distribute the ball and run this high-powered offense.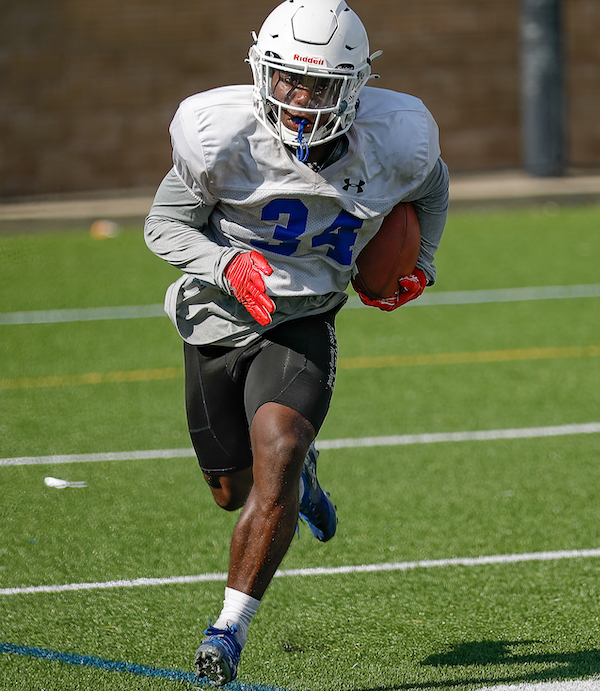 Mack says he's always enjoyed watching Tom Brady play the position — with Brady being the ultimate distributor — and he sees some similarities in the way they each navigate the pocket and try to dissect a defense with their arm.
Yet perhaps the most Brady-esque similarity for Mack and the Bulldogs comes back to their motto this year: Keep the main thing the main thing.
"That means put the team first, and not worry about yourself," Mack explained.
That sounds like a leader and star in the making.