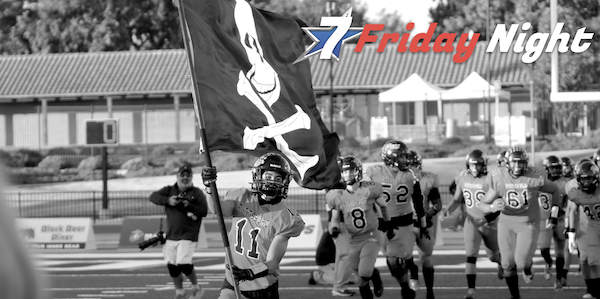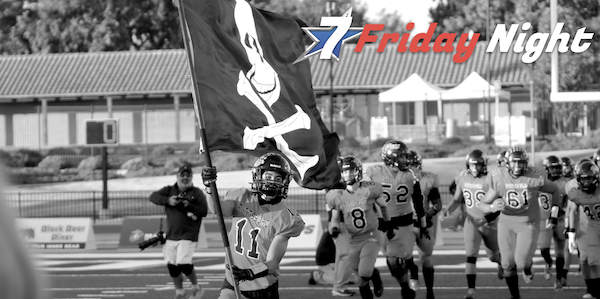 7 Friday Night Hosts Share Thoughts & Search For Positives In Late Night Recordings From NorCal's Long Weekend At CIF Bowls In Mission Viejo...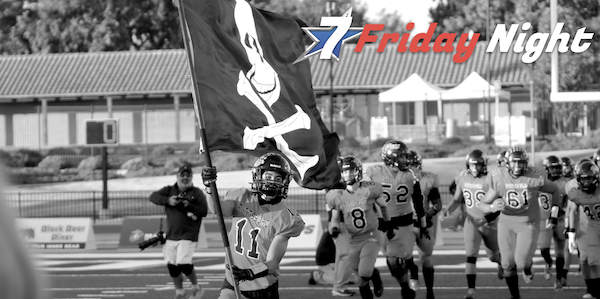 7 Friday Night Hosts Share Thoughts & Search For Positives In Late Night Recordings From NorCal's Long Weekend At CIF Bowls In Mission Viejo
PICTURED ABOVE: Pittsburg Senior Zack Card Leads Pittsburg High On To The Field Saturday. (Ben Enos photo)
Saddleback College in Mission Viejo was a place NorCal's CIF State Bowl Championship dreams went to die last Friday and Saturday. NorCal football teams went a combined 0-5 in Open, Division 1 and Division 2 finals, with three of the game's being one-score defeats.
7 Friday Night hosts Chace Bryson and Ben Enos were both on hand for all five games and recorded short instant reaction podcasts at the end of each day — technically the wee hours of the morning the following day. What's sleep? Who cares. There was football to discuss. Each episode was released direct to Twitter on Saturday and Sunday, and we've collected both here for this post.
LISTEN TO YOUR PODS ON A SPECIFIC PLATFORM? Scroll Down To See Where Else You Can Listen, Rate & Subscribe!
DAY 1
The Day 1 recording features the hosts reactions from the 2-AA and 1-AA championship games featuring McClymonds-Oakland and De La Salle-Concord, respectively. Both teams lost by single digits. There are also audio soundbites from McClymonds coach Michael Peters, plus De La Salle coach Justin Alumbaugh and senior captain Derek Thompson.
DAY 2
After watching three more defeats in Day 2, Chace and Ben are determined to talk about happy teams first. And so they talk up Grant-Sacramento's thrilling 3-AA State Bowl Championship that took place up north. They also share audio of Pacers' coach Carl Reed via reporter Ike Dodson, who covered the game for SportStars.
And after that, they share thoughts on NorCal's rough Saturday in SoCal as San Ramon Valley-Danville (2-A), Pittsburg (1-A) and Serra-San Mateo all took defeats.
7 Friday Night will wrap up its 2022 season with three more episodes over the next month. There will be a final season wrap up with some special guests on Wednesday, Dec. 14. It will also be Coach Terry Eidson's last show of the season. Then look for a Bloopers/Outtakes episode over the last week of December, and our season finale highlighting SportStars Magazine's All-NorCal team releasing sometime in mid-January.
WANT TO NOMINATE A PLAYER FOR OUR ALL-NORCAL TEAM? Do it here by voice message! And if we use it on the January show, we'll send you a SportStars t-shit.
Listening platforms include Spotify, Apple Podcasts, Google Podcasts, Breaker, Pocket Casts and Radio Public. Also, feel free to use the same platforms to look up SportStars' other podcasts: The 2021 oral history-style show SportStories, and the ask-an-expert health and fitness show, Know & Go, that's currently in its first season..
All previous episodes of 7 Friday Night, Know & GO and SportStories can also be found here.
LINKS TO SPORTSTARS' STATE BOWL STORIES
OPEN SHUTOUT | National No. 1 Blanks Serra In CIF Final
— By Ben Enos
BITTER END | Pittsburg, Coach Victor Galli Denied Hollywood Finish
— By Chace Bryson
HOWLING EFFORT | San Ramon Valley Wolves Fall In OT
— By Ben Enos
STUNG IN SOCAL | De La Salle Falls To Lincoln-San Diego In CIF Bowl Return
— By Chace Bryson
WARRIORS TO THE END | McClymonds Battles, Falls Short In 2-AA Bowl
— By Ben Enos