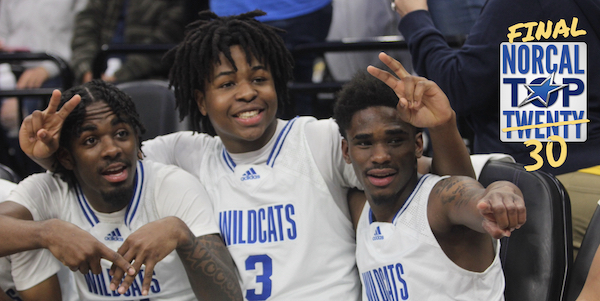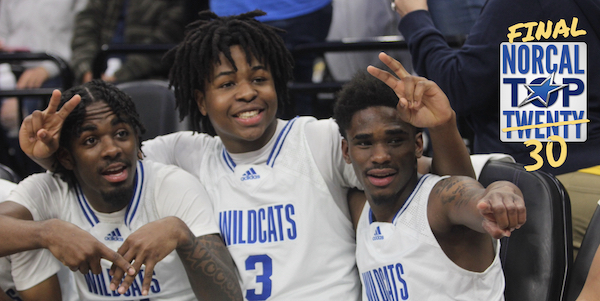 For The Second Straight Season, Modesto Christian Finishes As No. 1 In Our Expanded Final NorCal Boys Basketball Rankings • PICTURED ABOVE: (L to...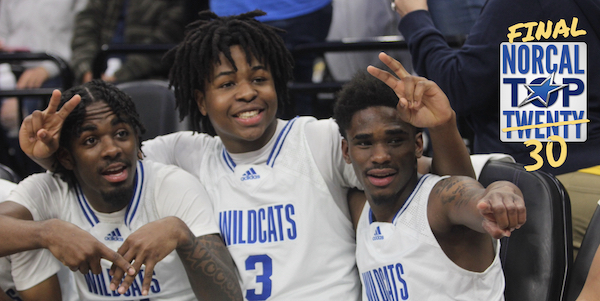 For The Second Straight Season, Modesto Christian Finishes As No. 1 In Our Expanded Final NorCal Boys Basketball Rankings •
PICTURED ABOVE: (L to R) Te'shawn Gamble, Money Williams and Jimon Campbell of No. 17 Oakland take photos during the CIF Div. III State Championship medals ceremony. (Chace Bryson photo)
The top half of these rankings were basically solidified by the end of CIF regionals. The only real change to the Top 20 was going to be determined by Oakland High's performance in the Division III state final.
By winning, the Wildcats forced their way into the bottom half of the Top 20 and brought Oakland Tech along with them. The Bulldogs had three wins over the newest Div. III state champs. After that change, it was just a matter of figuring out Nos. 21-30. Most fell into place rather easily. Let's take a look at each team.
Final NorCal Boys Basketball Rankings. Previous rank in parenthesis, records via MaxPreps.
1. (1) Modesto Christian (27-7)
Despite being unable to repeat as CIF NorCal Open Division champions, the Crusaders still went undefeated against NorCal opponents as we define them in these rankings. They lost to three out-of-state opponents, three Southern Section schools and a Central Section one.
2. (2) Dougherty Valley-San Ramon (27-4)
Coach Mike Hansen and the Wildcats finally have their breakout year, winning the North Coast Section Open Div. title. Suffered just one NorCal loss all year, a 64-61 road defeat at Monte Vista-Danville with leading scorer Ryan Beasley sidelined.
3. (3) De La Salle-Concord (22-9)
Spartans were NCS Open Div. runners-up to Dougherty Valley before going beating No. 4 Mitty-San Jose in NorCal Open regionals. Nearly upset Modesto Christian in regional semifinals before falling 57-56.
_______________________________
CONNECT WITH US:
Follow SportStars on Twitter & Instagram | Like us on Facebook | Subscribe!
_______________________________
4. (4) Archbishop Mitty-San Jose (22-6)
The last of the four teams to play in the Open Div. regional. Season ended in 46-44 loss to De La Salle.
5. (5) Granada-Livermore (26-11)
Record-setting year for the Matadors included a Division I NorCal title and the program's first ever state finals appearance.
6. (6) Salesian-Richmond (26-9)
Pride closed out the year winning 12 of 14 games with only losses coming to No. 2 De La Salle in the NCS Open tournament, and No. 5 Granada in the Div. I regional final.
7. (7) San Ramon Valley-Danville (26-8)
Aside from their two playoff losses to No. 6 Salesian, the Wolves' six other defeats were by six points or less. Also finished with a combined seven wins over six other teams in these rankings.
8. (8) Riordan-S.F. (23-7)
Season turned into another "What If" storyline after an on-court fight in a regional win over No. 9 Inderkum left Crusaders without five key players (three starters) in a season-ending regional loss to No. 5 Granada.
9. (9) Inderkum-Sacramento (28-4)
Program's involvement in playoff fight marred an exceptional season for Tigers, which included a non-league win (79-76) over eventual NorCal Open champion St. Joseph-Santa Maira.
10. (10) University-S.F. (29-4)
Red Devils claimed the NCS Div. IV title, but were placed in the Div. I regional — where they knocked off No. 3-seed Jesuit-Carmichael in the first round before running into the Salesian buzzsaw.
11. (11) Jesuit-Carmichael (26-6)
Marauders won the extremely deep Sac-Joaquin Section Division I playoffs (SJS doesn't have Open Div.) and also claimed wins over No. 8 Riordan and CIF Div. II state champ-San Joaquin Memorial of Fresno.
12. (12) Weston Ranch-Stockton (23-11)
The Cougars were 2-9 on Jan. 4. Yes, 2-9! A remarkable coaching job by Nicholas Podesta as team reached Div. II regional semifinals before bowing out to eventual-champ SJ Memorial.
13. (13) Folsom (26-4)
Bulldogs had wins over No. 9 Inderkum, No. 10 University and No. 11 Jesuit, but had an early section and regional playoff exit.
14. (14) Dublin (18-12)
Coach Tom Costello's team held its own in grueling East Bay Athletic League with wins over No. 5 Granada, No. 7 San Ramon Valley and No. 26 Cal; Ousted from Div. I regional by No. 9 Inderkum.
15. (15) Sacred Heart Prep-Atherton (20-8)
It was the Gators who ended Folsom's season with a 63-62 regional win. SHP also went 2-1 in Central Coast Section Open Div. play and had season end in just a two-point regional loss to No. 7 San Ramon Valley.
16. (20) Oakland Tech (22-12)
With their three wins in four tries over Division III state champion Oakland, the Bulldogs needed to climb in conjunction with their rival.
17. (NR) Oakland (27-8)
The definition of a team that peaked at the right time, the Wildcats led the Div. III state final from wire to wire, topping a Buena-Ventura that entered with 31 wins.
18. (16) Vanden-Fairfield (25-11)
Another team that peaked late, the Vikings blazed their way all the way to the CIF Div. II regional final where they lost to SJ Memorial by just six.
19. (17) Campolindo-Moraga (23-8)
Last year's NCS Open Champions, and this year's Div. II champions, probably profiled more as a D2 team for CIF as well (they lost twice to No. 18 Vanden). But they were placed in Div. I and eliminated by No. 8 Riordan in the opening round.
20. (18) Lincoln-Stockton (25-5)
Three of the Trojans' five losses were to No. 1 Modesto Christian. The last one was a 60-56 overtime defeat in the SJS Div. I quarterfinals.
21. (18) Sacred Heart Cathedral-S.F. (16-13)
After A 4-1 finish to West Catholic Athletic League play that featured a win over No. 4 Mitty, the Irish went 3-1 to claim the CCS Open Div. title. Season ended with regional loss to No. 5 Granada.
22. (NR) Clayton Valley-Concord (26-5)
A young roster blossomed a bit early in Coach Frank Allocco Jr's second year at the helm; Ugly Eagles won NCS Div. I title but were first-round casualties in the CIF Div. II regional (despite being the top seed).
23. (NR) Branson-Ross (27-4)
The Bulls won the NCS Div. III title without breaking a sweat — winning three games by an average of margin of 25.7 points. Won a Div. II regional game before falling 56-55 to No. 12 Weston Ranch.
24. (NR) Moreau Catholic-Hayward (23-7)
One possession games ended both of the Mariners' postseasons. Moreau fell 82-79 to No. 22 Clayton Valley in the NCS Div. I semis, and 62-60 to Bellarmine-San Jose in the first round of the CIF Div. II regional.
25. (NR) Justin-Siena-Napa (28-6)
Braves came alive in the CIF Div. III regional, beating Los Gatos by 19 and Rio Americano by 29 before falling to No. 16 Oakland Tech by just six.
26. (NR) California-San Ramon (20-12)
A 71-69 loss to No. 24 Moreau Catholic denied Grizzlies their first trip to an NCS final, but they rebounded for a regional win over SJS Div. II-champion Sacramento. Cal also had EBAL wins over No. 5 Granada and No. 7 San Ramon Valley.
27. (NR) Rio Americano-Sacramento (27-6)
An historic season for the Raiders included a nonleague win over No. 13 Folsom as well as two league wins over eventual SJS champ Sacramento.
28. (NR) Serra-San Mateo (17-12)
The Padres had wins over Div. IV state champ Half Moon Bay, No. 4 Mitty and No. 21 Sacred Heart Cathedral. Also, 10 of the team's 12 losses came to teams inside these rankings.
29. (NR) Sacramento (25-8)
The SJS Div. III champions might seem a bit far from the team it beat for the title, No. 18 Vanden, but the Vikings overall body of work was better and their regional run was deeper. Dragons did have quality wins over Laguna Creek-Elk Grove (2) and No. 30 Capital Christian-Sacramento.
30. (NR) King's Academy-Sunnyvale (24-4)
With lots of choices for this spot, we went with the Knights team that had wins over No. 15 Sacred Heart Prep, Carlmont-Belmont, Priory-Portola Valley and Div. IV state champion Half Moon Bay. Season ended with 70-60 regional loss to No. 17 Oakland.