Campolindo Boys Basketball: Recipe For A Title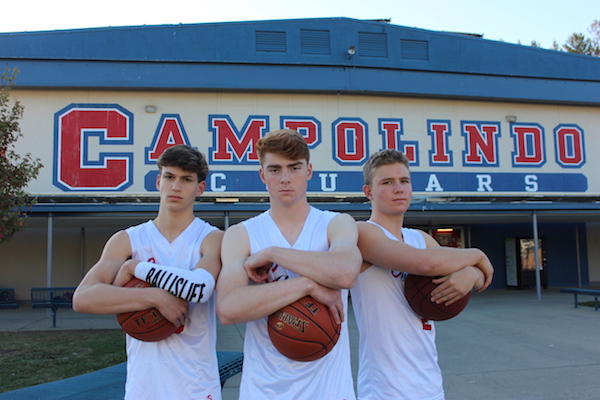 It All Came Together As The Campolindo Boys Basketball Program Won Its First State Title Last Season — Can A Talented Cougars Roster Find The Right Mix For A Repeat?
After winning a state basketball championship, coaches and players are apt to reflect on all the hard work that led to earning the high school game's ultimate prize. That's something the Campolindo boys basketball team believes in, and now it's time to try to do it again. 
And not forget what it takes.
"We have to play harder than the other team," said Steven Dyer, embarking on his fourth season as the Campolindo boys basketball coach. "I think we did that a lot of times last year. We beat teams that were definitely more talented than us. The challenge now is we have a lot of talent. Can we continue that mindset of being the team that needs to play harder?" 
That approach will be crucial from the get-go as Campolindo moves forward after finishing 27-7 and winning the program's first boys state title in March. The Cougars play Archbishop Mitty-San Jose on Nov. 30 as part of the 13th annual NorCal Tip Off Classic at Newark Memorial High. They will be among steep competition in the Russ Peterich, Gridley and Modesto Christian tournaments. They'll meet Bishop O'Dowd-Oakland as part of the 23rd annual MLK Classic on Jan. 20 at Saint Mary's College. And they will do battle in the competitive Diablo Foothill League. 
The talent is there and that strong schedule should get them primed. But don't mention the word "state" right now.
_______________________________
CONNECT WITH US:
Follow SportStars on Twitter & Instagram | Like us on Facebook | Subscribe!
_______________________________
"We can't be looking at the end result of a state championship now," senior guard Carter Mahaney said. "We have 27 games to get (to the playoffs) and we first are focused on Mitty on Nov. 30. One game at a time." 
Carter forms an extra-potent guard combo with his brother, Aidan, the Cal-Hi Sports State Freshman of the Year a season ago. Carter's 13.2 points per game and crunch-time heroics were a huge part of the championship run, as were Aidan's 15.8 scoring average and his 81 3-pointers, fifth-best in the North Coast Section according to Maxpreps.com. 
But the Cougars move on without graduated guard David Ahazie. His 16.5 points per game and defensive and leadership skills were so significant.
"It's going to be tough for us; he was our best defender, our best leader," Dyer said. "He was the kind of guy who set the tone in practice every day. So there are people who are going to automatically think we are going to be as good or better, but they don't factor in how good David was." 
Junior forward Emmanuel Callas said: "If you went into a game and you weren't ready, you looked at how hard he was playing and it made you play harder." 
Now the leadership mantle falls to Carter Mahaney for his fourth and final season at Campolindo. He has learned the importance of digging deep and finding ways to win in tough circumstances.
"It's always easy when your shots are falling and the team is playing well," he said. "There are so many times when the team's not going to play well and shots are not going to fall and you just have to find ways to get it done." 
Having committed to Northern Arizona in September, Carter Mahaney is able to sign a national letter of intent before high school game action begins. He's happy to put that decision to rest. And his teammates are pleased to see him reap the rewards for his talent and hard work.
"He's been a good leader and a good role model," Callas said. "It's good to see a guy who works on his game and he's got good leadership qualities, which I look up to. It's just good to see him succeed. There were times in the playoffs I'd get confused and ask Carter about something, and he reminded me of stuff I should do." 
With Ahazie gone, Carter Mahaney will fully engage in that role. 
"He's going to have to pick up the slack there," Dyer said. "And we have seniors like Peter O'Donnell and Rex Curtiss who will probably also help with that. That's one of the biggest things we have to figure out with this team: Who is going to be the tone-setter and the leader." 
Callas missed the first half of last season because of inflammation related to Osgood-Schlatter disease (an inflamation of the knee ligament). But he came on strong in the postseason. He played a major part in the 55-40 CIF Division II state championship win over Colony-Ontario with 19 points and nine rebounds.
"Emmanuel Callas will be one of the guys for sure," Dyer said. "We're looking to replace David's production. (Callas) was injured for the first half of last season and then he really came on at the end last year." 
Sophomore Matt Radell is another key part of the equation. The 6-foot-6 Radell led the Cougars in rebounds (180) and blocked shots (21) in his first season.
Campolindo has long been home for Dyer. He graduated from there in 2007 after playing on an NCS championship team as a junior. He was an assistant and JV head coach at rival Miramonte-Orinda before the Cougars head job opened prior to the 2016-17 season. Both of Dyer's first two teams also made it to the NorCal playoffs, but each suffered painfully close defeats. 
In 2017, Campolindo lost 70-66 in overtime to Vista Del Lago-Folsom in the NorCal Division III quarterfinals. The next year, the Cougars fell 67-65 to St. Mary's-Stockton in the Division II regional semifinals. Those losses were motivation and reinforcement in their run last season.
"Everyone coming back kept that in the back of their mind," Carter Mahaney said. "How quickly a game can change and how important each play was, not just in the last part of the game but in the first half, the third quarter, every defensive stop, every single play, and how huge it is." 
Last season, it was Campolindo on the winning side of so many close games. There was a 70-68 overtime win over St. Patrick-St. Vincent-Vallejo in the NCS Div. III semifinals. And after a 64-53 loss to Salesian-Richmond in the NCS finals, the thrills continued. The Cougars won a 74-72 overtime nail-biter over Sacramento High in the NorCal quarterfinals, and a 53-51 NorCal semifinal victory over Grant-Sacramento. 
"We were down by five with a minute left to Sacramento; we could have easily lost that game," Carter Mahaney said. "I think Aidan made a 3 and we got back in the game. And then we pulled it off in overtime. That shows you how every play means something … We could have easily lost and then no one would have heard of us. But we found a way to get it done." 
After getting it done against Serra-San Mateo 59-38 in the NorCal finals, and Colony in the state finals, the new season brings a fresh set of big challenges right away: the Tip Off Classic game with Mitty and the trio of tournaments. 
It was at the El Cerrito tournament last year when the Cougars were battling through a 4-3 start and a rash of injuries. That's when Aidan Mahaney said he and his team found their identity.
"Carter and David were injured during that tournament for two of those games, and we were without Emmanuel," Aidan Mahaney said. "Those two games our three big scorers were out, so I had to step up. I played pretty well and my confidence started getting going. And from there, I never really looked back as being a lesser option to score. I just wanted to do what I could and play like I knew how I could play." 
Having roles fully formed and a healthy lineup will be key this season. Especially since each opponent will be motivated to knock off NorCal's only defending boys state champion.
"I hope I will be able to help everyone get ready for every game, because every team is going to come out like it's their state championship," Aidan Mahaney said.
"Knowing we have a target on our back, we'll be going harder than we ever have. Because every game is going to be a grind."