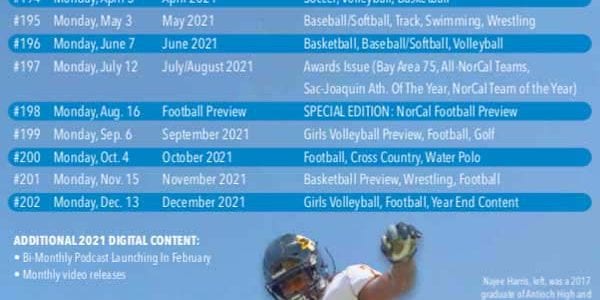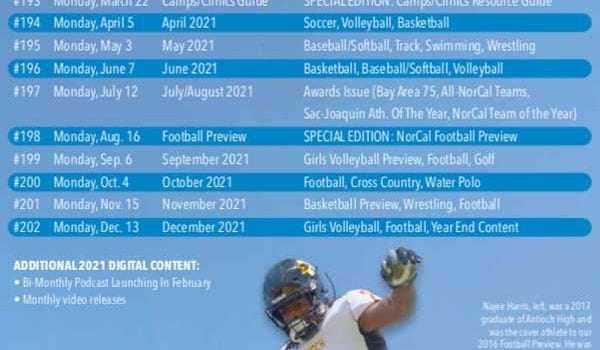 Drop SportStars Publishing Schedule to your desktop for easy viewing.
2021 PUBLISHING CALENDAR
A YEAR OF EXCEPTIONAL GROWTH/MILESTONES
Since 2010, we have been building audience share throughout California.
Today SportStars reaches over 300,000 monthly readers. And while print has been a driving component of such tremendous readership, it's our digital media that sets the pace for current and future growth throughout the state.
In 2018, we grew our landscape with a distribution partnership with Hearst Publishing's San Francisco Chronicle.
The 65,000-home increase was a driving force for our digital media gains — which served over 268,800,000 ads, engaging readers at an above-industry-average click through rate. Now our content is widely syndicated— SFGate Prep Sports, CBS' MaxPreps and beyond.
Our advertising partners each receive a full-flight of digital media activations.
SportStars Digital Media Channels Deliver 60+ Million Impressions Each Week.
Social media has been the #1 driver of traffic to our content along with syndication partnerships vis-a-vie CalHiSports, The Ultimate Sports Guide, Northern California Volleyball Association, and others. Our cloud ad server serves over 60-million impressions weekly.
Playing to Our Strengths
Engaging and Award-Winning Digital First and Print Content Delivery
Direct-to-Market Mobile, Desktop and Event Activation
Ultra-Fast Turn-Arounds, Important For Timing of Your Messages
Expanded Community Immersion, Reaching Deeper Into More Markets
SportStarsNOW Digital Exclusives
What this mean for you!
• Better Analytics • Larger Audience
• Emotional Engagement Along the Customer Journey
• Larger Share of Voice
LETS GET TO WORK!