Former Carondelet Yealimi Noh • SportStar of the Week X2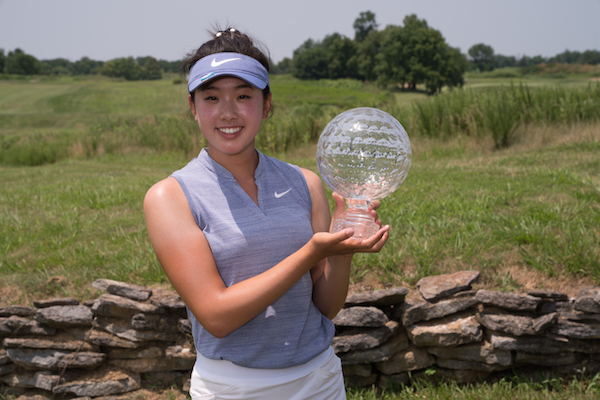 YEALIMI NOH • 
Golf – Concord 
For the second time in her high school golf career, Yealimi Noh, now 17, takes home SportStar of the Week honors.
The 17-year-old Noh, and former Carondelet High student turned home-schooler, is making a very recent case to be the best junior girls golf amateur in the nation in fact.
From July 9-12, Noh dominated the field of the 43rd Girls Junior PGA Championship by finishing the 72-hole tournament a record 24 stokes under par.
She won the event by four strokes at Kearney Hill Golf Links in Lexington, Kentucky.
Then on July 27, she came from behind to win the Canadian Women's Amateur Championship by a stroke. She finished that 72-hole event at 11-under par.
She's also earned one of the six female spots on the U.S. Junior Ryder Cup Team that will compete at Disneyland Paris on Sept. 24-25.
Does all this sound vaguely familiar? It should.
Yealimi was our SportStar of the Week (the first time) in November of 2016, when still a freshman at Carondelet, she shot to the top of the girls golf leaderboard.
She was on a tear our coverage said. "One year after Top 10 finishes at both the CIF NorCal and State Tournaments — as a freshman — Noh shot 1-over par 71 to put her in a three-golfer playoff. She needed just one hole to earn top NorCal Championship medalist honors.
Noh's card included birdies on Hole No. 1 and No. 18, and an eagle on the 411-yard, par-5 Hole No. 9.
Her effort also helped the Cougars finish third as a team, qualifying them for the State Championship Tournament at Red Hill Country Club in Rancho Cucamonga on Nov. 15.
The top two girls golf teams at NorCals were St. Francis-Mountain View, which was led by Maya Pugatch (2-over 72), and Dougherty Valley-San Ramon, led by Jacqueline Ha (2-over 72).
Fast forward to this mid-July, when SportStars reported Noh had earned a spot on the above-mentioned U.S. Girls' Junior Championship and then into the U.S. Women's Open.