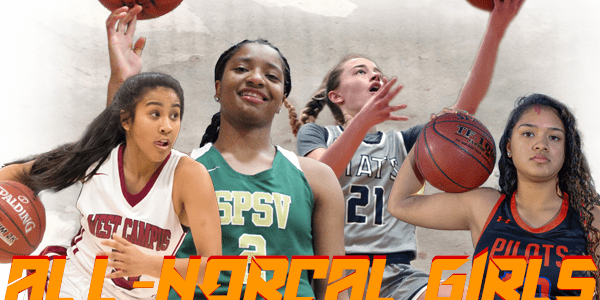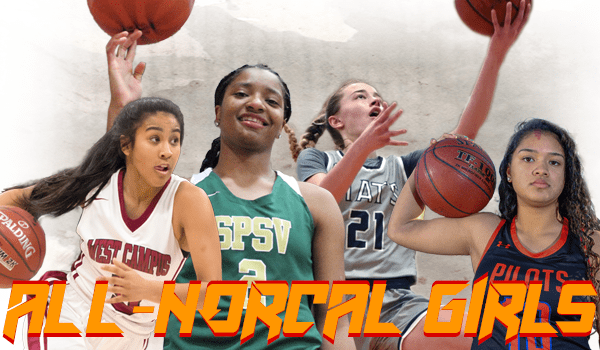 No State Champs Were Crowned In 2020, But Our All-NorCal Girls Basketball Teams Still Highlight Plenty Of Championship-Level Talent • Meet the SportStars' All-NorCal...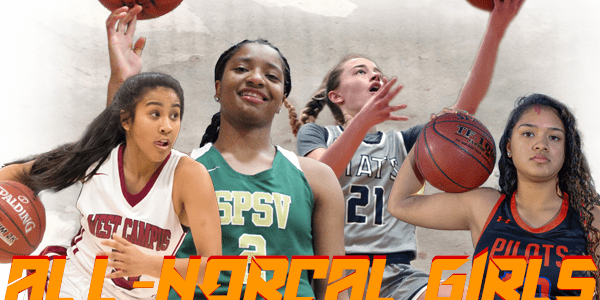 No State Champs Were Crowned In 2020, But Our All-NorCal Girls Basketball Teams Still Highlight Plenty Of Championship-Level Talent •
Meet the SportStars' All-NorCal Girls Basketball teams from the 2019-20 season. Only five players can play on the floor at a time. And we stick to that rule. So here are the 15 players from our first, second and third teams. We follow that with a few honorable mentions. You can also visit our All-NorCal Boys teams.
All-NorCal Girls Basketball First Team (listed alphabetically)
ANYA CHOICE
Guard | Cardinal Newman-Santa Rosa | 5-8 | Senior
THE CLEAR CHOICE: Job One when facing Cardinal Newman was stopping Anya Choice — but even though the UC Santa Barbara-bound senior was the focus of all the defensive attention, she still averaged 24.3 points a game (to go along with 6.2 rebounds and 4.1 assists) and led Cardinal Newman to a 29-4 record and a berth in the NorCal Open semifinals. No one player did more for an elite team than Choice, which is why she's — wait for it — our choice as NorCal Player of the Year.
JZANIYA HARRIEL
Guard | Antelope | 5-9 | Junior
MS. BUCKETS: Like Anya Choice, Harriel topped every opponent's scouting report, and like Choice, it didn't matter. Her 830 points were the most for any girls in NorCal among stats reported to MaxPreps. She averaged 25.9 points, 10.4 rebounds and 3.3 steals a game for 29-4 Antelope — and to make that stat line even more impressive, note that she hit 36 percent of her 3-pointers and 80 percent of her free throws.
ASHLEY HIRAKI
Guard | Archbishop Mitty-San Jose | 5-7 | Senior
NOTHING SURRENDERED: If there was one thing that stood out for Archbishop Mitty, clearly the dominant team in Northern California this season, it was depth. Sue Phillips kept running out talented player after talented player. What made Hiraki a first-team choice wasn't her numbers (12.4 ppg, 4.3 rpg., 3.5 spg.) but rather that every loose ball, every contested rebound and every big shot belonged to her. Expect more of the same next year at Cal State Northridge.
KENNEDY JOHNSON
Forward | Bishop O'Dowd-Oakland | 5-11 | Junior
DRAGON MASTER: Johnson just keeps getting better — and she was really good to start with. Though she still controls the paint as a scorer and rebounder, she added some perimeter flavor to her game this year, hitting 3-pointers if defenders sagged off too much, and driving by them if they came too close. And after averaging 16 points and 11 rebounds this season, she still has another year to go.
AMAYA OLIVER
Forward | St. Mary's-Stockton | 6-1 | Senior
RAM TOUGH: After battling a persistent knee injury through her junior year and the summer circuit, Oliver finally got healthy this fall — and showed that her quickness, size and speed were also complemented with 3-point range and a full suite of skills. Oliver also had to carry a big load for St. Mary's, as she was the only senior on the floor during crunch time.
All-NorCal Girls Basketball Second Team
TALANA LEPOLO
Guard | St. Joseph Notre Dame-Alameda | 5-7 | Sophomore
Like Mitty, St. Joseph overpowered opponents with depth rather than individual brilliance. Of their talented core, Lepolo was the player who made plays for herself and others when it mattered most. The Pilots posted a 24-win season and reached the NorCal Open final.
MIA MASTROV
Guard | Miramonte-Orinda | 5-11 | Junior
Mastrov's all-around game propelled Miramonte to a 23-6 record. She could score inside and out and brought a defensive presence that powered both the Miramonte press and its halfcourt defense. She averaged 15.1 points, 5.6 rebounds, 4.1 assists and 3.1 steals.
_______________________________
STAY CONNECTED:
Follow SportStars on Twitter & Instagram | Like us on Facebook | Subscribe!
_______________________________ 
GABBY RONES
Guard | West Campus | 5-6 | Senior
"Rones rains threes" is both alliterative and accurate. The long-range shooter took nearly five 3's a game and made 35 percent of them en route to 17.2 points a contest. The Nevada-bound talent led West Campus to 21 wins and was a two-time state champion in her four-year career.
TAMEIYA SADLER
Guard | St. Patrick St. Vincent-Vallejo | 5-8 | Senior
Sadler stuffed the stat sheet almost every game, averaging 18.4 points, 8.8 rebounds, 4.0 assists and 5.7 steals for the 22-win Bruins. Those numbers – plus her athleticism and defensive chops – landed her a scholarship to the University of Washington. 
OLIVIA WILLIAMS
Wing | Archbishop Mitty-San Jose | 6-1 | Junior
Williams' all-around game and smooth style of play made it easy to pick her out. Like all the Mitty players, her numbers don't jump off the page, but her talent and next-level potential make her impossible to ignore.
All-NorCal Girls Basketball Third Team
ANNIKA DECKER
Point Guard | Pinewood-Los Altos Hills | 5-4 | Junior
Decker was the driving force for a young Pinewood team that reached the NorCal Open semifinals. She had 18 double-doubles and averaged 4.6 rebounds a game.
SILIVIA FONONGALOA
Post | Salesian-Richmond | 6-1 | Sophomore
Fonongaloa was a force in the paint for Salesian, and once she got the ball on the block, there was little opponents could do to stop her. 
LEXIE GIVENS
Wing | Alameda | 6-0 | Senior
Givens flew under the radar at Alameda – but coaches knew just how good she was. She averaged 21.1 points, 9.5 rebounds and 2.1 blocks to lead the Hornets to an NCS Div. III title.
MAKENA MASTORA
Guard | St. Joseph Notre Dame-Alameda | 5-9 | Junior
The 5-9 junior guard ran the show with steadfast consistency for the NCS Open Div. champs. She was the Bay Counties League-East Division's Most Valuable Player.
ABIGAIL MUSE
Forward | Heritage-Brentwood | 6-2 | Senior
The Boise State-bound Bay Valley Athletic League MVP was among the region's most dominant post players. She averaged 14.2 points, 10.3 rebounds, 2.9 blocks and 2.1 steals. 
NEXT SQUAD UP (Underclass Honorable Mentions)
Jordan Allred (Miramonte-Orinda), Jr.
Alexsandra Alvarado (Salesian-Richmond), Jr.
Teagan Brown (Oak Ridge-El Dorado Hills), So.
Jiana Creswell (Vanden-Fairfield), So.
Kylie Horstmeyer (Redwood-Larkspur), Jr.
Avery Lee (Menlo School-Atherton), Jr.
Ahrray Young (Laguna Creek-Elk Grove), So.
SENIOR SALUTE 
Natalia Ackerman (Aptos)
Grace Bliss (Colfax)
Audrey Moulton (California-San Ramon)
Stephanie Okowi (Oakland Tech)
Madison Parry (Del Oro-Loomis)
Kayla Rosemon (St. Mary's-Berkeley)
Bria Shine (Christian Brothers-Sacramento)
Maile Williams (Capital Christian-Sacramento)