Fremont Christian Baseball: Promise Kept, Promise Fulfilled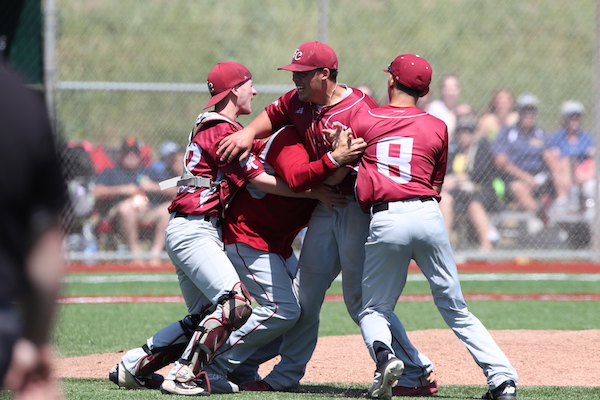 Bubba Gomez And His Dad Completed A Four-Year Promise To Each Other By Leading Fremont Christian Baseball To The School's First Section Title •
A four-year plan ended just the way coach Chris Gomez and his Fremont Christian baseball team envisioned it — capping off a 24-6 season with the first North Coast Section championship in the school's 51-year history.
In 2015 Gomez took a leap of faith. He accepted the position of Fremont Christian baseball coach — his first head coaching job in his 19-year career. Taking the journey with him was his son and star pitcher Bubba Gomez. In that moment, they made a promise to be all-in. They wanted to create something special at a school not known for its baseball program.
On the final season with his original core of freshmen ready to graduate, they came through on that promise.
On May 25, the Warriors defeated Berean Christian-Walnut Creek 5-3 to claim the NCS Division V title.
"Only the players and the coaches actually thought we could win a section title," Chris Gomez said.
Being overlooked as a potential baseball powerhouse has become the norm for the Warriors. An unfortunate stereotype that sticks on schools with low enrollment totals. However, Fremont Christian refused to let its enrollment total of just 199 students typecast it as a "no-chance" school. Fremont Chrisitan had the smallest enrollment of any NCS Div. V baseball program in 2019.
Coach Gomez knew the little brother identity wouldn't be easy to shake in the beginning — something he has actively sought to correct throughout his tenure.
Knowing that winning their Bay Counties League dividion for a fourth season in a row wasn't going to earn the respect they desired from the playoff committee, the coaching staff and athletic director put extra effort in to building a difficult regular season schedule.
Each season Gomez looks to face as many teams higher division teams as possible. Not just to make a statement, but to prepare his teams for a level of competition that will aid them during the postseason.
In 2019 the Warriors played six teams considered Division III or higher. They went 4-2 in those games.
Fremont Christian had a unique mix of experience and youth. In fact, three freshman started in the infield.
"Our young guys had to grow up fast," Chris Gomez said. "Each freshman was designated a senior captain mentor to help them through any growing pains."
Along with the five seniors being great mentors and ambassadors of the team, Gomez gives just as much credit for the prolonged run of success to his assistants — Brandon Chamberlin and Phil Woodman. Both have been a major part of the original core from the beginning.
One of those senior mentors was Bubba Gomez, who will be attending Alabama A&M next year on a full scholarship — half athletic, half academic.
He not only led the team on the mound with an eye popping 1.20 ERA along with nine wins through 82 innings. He also boasted an impressive .457 batting average accompanied with 37 RBI.
Fellow senior and mentor was outfielder John Sanguinetti. He led the team in stolen bases with 34 and also held his own at the plate with a .410 average and 37 RBI.
More often than not, a championship team must be equipped with something special if they intend to obtain that coveted championship — something more than just stats filling up a score sheet. It takes a characteristic that can't be measured in a scorebook.
The x-factor for this championship squad was the unanimous decision to put the team above all else. No individual's ego would be found in the Warrior dugout. This was made evident early in the 2019 season when senior first team all-league infielder third baseman Westin Coffey gave up not only his position to freshman Daniel Lopez, but his glove as well.
The tight knit mentality ran deep through these Warriors. Many of the players are also teammates on other teams on campus.
Senior outfielder Nick Leong enjoys not only being a team player on the baseball diamond, but also makes a difference on campus as the student body president.
The high integrity mentality that the Warrior coaching staff has ingrained in the young men goes far beyond the chalked white lines.
"The coaches do a great job using baseball as a platform to teach us life lessons," junior Tyler Woodman said.
A Fremont Christian tradition also continued this season. Every third Friday of the month the team provided food and supplies to the homeless and those in need.
A well-balanced team on and off the field pointed to a deep playoff run. However, Chris Gomez explains the team didn't have its ah-ha moment until the second round of the Div. V playoffs. The moment came against Athenian-Danville — a team which had beat the Warriors soundly in their season-opener.
The Warriors avenged traveled to Athenian and avenged the loss with an 8-6 extra-inning win. Woodman carried his team to victory with a timely home run in the eighth, his second of the game. He also received the win on the mound, pitching 1.2 scoreless innings.
Fremont Christian followed that victory with a 3-2 win over the Div. V defending champions, Branson-Ross, in the semifinals. That set the table for a trip to Concord High, the neutral site for the championship showdown with Berean Christian.
Gomez and Sanguinetti delivered bulldog efforts on the mound, and clutch hitting throughout the order paced the offense. After three consecutive seasons with postseason exits, the Warriors were able to end the school year how they imagined it, on top.
"This championship means the world to me," Bubba Gomez said. "We worked and worked all year for this one goal. It was the icing on the cake for me and the other seniors."
With success comes great expectations, the staff knows the bar for upcoming seasons will be higher than ever before.
No longer will the baseball community overlook this small program. It's a program that has a new standard of excellence it must uphold — a new promise they intend to keep.